If you're starting to notice a dip in your class attendances, don't fret, it's not you...it's summer. The call of warmer weather, outdoor excursions, and kids on school breaks makes it easy for members to slip away over the summer, but they don't have to.
Instead of your members putting their memberships on pause, why not keep them engaged and active by incorporating some fresh ideas into your class plan? From summer socials to workout challenges, to mixing class up and heading for the great outdoors, when you offer some of the ideas below into the mix you'll have your members factoring you into their summer plans, not the other way around.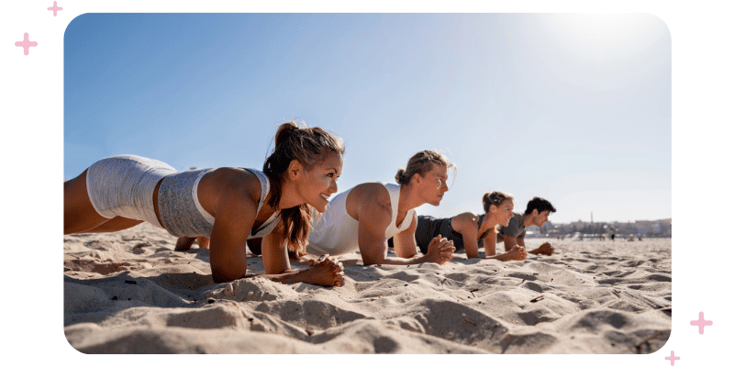 Run summer programs to boost attendance
While some of your members will be heading off to foreign destinations to enjoy their break, many will also be staying local. This is an excellent time to provide those members with special summer programs and activities outside of your typical class format.
Stephanie at Bootcamp SE16 shared they do a Tough Mudder in August to keep members motivated. They also celebrate their bootcamp's birthday and have a massive sports day style session with prizes and a party. They currently have 50 people booked for this summer event.
To ensure you have a great turnout, give your members advance notice of your program availability or upcoming events so they can include them in their summer plans and not miss out.
Create summer-themed workout content
Another great opportunity to get your members in the summer spirit, and include you in their plans, is by creating summer-themed workout content they can take on the go. Share beach workouts, swims, hikes, on-demand content, and more that your members can enjoy wherever they're spending their summer break.
You can ask your members to send you photos and videos of their summer-themed workouts and share those on your social media to get even more members motivated.
Offer earlier class times
A schedule shake-up during the summer is perfectly normal. With members missing their normal times and having to adjust it's okay to change up your class times and offer times that will yield a higher turnout.
Kate Hall of Kate Hall Personal Training moved all of their morning sessions to allow both their clients and themselves more time during the day, especially for clients with young children. This allows them to get their session in even if they have plans during the day.
Create a special offer for families
If your members have little ones who can't make it to their regular classes, create a family package or special class that allows them to bring their kids with them to participate. They'll love having a special option that allows them to get in their workout without having to arrange a sitter or miss the class altogether. We're sure they'll appreciate it even more if it helps their kids get their wiggles out even earlier in the day.
Try something new with your members
Summer is an excellent time to give your members tasters of other disciplines and class types. Join forces with another local business or studio to offer something new to your members who stayed local. You can take a break from being the instructor for the day and participate alongside your members.
There are so many fun excursions and activities to do that will mix up your summer workout routine with your members. For example take your members to do Pilates on a standup paddleboard at your local lake or beach, try yoga in the park instead of the studio, and take your bootcamp clients on an outdoor excursion. Ask your members to share their summer bucket list items and find a creative way to combine your classes and those activities so they can cross them off with you.
Provide your members with fresh virtual content
Offering on-demand and online classes are a very helpful way to encourage members to keep their memberships active over the summer. The virtual option will help members take your classes on the go and prevent them from pausing their memberships while on a break so they can still access your content wherever they are.
This is also a great way for you to be able to escape for your own holiday break without having to worry about your members being left without any workouts or classes in your absence. It's a win-win for you both and offers more flexibility to be able to fit everything in rather than having to choose you or their break.
Organise a summer social with family and friends
Your time with your members doesn't have to be limited to your classes and sessions. Organise a summer social and invite your members to bring their friends and family members along. It's a great opportunity to bond with their loved ones and get to know more of your members' personal communities, as well as grow yours. A relaxing break from the workout to let loose and have fun is just what summer is for.
Include fresh summer health and wellness tips in your content
Just because your regular members might not be frequenting class as much doesn't mean they still don't appreciate you looking out for their health and wellness. Use your newsletter and your social media to share workout tips, nutrition ideas, vacation fitness activities, and more. Your members will appreciate the reminders while they're away on their holiday and your content can inspire them to mix fitness and play during their time off.
Encourage your members to share their summer activities on social media
Summertime calls for beach days, pool parties, hikes, outdoor adventure and more. While your members might not be in class as much as normal you can bet they're doing something active, so ask them to let you be part of it. Encourage your members to tag you in their summer posts so you can keep up with how they're enjoying their breaks and share with the rest of your community.
You can take it a step further and set up a challenge such as a member with the best outdoor workout idea gets a free t-shirt or class after their holiday. It's also a great opportunity for you to see what your members enjoy doing outside of your classes so you can incorporate some of those activities they love into your own business.
Bring it all together with summer bingo
A creative way to bring all of these ideas together and see what your members did over their summer is to make a bingo card. Have your members fill out bingo cards and share them with you. You can even make it a challenge and get your members to check off as many boxes as possible before your first September class. Checking off their summer activities on their bingo cards will be a fantastic motivator and they'll love sharing with you and their pals what activities they did.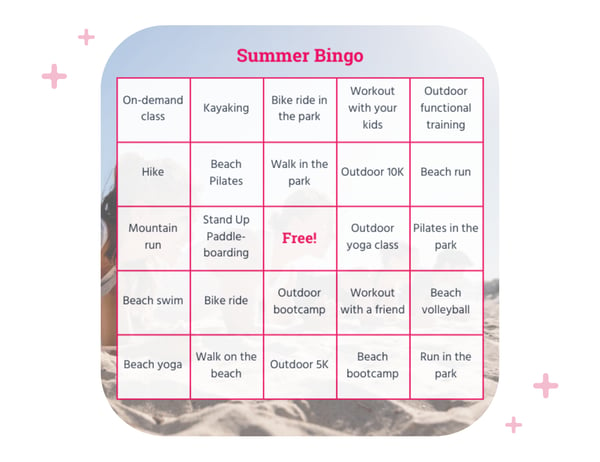 Download our example or blank template to make your very own.
Don't forget, the September rush is coming!
September is a very popular time for fitness businesses with members racing back to get started anew. Check out our guide on how to take advantage of the September rush and use these tips and suggestions to make sure you're extra prepared come autumn.
Would you like to contribute to the next TeamUp blog?
Thanks to our friends Stephanie Jannati at Bootcamp SE16, Tarryn Tredwell of Ladies Group PT, Kate Hall at Kate Hall Personal Training, Lisa Jarratt at Downham Ladies Fitness, and Maggie Elliot of Spark Health and Fitness for sharing some of their summer ideas with us and contributing to this list!
If you'd like to participate in future TeamUp blogs and guides, we'd love to include you. Simply send us an email to marketing@goteamup.com requesting more info and we'd be happy to share what we have coming up.
PS: We'd love to see what you and your community are up to this summer too! Tag us in your pictures and videos and we'll share them with our TeamUp community.
Thanks for reading!
Open Comment Form