Your members aren't the only ones who can take advantage of a break this summer, and your software is here to help. Using this checklist you can set up and automate several tasks to ensure your business runs smoothly while you enjoy some much-deserved time off. Giving TeamUp and your staff some of the workload will ensure you're able to turn on the OOO without any disruptions to your business or your holiday.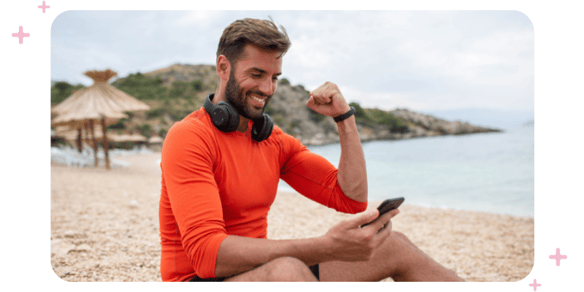 Your Pre-Summer Break Checklist:
⬜ 1. Delegate tasks to your team using staff permissions
⬜ 2. Prepare on-demand content for your members
⬜ 3. Schedule your marketing content to stay consistent with your content plan
⬜ 4. Set up pre and post-class notification reminders
⬜ 5. Automate lead generation inquiries
⬜ 6. Open your appointment schedule for post-break check-ins
⬜ 7. Review your upcoming payments and revenue and set automated notifications
⬜ 8. Use a chatbot on your website to troubleshoot common questions
⬜ 9. Turn on your Out-of-Office
⬜ 10. Relax and enjoy your time off
1. Delegate tasks to your team using staff permissions
Give your team more responsibility and allow them to demonstrate their capabilities and leadership to you by allowing them to take over the reins while you're away. If there are certain tasks that your team need to oversee and manage in your absence you can prepare them to do so by increasing their staff permissions and creating a handover document detailing any instructions and requirements.
In their staff permissions, you can give them access to customer details, the schedule, and payments so that if anything comes up while you're out they can handle it swiftly.
This is a great opportunity for you to show confidence and trust in your team and if you have some time in advance before your time off you can walk them through the steps and procedures, many of which they might already be familiar with from shadowing you.
2. Prepare on-demand content for your members
On-demand content is one of the greatest resources at your disposal especially when you need to supply your members with classes and workouts when you can't teach live. It's also an excellent way to keep your members who are taking their own breaks engaged and active too.
Using your On Demand Library in TeamUp you can upload pre-recorded videos from your YouTube, Vimeo or Zoom accounts to then include in your memberships. If you want to make your on-demand content accessible to all of your members while you're on your break you can simply include your content in all of your memberships or create a new membership and let your members know that they will need to purchase this specific membership to gain access.
You can create a specific program for your members and plan out which videos they should watch and when. This will ensure that even though the classes aren't live they still enjoy a personalised experience. Bonus points if you create some summer-themed on-demand content while you're on your own holiday!
3. Schedule your marketing content
To stay consistent with your marketing plan and engage with your members while you're away create and schedule your newsletters, emails, blog, and social media in advance.
Using your TeamUp email integrations such as Mailchimp or an alternative email platform through Zapier, you can schedule and send out regular email updates and newsletters to your members so they can still hear from you while you're away.
You can do the same for your social media and blog using social media management app or content planner to draft out and schedule your posts in advance to publish when you select. This will ensure that your content gets seen and your members interact with it business as usual. Along with your other helpful automations such as notifications and emails, you'll find blog and social media scheduling so handy you'll want to rely on it all the time, we sure do!
This is a great way to keep your campaigns and any summer specials you're running still going even when you're on your break. You can also use your marketing to send out early announcements about upcoming autumn specials and encourage members to start registering for their class spots in advance.
4. Set up pre and post-class reminders
Don't forget to set up pre and post-class notifications to remind your members about anything they will need while you're OOO. Whether you're still running live online classes from your destination or your staff are in your place, notifications help keep your members accountable for their memberships and ensure you don't miss telling them important information they need to know.
In your notifications, you can remind your members that if they are unable to come to classes because of their own schedules or holidays they can use and access your on-demand content. They're also a great place to remind your members that you're away and for how long, and you can include ways for them to get in touch with you if need be.
5. Open your appointment schedule for post-break check-ins
Many of your members will come running back after their holiday wanting a personal check-in with you to make sure they get back on track quickly. Using your appointment schedule you can easily offer one on one time with your members in advance and allow them to schedule their appointment for after their holiday before either of you even yours. This will allow you to get some planning for your members in advance so you don't return to a mountain of work and individual member programming.
As a booster for September sign-ups, you can offer this as a complimentary service included in your new member welcome packs so that new members know they're getting personalised service from you right from the start.
6. Automate lead generation entries
If you have ads, emails, and social posts scheduled encouraging potential new members to sign up for the fall, automating email responses and messages will ensure they stay engaged even when you're not there to answer them directly.
Using Zapier you can automate responses to go out to inquirers and prompt them with the next steps they can do on their own. If they want to get in touch with you directly you can set up an away message or give them a way to contact your staff so that when you return you can pick up or check in where they left off.
7. Review your upcoming payments and revenue
You can also use this time to see what revenue is expected to be generated and follow up once you return to see what promotions, membership packs, and deals your members took advantage of in your absence, such as your on-demand content. If there are any pending or unpaid payments you want to review before you leave you can check the your to-dos and verify when if there is anything to complete on your end before your time off.
8. Use a chatbot on your website to troubleshoot common questions
Another way to ensure that your members or inquirers get their questions answered is by setting up a chatbot on your website. You can create responses to common questions such as "Where can I buy a membership" or "How do I use TeamUp on my mobile device" that when asked auto-populate the answers you set.
Using a chatbot you can also leave your availability so any inquirers know when to expect to hear back and can leave their email address if they wish to be contacted by email instead of via a chat.
9. Turn on your Out-of-Office
You don't want to let emails, messages, and texts disrupt your time off, but you also don't want to leave your members and staff hanging with an unresponded message. An easy hack is to set up an OOO vacation responder in your email, social media or SMS platform that will alert people who contact you that you're away on a holiday and when you'll be able to respond.
This will reassure people that reach out to you that if you don't respond immediately it is because you're unavailable and not ignoring their message. You can also include alternative ways of getting in touch if it's necessary or direct them to your website or a way to reach your team.
10. Relax and enjoy your time off
If you have questions or need any assistance setting up these automations and steps before taking your holiday we'd be happy to help. Simply write to us at support@goteamup.com or use your chat widget to get in touch with us. Have a wonderful break!
Additional tips for automating your business
We hope this guide helps you automate your business this summer and gives you time to take a break and enjoy your own summer holidays. For additional resources on automation check out our guides here:
Thanks for reading!
Open Comment Form