Who better to receive a piece of friendly advice than from other fitness professionals with missions to help growing businesses succeed? Although many gyms and studios have had to shut their doors due to the pandemic and traditional fitness classes have seen a major change, many fitness mentors and business coaches have positively shifted the direction from dwelling on the closure to focus on opportunity, both for themselves and their clients.
We sat down with several successful fitness business coaches and mentors to ask them what advice they have for fitness professionals navigating the pandemic and what everyone could be doing right now to grow and continue building online? From tips on profitability to how to use your network to reach new audiences and customers, Michael Rudd of Michael Jay Online, Kristen Abel of Kristin Abel Consulting, Amanda Klingensmith of Mastering the Business of Yoga, Dez Stephens of Radiant Coaches Academy, and Amanda Quinn of the Fit Chicks Academy have shared their advice, success stories, and words of encouragement for any teacher, trainer, studio or gym owner looking for a helping hand.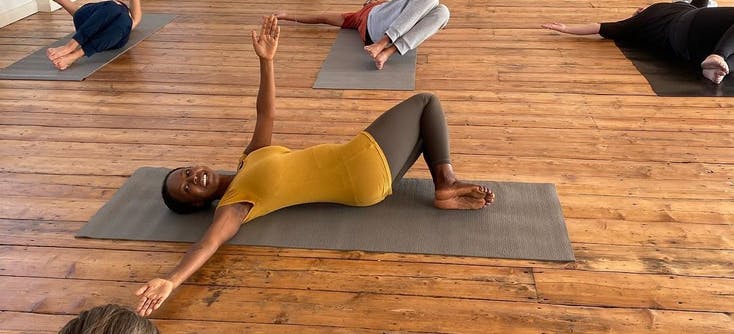 Photo Credit: Olivia Pass Photography and Ankor Pilates
How would you advise businesses to take advantage of this time and focus on online growth?
MJ: I would advise yoga studios to strategically market their online offerings to anybody that has ever been through their doors before. It is much easier to get people to join back into offerings where they already have a reputation than trying to market to everybody. I work with studios to specifically target their email list with social media advertising and also with location-based ads, ie 10k around the studio. I also work with studios to empower their instructors to engage more with their students on the virtual classes. People are craving community and connection right now and this can still be achieved in virtual classes. I encourage teachers to be more at their computer screen giving feedback than just demonstrating.
AK: While in-studio services are unavailable, I would highly recommend taking your services online! I know so many yoga teachers and studios that are having really great success with online offerings. They are able to reach students that normally couldn't access their classes and realizing that yoga doesn't have to be confined to the 4 studio walls and the geographic location that they are located in. My biggest piece of advice for growing your yoga business is to determine your niche and your target market! Once you know these two key pieces of your yoga business, you can start creating offerings that align with your niche and your target market and really start filling your offerings and your classes.
KA: Whether your studio is open, capacity limited, or still closed, I cannot overemphasize how important an online presence is, both now and going forward. Even as studios are beginning to re-open, industry trends are showing that virtual is here to stay. Both live stream and on-demand options are going to continue to be very popular in the future. With more work from home options, the convenience of shorter classes, and the ability to take quick breaks for exercise without having to drive to a studio are going to continue to be popular reasons for folks to practice online. Yes, folks are itching to come back, but they're going to appreciate having an option for virtual as well, going forward, And it might as well be with you. So if you have been resistant, or acting like it was going to go away soon so you have a Band-Aid on your technology, now is the time to level up. Get the right technology for the job, make sure your teachers know how to use it, and embrace your virtual offerings as one more amazing offering of your studio. Besides, it's likely to be a pretty significant revenue stream going forward, as well.
AQ: Listen to your clients and their needs. Ensure the programs you are offering are what they are connecting with. Online can be tricky and a lot of clients can be a little apprehensive with online vs in-person so ensure you are still creating the same experience online as you would at home but with 10x more energy so it translates through to them. Also, use this time to create a plan for when things do settle. Clients will be excited to get back to old routines, in-person connections so have a clear plan and consider a waitlist or pre-registration offer that you can sell now to get your clients excited and committed.
DS: Growing your yoga business is all about being unique in the market since yoga is so mainstream. Branding your business with an intriguing name is helpful. Blending other modalities into your business is also helpful like becoming a certified holistic coach to further resources for your clients.
What advice do you have for people looking to launch or transition their businesses right now, in-person, online, or both?
AQ: Online or in-person. Get clear on your niche and have a plan for execution. Ensure you are creating a program for your clients and one they will love and not one that is all about you. Create a community and show up every day to lead this community and nurture your clients to success. There is so much to this question but those are in my opinion some of the most important aspects to consider. Also, hire a coach, invest time, money and energy into learning about being a CEO or find a mentor if you are not sure so you can execute with confidence. Remember that systems are your friend lol. We resisted for so long to build schedules and systems because we felt like they were going to make our business feel overwhelming when in fact systems are the one thing that once in place will give you the freedom we all desire in our business.
DS: Offering online yoga classes during pandemic times allows your students the convenience of mobile-device experiences. Make sure that you're not too close (or too far) from your camera and that your audio is good. Be sure to ask your students and potential students about convenient class times and offer recordings of classes as well.
What is your advice for businesses struggling with their clients, both in retaining and finding new clients?
MJ: During Covid, most studios have focused on retention of their clients (rightfully so), but they put marketing their intro offers to get new students in the door, or virtual on hold. I still think that businesses need to focus on getting new students to participate, especially with most having limited capacity.
AQ: At FIT CHICKS Academy we teach our students to always be a triple threat in business from the beginning. Meaning, offer group sessions, personal training sessions and online programs. This way customers can fluidly move throughout your business as they need or desire and it allows you to still be their go-to for support. Aside from having all of those aspects covered, I would highly suggest to all gym and studio owners to develop a more personalized approach with their clients. Develop a community-based approach and create a connection to your brand and trainers with your clients outside of the gym or studio setting. This means developing an online forum, members' site or something along those lines to have them connect with you and create a foundation for trust and engagement. The more you know about your clients and the more they are heard the longer they will commit and stay with you. So while this might not necessarily have an ROI you can measure today this will have a lasting impact on your business.
AK: One of the best ways to find new customers and students is to be consistent with your work. Be consistent with the classes you offer, the posts you are creating on social media, and the emails you are writing. If you are consistently presenting your authentic message to the world, you will inevitably attract new students, and keep them there!
DS: Attracting new customers is easy once you learn to harness the culmination of different marketing techniques like emailing press releases to local media, writing for blogs, being interviewed on podcasts, and collaborating with complementary businesses to cross-refer.
What are your best tips for marketing and for fitness businesses struggling with profitability?
AK: When it comes to marketing, I definitely recommend that yoga teachers have an email list. Having social media is awesome, but having an email list is really important for reaching more people. If you already have a following (even a small one!), word of mouth can be great. Ask your current students to refer people to you or put you in touch with people that know that you want to know, and of course, get testimonials from students that love what you're doing! Join Facebook groups that you are interested in and aligned with and engage with the group and the people in it, and to follow social media accounts that you are aligned with and engage with them. If you aren't comfortable posting something publicly, reach out via direct message and introduce yourself. A stranger can quickly become a friend this way!
KA: For studios struggling with profitability, my advice is twofold. First of all, I get it. It is very unlikely that a yoga studio is profitable right now. But we can be again, and a few months, or heck even a year, of no profit, is definitely straining us all. But there are things that you can do right now to make sure that your studio is ready for the explosion of people that are coming. First of all, if you haven't done it yet, raise your prices. There is no reason that going forward your product will not be more valuable. Folks need health and wellness more than ever, and your space is likely to stay capacity limited for quite a while. And even when it's not, in the future folks are going to prefer to be in smaller classes with more distance between them. That means each spot in your class is inherently worth more, and you need to charge for it. Second, you have to look very closely at your vendor arrangements as well. All of them, such as subscriptions that you may not be using, renegotiations with your landlord, perhaps reductions in payroll for your teachers. You can't be shy about making sure that your studio can be profitable going forward, and revenues and expenses are both a part of that puzzle. There isn't any reason that you a yoga studio can't be a profitable success on the other side of this pandemic.
DS: Social media works well when you follow a 70-20-10 rule meaning that you're educating and inspiring 70 percent of the time, sharing and interacting 20 percent of the time, and only promoting 10 percent of the time. E-newsletters do well when sent monthly announcing upcoming events. Word of mouth is also powerful, especially if you reward those who recommend you with extra yoga classes.
What advice do you have for businesses struggling with motivation?
AQ: When we started FIT CHICKS we both were working corporate jobs myself as the Manager, Sponsorship and Advertising for The Toronto International Film Festival and Laura as the International Marketing Manager for Hilton Hotels, which had a great opportunity for growth and were amazing jobs. When we decided to start our company pretty much every person in our lives thought we were crazy. They doubted us, told us not to do it and would even look down on us for making this decision. The most important thing we have ever done in our business was to not let others dictate our path. We didn't listen, instead, we listened to our passion, our hearts and went after it. Never letting our own fears stand in our way and never ever taking no for an answer. We asked for things we wanted, we built relationships, we worked long hours and dedicated ourselves to creating the life we desired vs the one we were just OK with before at our corporate jobs. Never let anyone else's fears or thoughts get in the way of your dreams and success.
KA: Wow, there's so much, but really, I think the best advice I can give is to hang on, and know that we will get through this. Don't make any crazy decisions, come up with a strategic, well thought out plan to get to the other side of this, and follow it. That is not to say that there aren't going to be really bad days, there are. This is very hard, and there will be days when you want to throw in the towel. That's OK. Yell, scream, whatever you need to do, and then take the time that you need to get back on your yoga mat, meditate, go for a walk with the dog, whatever it is that let you get back to your creative, problem-solving self which is what led you on this entrepreneurial journey in the first place. This will end. Don't give up.
Thank you all for sharing your insight with us! To find more advice from coaches, trainers, teachers, and business owners just like you check out our stories page.
Thanks for reading!
Open Comment Form