Navigating your way back to working out after a long break, can be difficult, but not impossible. While the thought of picking up a dumbbell or finding your balance during a headstand may be daunting, all you need is a little practice and a lot of patience. Bex, the owner of Revved Up Pole, is no stranger to taking a break before getting back to the studio. We chatted with her to find out what the best formula is for picking up where you left off, and how studio owners can help their customers start up again. Here's what she had to say: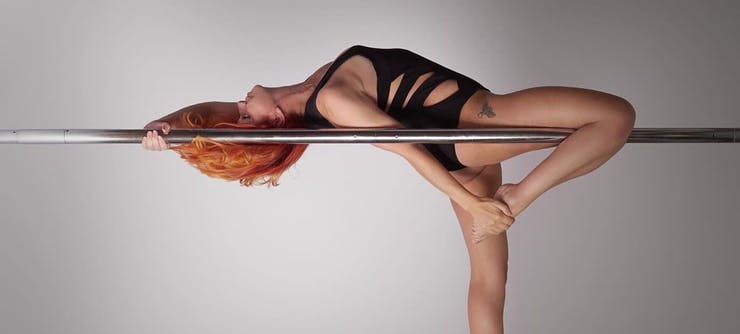 Meet Bexiita, owner of Revved Up Pole in Ashford, UK.
We live in unprecedented times. Oh, how I long to live in precedented times again. The fitness industry, like all industries and like all parts of existence, is facing huge change. How do we as fitness professionals navigate our way through this new landscape?
After a summer cocktail of stress, uncertainty, and a lack of access to fitness facilities, we may not be feeling in peak condition. Let's face it, nobody would blame anyone if lockdown was made easier to bear with a possible fondness for takeaways (and maybe some gin!), so it's fair to say the post-return to the gym might have hit hard.
Don't beat yourself up over your own fitness
"How do we, as fitness professionals return to our best abilities, and perhaps more importantly, how do we pitch our classes to students and clients?"
Let's look at our own training first of all. Maybe you've been able to keep up with at-home training over lockdown, but it's possible this hasn't been a priority. It's important to realise that if you haven't been taking every available online class, didn't get your splits in 8 weeks, and didn't discover a new found love of yoga, that's totally ok.
In such uncertain times, the priority for many was just getting through each day. Don't beat yourself up if you lost strength, flexibility, definition, or didn't meet any of the seemingly arbitrary goals Instagram lead us to believe everyone else was smashing out the park.
Sometimes a rest can be the most helpful thing for your body, especially where injuries are concerned, and in an industry where professionals are frequently overworked, you might find that a break from constant training gave not only your body a rest, but also your mind and spirit.
Maybe you trained hard throughout lockdown and didn't lose any fitness at all. If so - that's great! You are ready to come back to your studio or classes and hit it hard! But what about your students and clients?
Perhaps the biggest change facing fitness professionals is pitching class content to clientele who may have taken a break from training, possibly for months. How do we find appropriate content that challenges, pushes and ultimately delivers results, without pushing too hard, too far, too fast?
1. Take things back to basics
Each discipline is different. But it's clear that taking things back to basics in terms of ability is wise. I've found in my own classes that this option has been a blessing — many students have thoroughly enjoyed recapping foundation-level moves.
By providing moves that are safe, do not require spotting, but are still challenging, it's been possible to see what level students are at, and how far they are happy to go at this stage.
For students who don't feel quite so challenged with basic moves, the option is there to push a little harder - working on a different side of the pole, making the move into a combo, or even just working on that always desired but sometimes elusive unicorn of pole, perfectly smooth execution.
2. Offer private one-on-one sessions
Private or one on one sessions are a good option for students who don't yet feel ready to return to group classes, those who have health concerns, or who live with people who are shielding.
Smaller numbers, much greater social distancing, and one-to-one attention to fitness levels can provide a reassuring environment. Of course, this style of the class would be reflected in higher pricing, and may not work with certain venues, especially if you pay to use your venue by the hour. It's important to ensure you are charging an appropriate fee that covers your outgoings and skill level, whilst still remaining affordable for clients at an uncertain time.
A good compromise here is to offer small private lessons or workshops - smaller, more intimate classes that allow for greater social distancing and more bespoke tuition, but keep prices more accessible by dividing it between a group of 4 or 5.
3. Think outside the box to offer something new
This is also a good time to get creative with your skills and offer something different - what skills do you have? What can you offer that is a little different from your usual content? Can you run a workshop on floor work, choreography, acro, twerking, and hand balancing? Think outside the box and offer a new skill. Who knows, with a good response this could lead to a permanent larger class on your timetable!
4. Know your own business and trust your instincts
The important thing to remember is that only you understand your studio and your business. Every situation is different, from large gyms to small boutique studios. There is no right or wrong way to navigate through these times. All we can do is follow the guidelines we have been set for the safety of everyone, use common sense with regards to hygiene protocols and rely on experience and instinct to know what will work with our own particular skill set and clientele. And try not to go back to the summer days of takeaways and gin ;)
Thank you for sharing, Bex!
Providing you with the most helpful and relevant information to run your fitness business is very important to us. Which is why we are partnering with our customers to collect the best pieces of advice, entertaining anecdotes, and challenges and success stories. We are interested in hearing what you have to say and the ins and outs of running your business. To find more advice from our community of fitness business owners, check out our collection of fitness business stories and fitness business tools.
We will be sharing a new article by one of our customers each week, so don't forget to sign up for our newsletter to get them straight to your inbox.
Open Comment Form