Prior to lockdown, online classes weren't all that common in the Pilates community. Pilates teachers have a hands-on approach and in order to deliver the best possible class, teachers are encouraged to adjust and correctly position their students...something you can't achieve the same way if you're not in the same room.
However, when studios across the world had to make a shift to the digital world in order to keep their businesses open during the pandemic, not only did the community learn that there were ways to teach efficiently and effectively online, but that this way of teaching could also open a new door for Pilates businesses post-lockdown.
Here to share her experience teaching Pilates online, how online classes and on-demand content have influenced her business and services, and her plans once in-person classes resume, is Wendy Scott, owner of Gaia Pilates. Wendy also shared with us why some in the Pilates community were hesitant to offer online classes in the past and how the norms of the community are changing to be present with the times we are in. To learn what she had to say and how you too can successfully adopt online Pilates content into your business, follow along with our interview here: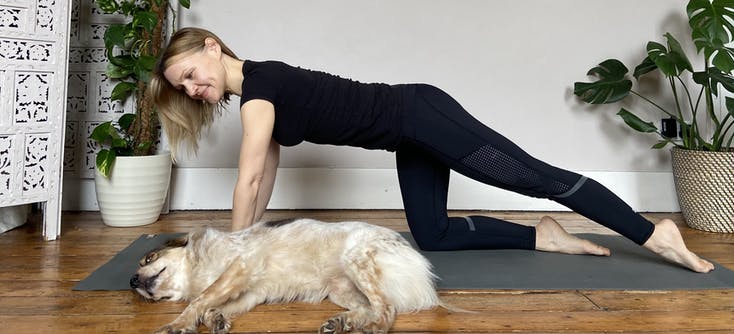 Photo Credit: Wendy Scott
My name is Wendy Scott and I own Gaia Pilates. I teach group mat classes in and around Peckham and South East London. Before lockdown, I owned a yoga and pilates studio with a friend of mine that we opened in 2012. We were recommended to TeamUp by our friend Lucy Bannister, owner of Lucyoga and started using it after switching from another vendor.
The shift to teaching Pilates online
In the Pilates world doing things online wasn't that common. You'll have seen a lot of other fitness types with video content online, but probably less Pilates. A huge part of pilates is hands-on so ideally, you need to see the body in front of you and be able to adjust physically. Obviously not possible if online.
But then lockdown hit and none of us really had a choice. It was either go online or lose all of your clients and not make any money. That hesitancy went out the window. The positive of lockdown is that it has shown us how to adapt, especially without our pilates equipment or being able to adjust clients hands-on. I always used equipment in the studio - so online I had people use cushions and pillows and towels and I had them use bean cans for weights. I think everyone in the community has learnt a lot about what online classes can give you.
How have online classes influenced you as a Pilates teacher and business owner?
Pilates is definitely better face to face, but through this pandemic, you just have to do what you have to do. I know that my teaching has changed from the very first time I taught a class 12 years ago to how I am teaching online today. I've learned so much and it's great. I know that if I had started online Pilates classes pre-pandemic there may have been some hesitancy from clients and others in the industry but now it's almost as though we've been given permission to do Pilates online.
The industry as a whole is changing. Going online has definitely been a progression, but even the studios who have been more traditional are embracing the shift. I trained with Body Control Pilates and they have been amazing at embracing the online industry and are really encouraging us to do so as well. They are very supportive of online classes and on-demand.
It's quite nice to feel like a community doing this as well. The Pilates community is such a nice community and there are a lot of teachers that I know in my area. We support each other and there is no competition involved, there are enough people to go around. It's nice to see what other people are doing. You feel less isolated. I was used to teaching in a studio with other teachers and now I am teaching in my living room. When you're with other teachers you can bounce other ideas off each other. Having that connection through other teachers' stories you can get other ideas from them.
As Pilates is very hands-on, how do you navigate teaching different ability levels online?
I would always prefer to see a beginner face to face because even if you see one person one time and you've shown the positions it is quite hard to do it online. What I've always historically done is offer mixed abilities classes and had beginners in those but with online I have had specific beginners classes because they need to take everything much slower and you need to go into much more verbal detail. It's all about what you say and definitely about what you're doing.
In an online class, people have you on the screen but they are lying down and not necessarily looking at you. It can be hard to crane your neck to see the screen while in a certain position. I'm really conscious of that, and I tell people "don't move, stop what you're doing and then look." The teaching skills have changed because it's all about what you say and you have to be as clear as possible. I also provide beginners specific classes on-demand as well.
How has software played a role in your decision to pursue offering online services?
TeamUp's software has been hugely helpful in its functionality to run online classes and on-demand, especially during the lockdown. We went to teaching online straight away during the lockdown and the way that TeamUp generates the Zoom meetings for you and don't have to do anything is fantastic. The clients book themselves in and that took off so much pressure.
As lockdown went on you could see more and more people offering on-demand. I really wanted to start setting up but to find a platform to do it that would integrate with my booking system was quite difficult.
Now the fact that you can do it all in TeamUp is so helpful and so easy to use. I have just been recording what I have been doing in the Zoom sessions and adding those recordings to the feature. It's been so easy to link to that TeamUp page. There is no downloading time and it's just instant and so easy for the clients to access as well. They are so used to using the TeamUp booking system and introducing another platform can be a bit confusing, so it is amazing having it all in one place.
Post-lockdown, how will you deliver your classes? In-person, online, or both?
Even though I am going back to the venues, I am going to continue giving online classes and add to the video library because you can reach a whole other demographic of people online. People overseas, people who have moved away from the area, that whole hesitancy of Pilates online is gone. It's definitely a different type of class you are delivering. I would say venue based classes are always going to give you a pure Pilates experience, but if someone needs to get their Pilates fix and they know what they're doing, then online classes work. I think teaching beginners is quite challenging to do online because you really need to know their form, but I think in those cases it's about adapting your teaching style to still give the best possible class you can. On-demand videos are great as well because you can be a little more detailed with your instruction.
Have you explored live-streaming once in-person classes resume?
I am actually live-streaming at one of the yoga studios I am teaching at. They only allow five people in a class because of social distancing so I live-stream that class and did so all of July when we weren't in lockdown. I can only teach twelve people at one time, so most of my classes are full and ones that are not, I will live-stream because it's so easy to do, set up my camera, and allow people to come via online.
Once we don't need to social distance and we can move around again, most of my time in class will be spent moving around, helping and adjusting people. I won't be on the mat myself. Once I can I can go back to doing that I am not sure live-streaming will work, but while we continue online classes and social distancing I can continue offering that. It works perfectly at the minute. I will definitely offer at least one online class a week in the evening forever and will continue offering that option for my clients who don't want to go back to live classes.
What are your plans for growing your On Demand library?
I prefer creating original content, and ideally, that's what I would like to do. I specialise in pregnancy, lower back pain, Pilates for runners. I have done a lot of training courses over the years and offer speciality classes which I haven't been able to do in a studio setting as much. I can however do them online which is great. Moving forward I would like to have my regular Pilates classes, but these speciality classes as well. I can record them and add them to my library and use filters and tags to customise them and make them easy for clients to be able to find and view.
Eventually, I'll move away from only using the Zoom classes in my library. I will still use it, but not as much once I start curating the new content. It's really enjoyable for me to use those skills that I've got. Everything I have done since lockdown has been trial and error. I try something and if it doesn't work, I try something else. That's the only way to navigate these times.
Thank you for sharing Wendy!
Video: Why Wendy chose TeamUp for her hybrid Pilates business
And what I also love about it is if you have an idea or something that there's not on or hasn't been available before in the system, then the developers are willing to listen to you and add that which I've noticed over the years that a lot of features on that weren't there, to begin with. So I highly recommend.
Open Comment Form