When a new client signs up for your personal training business, one of the first essential steps of the onboarding process is to collect your client's information. Particulars such as their personal details, fitness history, any prior injuries or health risks, nutrition requirements, and goals can help you build a personalised program for your client as well as ensure their safety.
By automating the sending of online forms and waivers using your personal training software, you can avoid important client information and details slipping through the cracks and store it all in one secure place.
To ensure your clients are provided with the best customer experience, we'll show you how to automatically send online personal training questionnaires to clients who sign up for your PT business.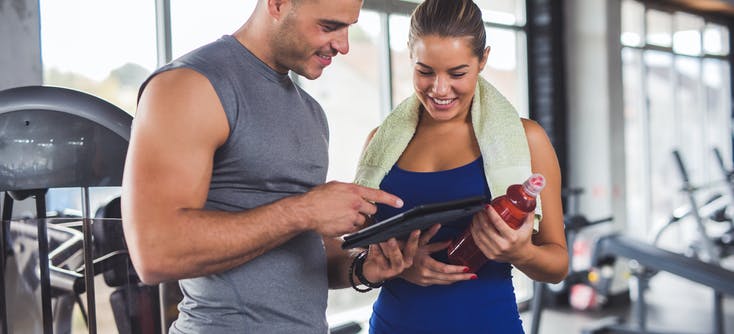 Benefits of collecting client information before your first appointment
Beyond guaranteeing the health and safety of your clients, collecting information regarding their fitness history, goals, and nutrition needs has many benefits, including:
Getting to know your client before they come to an appointment or class
Personalising your program to their needs and goals
Understanding any medical conditions that require them or prevent them from doing specific exercises
Having their details on hand if any incident occurs
Tailoring your customer experience to individuals rather than lumping clients together
Having a better understanding of their relationship with their health and wellness
Knowing what they want to achieve
Who to contact in case of an emergency
What exercises and types of workouts that they enjoy the most
And so on. Ultimately the client questionnaire, forms, and waivers you send to your clients are up to you and what you want to know, but having an idea of what to ask and inquire about can simplify the process of collecting client information.
Personal training software: automated waivers and forms
While it can seem monotonous to have to send out and organise multiple forms when onboarding a new client, fortunately, our personal training software includes the tools for you to create your forms online and send them automatically to new clients prior to meeting with you.
This quick and easy process allows you to customise your forms so that you can collect the details you require, while also making it easy for you to track and organise each client's profile individually.
If you are new to creating questionnaires for clients, we have created several templates that you can use to implement in your own business.

Contact and emergency contact information and personal details
Collecting a client's personal information including contact information is standard for any membership business. Having their address, phone number, and email address on hand can give you multiple ways of contacting a client if you need to speak with them. In this set of forms, you can also ask for your client to provide you with emergency contact information, so that in case of any emergency you have someone to contact and alert of the situation, or you can create your own individual form.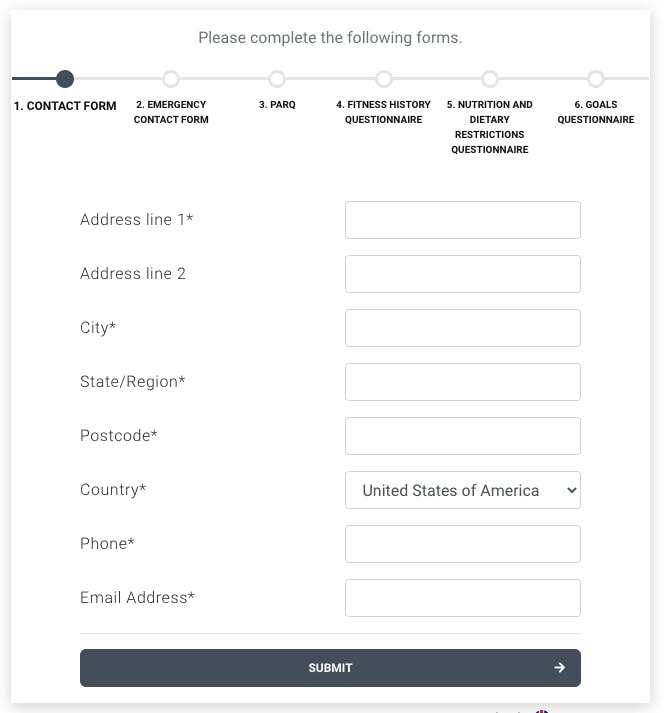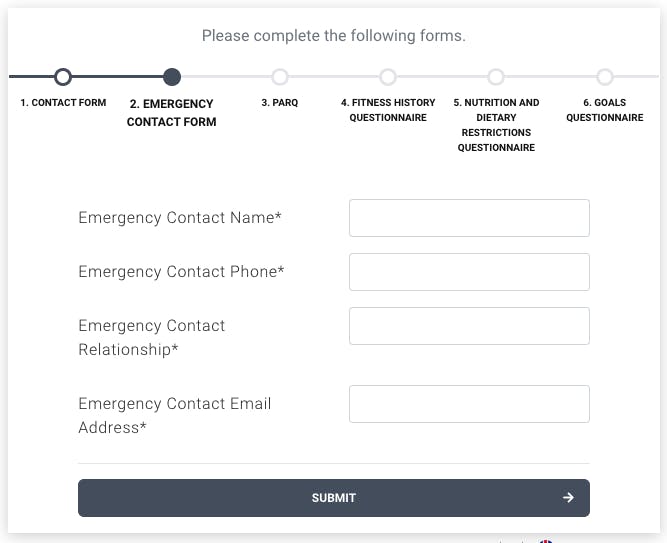 ParQ: physical activity readiness questionnaire
Used by fitness businesses to assess the physical aptitude and health and safety of a new client, ParQs are one of the most important questionnaires. Set by the British Ministry of Health, and adopted by global fitness organisations and bodies, a ParQ consists of seven specific 'yes or no' questions.
The questions confirm that a client is able to work out and asks for further explanation if they do have health concerns that should be addressed prior to getting started. If your client has ever been a member of any other fitness business, they are most likely already familiar with this questionnaire. Having this essential information prevents you from putting your client in danger and them from having any preventable injuries or accidents when training.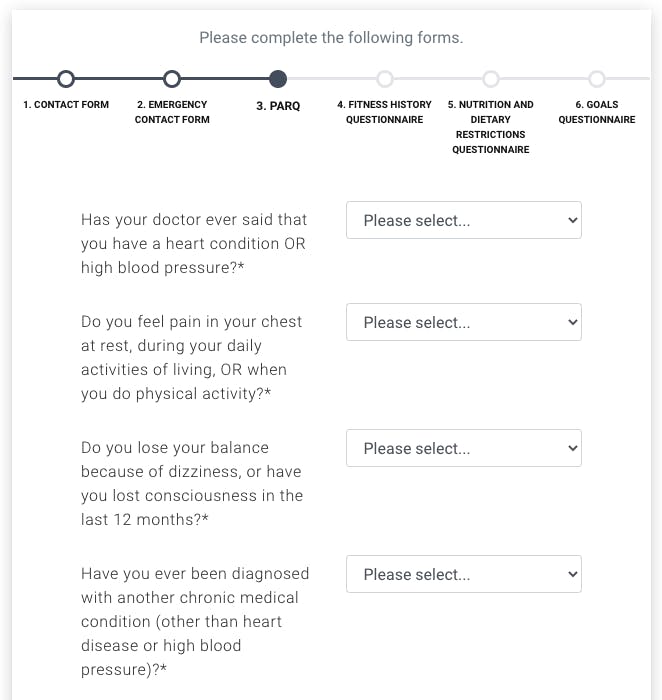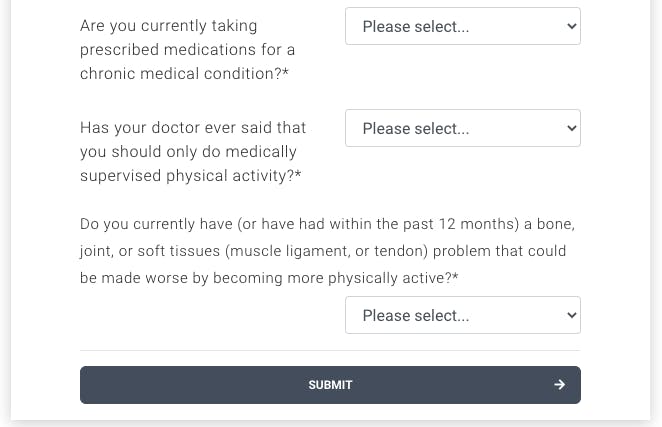 Fitness history questionnaire
Understanding your client's fitness level prior to starting training can help you customise and design your programs. If a client is currently active their starting point will be very different from a client who has never exercised before. Including questions about what types of fitness they enjoy can also help you include and program workouts that will motivate and keep your client engaged.
Some clients might have a wider understanding of what personal training sessions typically consist of whereas others might need a little bit more of an introduction. You can easily identify which clients fit in which categories by asking them these questions at the time of signing up.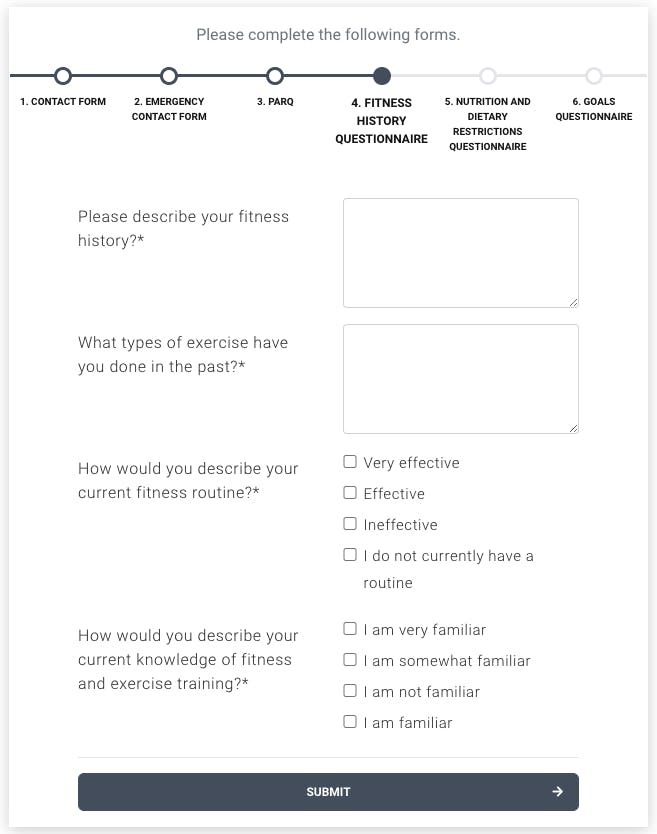 Nutrition and allergies questionnaire
Nutrition plays a very important role in one's fitness journey. So important, that personal trainer Jordan Head tells his PT clients that their fitness journeys require 80% nutrition 20% exercise.
But everyone's nutrition and dietary requirements are different. If you include a nutrition program in your fitness business, you need to understand what types of food and beverages your client enjoys, what they do not enjoy, and any food intolerance and food allergies or dietary restrictions they need to follow.
Asking for this information can help you prepare the best nutrition plan and encourage your clients with similar foods they already enjoy eating.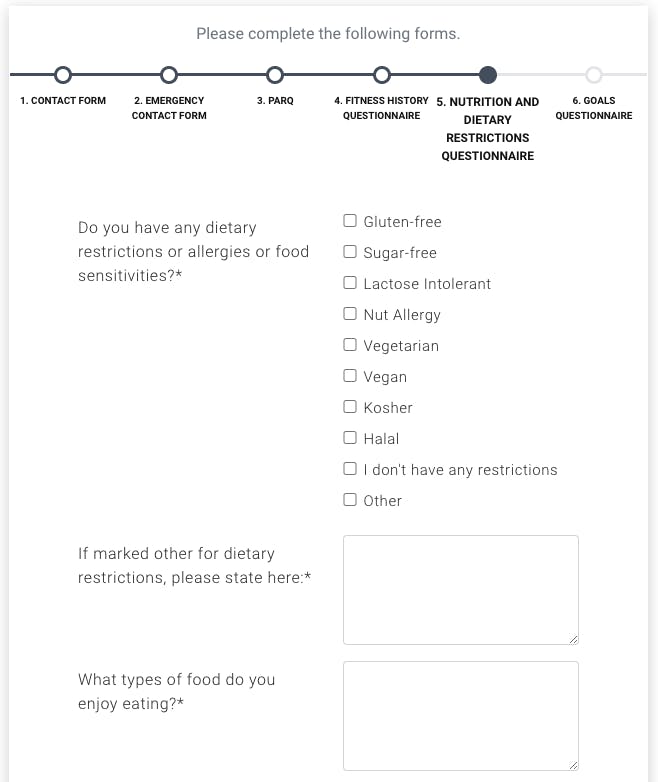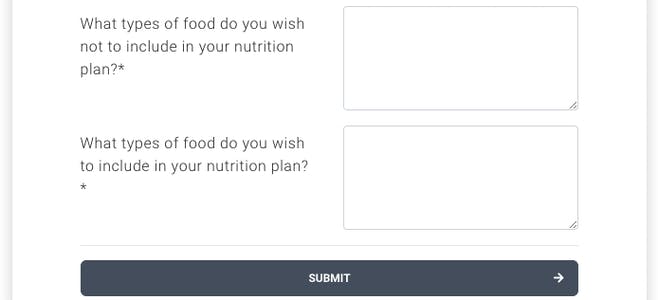 Goals questionnaire
Knowing the goals of your client is essential in figuring out how to help them achieve the results they desire. Asking them about their specific goals, what they have done in the past to try and reach them, and their motives behind these goals will give you better insight into what they want to accomplish.
If a client's goal is to lose weight, that might be for a specific reason such as their health, an upcoming vacation, or to be able to go down in clothing size. If their goal is to be able to run a 10K under an hour perhaps they are preparing for a race, or used to run but have been recovering from a previous injury and want to get back in shape. Having the specifics can help you do a better job as a personal trainer to tailor your program to meet their exact needs while taking into consideration why that is their goal.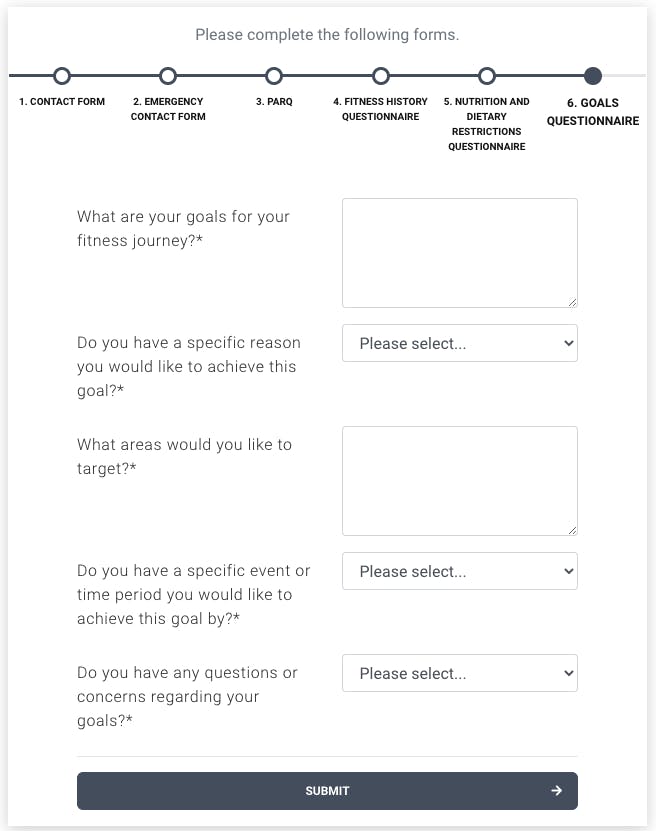 Remember that not all fitness clients are the same or have the same starting point in their fitness journey. Collecting this information from new clients can help you ensure that you provide them with a positive, safe, and individualised experience that they won't only enjoy, but will greatly benefit from.
To send your personal training clients your own questionnaires prior to their next session, check out our waivers and forms tool to learn how to build yours in your TeamUp dashboard.
Open Comment Form