Acquiring a personal training certification is an essential first step in launching a fitness business. Having the proper recommended and required qualifications will help you establish and legitimise your business while adding a higher level of professionalism to your service. Failure to start your business with a PT certification and not only do you put your business at risk, but you put your clients at risk as well.
This guide serves to instruct you on the importance of obtaining your personal training certification prior to launching your business and how to decide which one is the right one for you.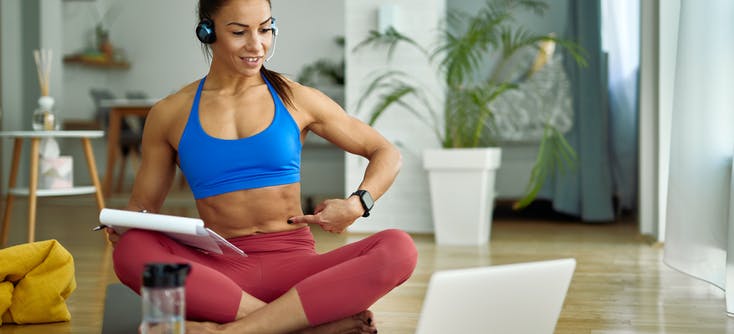 What is a personal training certification?
A personal training certification is a license that certifies or qualifies that you are in fact a personal trainer licensed to coach and teach fitness clients. Only personal trainers who participate in a nationally recognised personal training certification course or program and pass the final exam will qualify to earn their certification.
There are several different nationally recognised programs, including FiTOUR, that provide aspiring personal trainers with the knowledge and information they need to successfully and safely train clients and deliver effective fitness programs. Personal training certifications also recognise that trainers have the proper medical qualifications and clearance to care for their clients.
Why is a personal training certification important for personal trainers?
It's simple, anyone interested in becoming a personal trainer, no matter whether you are a new or experienced athlete, must obtain their personal training certification before teaching clients or launching their business, for several reasons including:
Legitimise your business to clients
Fitness clients care about two main things when investing in a personal trainer or new fitness business.
They want to get their money's worth from a reputable business with certified personal trainers.
They want to achieve their goals, and if they are not saying their return on investment, they'll go elsewhere.
Having a personal training certification is one of the surest ways to show fitness clients that you are a legitimate business owner and know what to do to help them with their fitness goals. The education that each certification program entails goes over important fitness, health, and nutrition extensively, as well as teaching new trainers how to properly instruct their clients. Seeing that you have a certificate attached to you and your business will ease a new client's fear that you are not going to be able to accomplish what you promise your clients.
Add an additional level of safety to your business
One of the first requirements of a personal training program is to earn your certification in cardiopulmonary resuscitation (CPR) and automated external defibrillation (AED). Knowing how to not only properly perform these life-saving procedures, but how to teach your clients how to perform them if need be will help you keep your clients safe and teach them how to keep others safe. If a client ever undergoes a medical emergency while training with you or in your presence, having these two certifications will prepare you for what to do in that situation.
Easier to attract your ideal clients
As mentioned before, having a personal training certification is one of the best ways to legitimise yourself to clients, but it is also essential for attracting your ideal clients. There are several different certification programs that offer further education resources and opportunities to specialise and grow in specific types of fitness categories or businesses. When launching your business, finding ideal clients who will benefit most from your services is easier when you know exactly what you have to offer and how to offer that service. Certifications give you the tools to figure those details out before you get your business plan and marketing plan together.
Give you the tools, recommendations, and guidance to launch your business
These programs also give you guidance on how to launch your business, help you figure out your market, and how to get started. With several resources and guides on ways to launch your personal training business, with the right tools on your side to support you, these programs can also instruct you and include options for mentoring post-course.
Build your network with other professionals
Along with the actual tools and tangible resources, each nationally recognised program comes with its very own network of fitness professionals, who like you, have also gone through the process of becoming a new trainer and business owner. Sharing in the excitement and motivation of your new qualification, you can join social media groups, events, and network opportunities to collaborate and bounce ideas off of your peers.
How to choose a personal training certification program
Each program, while serving the same purpose of qualifying and certifying personal trainers, includes different course material and requirements in order to earn their certification. Here are some of the top things to look out for when determining what course is best for you and your fitness and business goals:
That the program is affiliated with or recognised by one of the national fitness governing bodies
Not all programs are recognised by the same boards, but at a minimum, they should be at least recognised by one of the following:
National Board of Fitness Examiners, NBFE (US)
National Council for Curriculum and Assessment, NCCA (US)
Distance Education Accrediting Commission, DEAC (US)
The Chartered Institute for the Management of Sport and Physical Activity, CIMSPA (UK)
The National Governing Body for Group Exercise, EMD UK (UK)
The price and how long the program lasts for
Price is an important factor in choosing the right program, and while some cost more than others, the most expensive program isn't necessarily the best. Some programs also last a lot longer than other programs, or the length of time a certification is valid for is longer, so be sure to check and see when your certification would expire and how long the program takes to complete.
If the program is offered in-person or as an online course
Several programs have made distance learning and education an option for people who cannot attend in-person courses and classes. If you would like to do your coursework and classes online, be sure to check and see whether the programs you are interested in offering an online course. Not to mention, if you are interested in a program in another country or want to be certified to instruct and train clients internationally, check and see if this is available as well.
Where the certifications permit you to work and run your business
Some personal training certifications only permit you to work in a certain type of facility or own a certain type of business or LLC. Make sure that you are aware of what each program permits you to do before selecting to enrol in a specific program.
Where to get started finding a personal training program
TeamUp partners with FiTOUR, to provide all TeamUp customers with certifications at a discounted price. FiTOUR is a nationally recognised personal training certification program and offers a variety of certifications for fitness instructors and personal trainers, both looking to get started and further their education and knowledge post completing the initial certification program.
Why FiTOUR® Certifications?
FiTOUR® Certifications are Nationally Recognised
FiTOUR® Certifications are recommended by Fitness Director & Managers across the country
Online Study Materials and online exams included in the purchase
Special Price for FXP Instructors $69.99
COMPLIMENTARY 1-year IDEA® E-Membership with purchase
Discounted Liability Insurance available through IDEA® Membership
FiTOUR® Certification renewals every two years for $25
Exam Results & Certificate of Certification available immediately after passing the certification exam
ACE & AFFA CECs available with select FiTOUR® Certifications
FiTOUR ACE & AFAA In-Home CEC Study Courses available.
To purchase your certification with FiTOUR, use this link, here.
To learn more about running your personal training business with TeamUp, check out our personal training software, and sign up for a free trial.
Open Comment Form