No matter how many types of packages or services you offer, the only way to run a successful personal training business and to deliver the best customer experience is by having the right tools and features on your side. Essential tasks such as keeping track of your client's progress, managing appointments and sessions, and making sure you get paid on time slip through the cracks when you don't have a system that can help you streamline your day-to-day admin.
At TeamUp, our personal training software is designed to not only simplify your tasks but to give you the tools you need to run the best version of your business. With a collection of high-powered integrations, payment methods, and organised features that make it easy to monitor your growth, you'll be able to provide the experience your clients deserve and make the best decisions for your business with data to support you. In this article, we dive into the 10 tools every personal trainer needs in order to successfully run their business.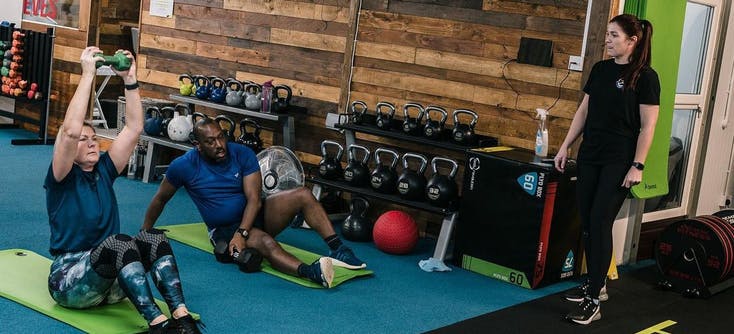 Photo Credit: Elite Personal Training Rhyl
1. Simplify your scheduling with easy-to-book appointments
Having the right personal training software is the best way to keep your personal trainer schedule in order, and offering one on one sessions to your clients just got easier with the release of TeamUp's brand new feature, Appointments. Say farewell to trying to manage both your and your client's schedules now that you can set your own hours of availability in your TeamUp account.
Clients will see exactly when you are available using your appointments schedule and be able to manage their own registrations via your customer site or the TeamUp Member App. No more having to go back and forth over numerous phone calls, emails and texts. Seeing your availability in advance will also make it easier for them to not only book a session in the near future but for as long as your schedule permits. It's easy for you to manage and most importantly easy for your clients to book.
2. Know exactly which rooms are available for sessions
As a personal fitness instructor, you may find yourself using different venues shared with other businesses. It's all well and good knowing which gym or studio you'll be working out of, but it would be more helpful to know specifically where you can run your sessions within a facility. The rooms feature allows you to select rooms for your session so that when your clients book in for a class, you immediately know which space you'll be leading your class in.
Working in tandem with the appointments, the rooms feature means that you won't find yourself double-booked into a space with another instructor. As soon as your client books a session with you, you will know straight away which room or space you'll be using to lead that class. No more wasting time looking for a space to use at the start of the session. You'll be ready to go from the moment your client arrives.
3. Notify clients of last-minute availability with an automated waitlist
Having the tools for clients to book their classes and appointments on their own will save you time. Especially in those moments when clients don't sign up for their favourite appointment time slot in time and want to wait if it becomes available. With automated waitlists, clients can still put their names down for a session. If the scheduled client cancels they will automatically be notified that a spot has opened and been auto-registered for that session.
The first person on the waitlist gets the available spot, but if they have already found a different class or time that works best for them, they can remove themselves from the waitlist. Coaches can also set the appointment cut off time to be a certain number of hours before an event, so if a client needs to choose another time they can do so and still get a spot. You won't have to worry about moving your clients' appointments and classes around, and can feel assured knowing it all gets done for you.
4. Know what's happening in your business with effective reporting
Whether you're working with clients in person or you're running an online PT business, knowing what works and what doesn't for your business will help it thrive and continue to grow. The most effective way to track your business' growth and how your services are performing is with clear and concise reports.
With access to class data, membership purchases, appointment bookings, attendances, and no-shows, you'll be able to see what your clients are doing and if you need to keep things the same or spice it up.
You can also keep up to date with customer referrals, instructor performance, and so much more. Detailed reporting is the most efficient way to really keep track of how your business is performing and with your reporting tools, you can find all the information you need at any moment. It's all there neatly displayed in your dashboard.
5. Integrate with your favourite apps
The power of our integrations, cannot be undersold. Using Zapier in particular, you can connect with 3000+ apps to simplify and automate marketing campaigns, target specific clients, create and customise email lists, and group clients according to their membership type.
One of the primary reasons to invest in efficient, reliable management software, whether you're a gym owner or a freelance personal trainer, is to be able to streamline all of your day-to-day admin.
With our integrations, you can centralise your emailing and newsletters, keep a clear record of payments through the most secure payment processors, and even host online classes, all for no extra fee. With our pricing based purely on the number of active members, you have access to all of our tools, features, and of course, all of our available integrations.
6. Deliver one on one sessions online
Another benefit to investing in personal training software is having the tools and integrations you need to seamlessly deliver online sessions. By offering online appointments you can ensure that your clients have more access to you and that even if they can't make it to an in-person session, they can still connect online.
TeamUp's Zoom integration allows you to connect your Zoom account directly with your TeamUp account to offer online sessions. Clients can join at the click of a button with automations in place that sends them the link to the meeting room before a session begins.
Unique to TeamUp's integration, as soon as a client enters the Zoom meeting, they'll be automatically checked off the register. Your clients will love the flexibility online appointments offer and you'll love being able to engage with your clients no matter where they are.
7. Offer on-demand content as the most in-demand PT
Even your most loyal client will sometimes have to miss a session, be it an in-person session or an online class. TeamUp's On Demand feature is not only the best solution for clients whose schedules don't line up, but also for those who want a little something extra to use at home.
Sharing your class recordings or curated content with your clients is a great way to give them additional resources to use at their leisure while allowing you to offer a premium service to your clients.
Using Vimeo or Youtube to host your videos and linking those through the On-Demand feature will allow you to include your on-demand content in your memberships and give access to clients.
If you have specific programs you want your personal training clients to follow at home, On Demand is a great way to deliver it directly to them. It's another bow to your string, and we're increasingly seeing that PTs and small group PT owners are finding that their client base has increased and expanded through their inclusion of online content.
8. Get paid on time with automated payments
A big concern for many personal trainers is ensuring they are paid for sessions on time. Clients show up without payment and rather than turning them away at the door, they let it slide "just this once." One of your biggest selling points is you. You've built a good working relationship with a client, and the last thing you want is to end up in the awkward situation of asking when you can expect to receive payment.
With payment processors in your TeamUp account such as Stripe and GoCardless, you can set up your appointments so that clients have to pay upfront online for their sessions. You'll have peace of mind knowing that you've received your payments and your clients will be accountable for paying for their sessions if they want to attend.
9. One on one customer support
At TeamUp, we're incredibly proud of the customer support we can offer our clients. When you sign up for TeamUp's free 30-day free trial a member of our customer support team will be appointed as your account manager. Based on your business, your needs, and the expertise that our team member has, you'll work with someone who wants to know your business as well as you do.
When you sign up, your account manager will send you an email to offer you the option of a call to show you how to set up your dashboard. You have as much time as you need to set it up how you'd like, and then only once your clients start to book sessions will your trial start.
The support doesn't stop there. Whenever you have questions or queries, you can book a call with your account manager at a time that works for you. You will work with the same advisor every time you get in contact with customer support, so you won't be passed around from person to person having to re-explain an issue from the beginning each time. You can feel assured knowing that the person who picks up at the other end of the line knows you and your business and is just as invested in your success as you are.
10. Keep all your forms and documents in one easy to access place
When you bring on a new client, having a detailed background of their fitness and injury history is important for planning your sessions with them. You want to be able to give your clients the best possible experience, and any pertinent information regarding skills, preferences, and goals will help you to do that.
With TeamUp, you can say goodbye to piles of paper and files on the bookshelf. All the forms you need for your clients such as waivers and Par-Q forms can be filled out online and added to your client's profile. Having forms like these available online for your clients makes it easier for them to complete them before attending your classes.
All forms and waivers are saved in your dashboard so that once you create them they'll be sent to each client. If you feel there are questions or fields missing in the template, you can change and add all the questions you feel you need to be able to attain all the necessary information you require before starting training sessions with your clientele.
Take the time to set up the right software tools for your business
By investing in management software, you're giving yourself the perfect opportunity to take your business forward by simplifying processes from scheduling to payments. The features, tools, and integrations available through TeamUp are designed to make your job easier.
Instead of having to put time aside in your day to go through all your data and client details, you can have all the information you need in one place, making the running of your classes and sessions easier not only for you but also for your loyal clientele.
To find out more about TeamUp's personal training software and how to schedule appointments to enhance your clients' customer experience, check out our what's new with appointments guide.
Open Comment Form