After deciding to launch your personal training business, your next step is to begin writing your business plan. A business plan is an excellent tool to keep you organised, help you avoid mistakes both in the present and down the line, and brings together all the parts of your business to make it succeed. While you will likely make several amendments to your business plan as your business grows, having a solid document with all of your goals and the strategies you want to execute will help you successfully get your personal training business up and running.
To assist you in creating your business plan we have provided you with a template and business plan examples of everything your document should include, what information to cover in each section, and what your business plan can help you achieve. Let's get started.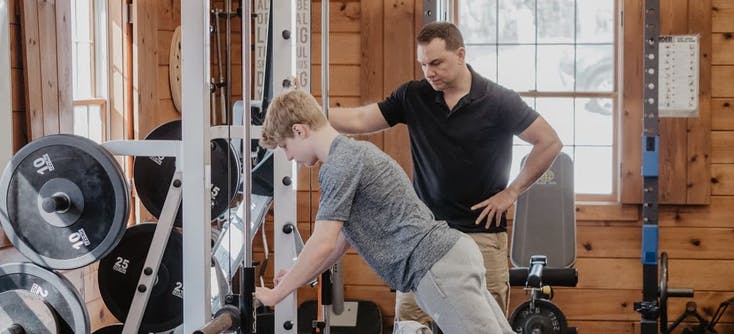 Photo Credit: Joe Lyons, owner of Fitnostics
What is a business plan?
First things first, a business plan is a written document, typically 10-20 pages (depending on your business and how in-depth you go) that details everything one needs to know about your business. It should define your objectives, your business goals, and how you plan to achieve them - meaning how you will grow your business and in what ways.
Essentially it is the roadmap of your business and should clearly detail and state logistics as well as marketing, financial, and operational strategies and forecasts. Although business plans are unique to every business, there is a set structure you can follow to create your own and make it understandable to anyone reading your document.
Why is a business plan important for my personal training business?
Aside from being the document that you will follow to stay on track to achieve your goals, business plans also serve several other important purposes. A well-written business plan can help you attract investments and build your credibility.
When applying for a grant or loan or any type of financial support, often time the body providing you with the funds will ask for a business plan to verify your legitimacy. Business plans can also help you analyse gaps in your business, where you need to improve, and what things you may need to revisit as your business grows.
It's not only good practice to write a business plan, but it also serves as a way to set yourself apart from your competition and show your audience and potential clients how professional you are.
If you have already launched your business without a business plan, don't worry, there is still time to make one. Using our template you can create a strong plan that will establish your business and set you up for success.
The fine details: what to include in your business plan
Although you might be thinking right now, that writing a business plan will be boring, challenging, and that other PT businesses in your area probably already cover a lot of what you will include in your plan, you'd find it interesting to know that business plans are usually never identical because no two businesses are exactly the same, even if it might seem that way. This is why being as specific as possible and clearly detailing what your business is, what it offers, and to who is extremely important. In your business plan you must include the following topics:
Executive summary
Mission statement
Industry analysis
Competitor analysis
Customer analysis
Marketing plan and analysis
Products and services
Financial plan
Facility and location
Management team
These fundamental elements will help shape your plan and provide the exact details and strategies to start your personal training business off on the right track. While you might not have certain elements yet or are still considering whether or not to include certain elements in your personal training business for example a management team or purchase of your own facility, that's no problem. Including details such as your hopes and ideas for your business in the future or why your business will not cover certain areas should still be mentioned in your business plan. This will help give readers a big picture idea of your business and the possibilities for future growth and expansion.
Executive Summary
The first section of your business plan is your executive summary, or a synopsis of your business plan and what the reader of your plan can expect to learn from reading it. Your executive summary should have at least two to three sentences on each of the topics in your business plan, with a clear statement about your financial projections, who your ideal client is, and what you plan to achieve.
A great executive summary will hook your readers and motivate them to continue reading. A poorly executed executive summary will discourage the reader from reading more and leave a poor first impression of your business. Your executive summary should tie together all the following points you will cover in your entire plan and it must be concise and straightforward.
Mission statement
One of the first things an investor or reader of your business plan will look for in your executive summary is your mission statement. The purpose of a mission statement is to state your business's values, what you will achieve, and how you will achieve it. No matter whether you are launching your fitness business as a sole owner or plan to grow an entire company, having a mission statement that is very clear and sharp will let your audience know exactly what your business is all about.
For example, TeamUp's mission statement is:
We empower fitness businesses and their customers by providing the best management software for fitness studios, boxes, and gyms.
Don't worry too much about having the perfect language. The important part is to make sure your reader understands exactly who you serve and how you intend to meet their needs.
Industry analysis
The industry analysis section of your business plan explains the positive relativity your new business has to other similar products and services in your industry. In this section, you will give a brief overview of the fitness industry, specifically the personal training industry with a brief history and why this industry exists. You can expand this section with popular trends, common needs in this industry, and how your personal training business would stand out. Use factual data and industry research to support your position and take this opportunity to show you really know what you're talking about as a new business owner entering a very popular sector.
Competitor analysis
In the competitor analysis, you will provide a more concrete explanation of how your business will differ from other competitors in your marketplace. You should use data and research you have done on your competitors to make factual statements, rather than assumptions, even though you might not know exactly what your competitors are doing differently. You should list out some immediate competitors in your area, their strengths and weaknesses and how you compare, what your business's role will be in the immediate marketplace, and give concrete examples of what you will do differently.
Customer analysis
The customer analysis section of your business plan covers who your ideal client is and why your services cover their needs. Being specific in their identification, their demographic, where they are located, and how they spend their disposable income, will help you learn who your ideal client is and how you can attract their business. You should use similar traits and behaviours to describe why that type of person is your ideal client and why your type of service is the best fit for their needs. You can use your details to create realistic profiles for various ideal clients so that investors and your readers can get a great sense of who the exact person you will target is.
Marketing strategy and sales forecast
In the marketing plan and sales forecast section, you will address how you will attract clients and clients to your personal training business. You will detail your strategies to enter the market and how you intend to grow and target clients to join your business. Your marketing strategy and plan will evolve over time and you will need to update them whenever you are emerging or entering into new markets. But in your initial plan, you should describe what you will do to earn your first clients, how you will communicate, market, and advertise your services, and who your clients would be.
In this section you should also use market trends and data to support how doing those strategies and methods will earn your clients and what your forecasted earnings will be once you have these clients, going as far as to forecast the next five to ten years.
Products and services
The products and services section of your business plan is where you will describe what you are offering as a personal trainer and personal training business and why. Are you providing small group training, private one to one appointments, plan on teaching group classes, or a combination of all the above? When you know what services you intend to offer you need to clearly explain what they entail and how they are a benefit to your clients.
If you sell any additional merchandise or programming, you need to be specific as to why that is important to your business and offering. If are interested in offering products or services for example online classes and online one-on-one personal training services, nutrition programs, or on-demand content, you should make mention of these in this section and your plan for including these services and products in your offering.
In this section, you should also discuss how you plan to deliver these services to your clients. Will you focus primarily in-person, online, or both? Will you invest in personal training software to provide your clients with an easy to use booking and membership experience? These details help your reader and potential investors understand the customer experience you plan to execute beyond the product or service itself.
Financial plan
Your financial plan is one of the most important parts of your business plan. It is in this section that you will detail how much you expect to both charge and earn for your services as a business and personal trainer. You will also identify how much you intend to spend, if you receive funding what you intend to spend it on for example coaching salaries and perhaps, personal training software, how much you expect to make, and why potential investors should invest in your business. Your financial plan will give both you and the readers of your business plan an expectation and forecast of your profitability both in the present and in the future. Include your budget and what additional costs related to marketing, operations, development and expenditures you foresee your business having.
Facility and location
The facility and location section of your business plan is where you will state where your business will operate. Do you want to open your own gym or studio or rent space from an existing facility or run your training outdoors? Knowing the exact location or type of location where you will run your business is a very important part of 1, assessing your risk and how much insurance you will need and 2, assessing the cost you will incur from rent or a mortgage.
Being as specific in this as possible for the first and second-year stages of your business will help you readers and potential investors understand how you will grow in a specific area or region. Even if you plan to run your business online, taking into account where you will run your online training from and the very specific locations where your clients will be able to train with you is necessary information to include in this section.
Management team
The management team section of your business plan is where you will discuss any team members or staff you plan to have when starting a personal training business. Even if you plan to start your business as the only management team member, you can include any plans you have to grow your team in the future or plans to remain a sole trader. You should include fine details such as salary amount, how you will pay and train staff, and how each member of your team or staff will operate, meaning what role they would fulfil, for example, three coaches, one finance manager, one receptionist.
If you are running your personal training business online, you could also include where your management team members might be located or where you plan to have them located if you plan to recruit from a specific area or region.
Start your personal training business plan
While starting your personal training business and writing your business plan might seem like a challenge now, you have all the tools and resources you need to be successful. The rewards for your professionalism, preparedness, and entry into the fitness market will be much greater when you have taken the proper steps to launch your business the right way with a detailed, informed, and solid plan to guide you.
FAQs
How profitable is a personal training business?
The average amount an entry-level PT can expect to make is $16.70 per hour which equates to about $34,000 per year. But the average income for trainers as a whole is closer to $42,000 per year, with the top 10 percent making in excess of $76,000.
How much do you need to start up a personal training business?
Start-up costs for personal training businesses vary from business to business, but they don't have to start off steep. Getting certified can cost anywhere between $500—$2000. Investing in liability insurance should cost between $200—$300 per year, and factoring in about $1,000 for an initial marketing strategy is also sensible. Should you decide to invest in your own space, rented or owned, that depends entirely on your location and the size of the space you want. If you need assistance earning funds to start your personal training business, check out our guide on applying for business grants for personal trainers.
Once your business plan is written and you're ready to take the next steps towards launching your personal training business, start by signing up for our free trial.
Thanks for reading!
Need a hand launching your personal training business?
We're here to help! Send us your biggest challenge with launching your business and we'll give you our top recommendations. Contact us at marketing@goteamup.com or schedule a call with our team any time.
Open Comment Form