Finding the right type of fitness and lifestyle to motivate you to achieve your goals doesn't always happen overnight. There can be a lot of trial and error involved whether that's workouts and fads, types of gyms and studios, or what you're consuming day-to-day. For Nijya Saffo MS, RDN, LD, owner of NK Fitness and Nutrition, she too had to figure out what not only worked best for her but what she enjoyed doing and could be sustainable for her to keep up.
Now a fitness instructor and dietitian, Nijya is sharing her own health and wellness journey and how other fitness business owners can help find and attract clients to their nutrition and fitness programs and the importance of focusing on the two side by side.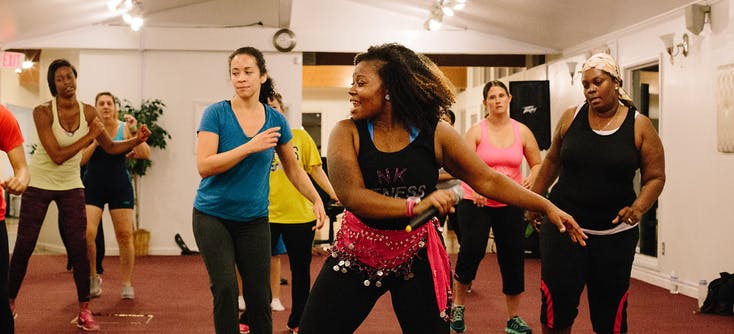 In college, I participated in a lot of sports and activities while trying to find the right workout for me. I was overweight, bored with the elliptical and treadmill, and enjoyed dance but thought it was for older ladies. As an athlete, having played so many sports, I really didn't understand how I could be overweight if I was very very active.
Zumba was new at that time and I found dancing was so much fun so I started classes. Everyone said I was really good and I did have a dance background as a competitive cheerleader and dancer so that encouraged me. When I lost 50 pounds after I started dancing and attending Zumba class, I decided to go on to learn more about nutrition, get my masters, and become a dietitian and combine the two.
How to attract new clients to your nutrition and fitness program
It's all about the information you put out
I have a following on Instagram and an even larger following on TikTok and people listen to what I have to say and when it makes sense to them they want to sign up. For people to be able to see the information on my website and social media, it's very engaging. You have the information. The more you put the information you have into speaking terms that people can understand the more they will be interested.
Don't give people a reason to be afraid of change
Keep it fun and engaging. I haven't had any issues with people being afraid of making changes to their fitness and diet because I try not to make them afraid. I try not to scare them with a nutrition and fitness program.
Let them be part of the process
I create a plan, but I make them create it. I started off creating meal and exercise plans, but my clients weren't following them. So I began to ask them how they wanted to prepare their healthy meals, what worked best for them, and what they liked. I'd then say this is your plan, and I assist them with writing it down and making them work through it.
Same with exercise three days a week. We discuss what days that they'll exercise, what time, and we create a plan. I don't completely write it out, but I suggest what classes to come to and what to eat and help them plan for success.
Know who your clients are
Right now I have mostly middle-aged women with children, and they enjoy it because most of them all live in the neighbourhood where my facility is. They can work out or meet with me online while their kids are in the other room doing their homework.
Find out why it's important to collaborate with with practitioners and doctors
Work with practitioners and doctors
My nutrition practice is a little bit separate from what I do in classes. When new clients book for the nutrition they see I offer fitness and vice versa. A lot of clients come to me saying "my doctor said something that made sense" but they don't really give them any information or they'll say that their blood or test results came back high and that the doctor said to change their diet, but don't explain what to do.
I only have one physician that I do work with hand-in-hand for clients. When a client comes to me I let that physician do their part and I do mine, both focusing on our specialities, and we work together on that.
But the majority of my clients, I don't typically work with their physicians because they'll come because they couldn't find a solution from them or they'll tell them to come back in a few months to check back in. My goal was to decrease that. I work with my clients to reduce their levels and results within three or six months.
Consider accepting insurance
During COVID I opened my own private practice, so I accept insurance. I'm listed in directories and on Google which helped me grow.
Keep reading and find out more about nutrition and fitness from Nijya
Q&A with Nijya
Why do you think nutrition is so important to one's fitness?
Nutrition is important to one's fitness because it fuels and supports your body to reach your fitness goals.
How do you help clients realise the importance of nutrition and fitness together?
It's kind of split. Some people prefer to work on their nutrition first, others want to work on fitness. But to most people, when I communicate with them I tell them they're better together. They'll come for one but after I talk about how they are better together, they consider doing both.
I offer monthly memberships where clients can come to three fitness classes a week, and then I offer nutrition within that. They can come to any class throughout the month and then they are provided with nutrition courses.
How do you coach someone who isn't familiar with the benefits of healthy nutrition or is sceptical about changing their diet?
I coach someone through nutrition education. I educate them on the benefits of a healthy diet versus the cons without a healthy and balanced diet.
What is your favourite workout and meal?
My favourite workout is tied between HIIT and dance fitness. My favourite meal is chicken with a vegetable and rice stir fry.
How would you recommend other nutritionists and fitness coaches use their booking software to manage their clients?
I would recommend they use their booking software to track numbers and to stay engaged with clients.
What's your best tip for retention and keeping clients on after they achieve their goals?
The best tip for retaining your members is staying in contact and always encouraging clients.
Thank you for sharing Nijya! To learn more about NK Fitness, follow Nijya on Instagram and TikTok.
Video: Why Nijya chose TeamUp for her fitness and nutrition business
When I found TeamUp, I found that it was easy and allowed me to have a student schedule for fitness classes, purchase memberships and join the classes live. My favourite one is the membership and being able to do monthly style.
Find out how TeamUp's software helped a weight loss clinic manage bookings and consultations here.
Open Comment Form