There are several quick ways to connect your website and business applications with TeamUp that require minimal technical skills.
For example, if you want to add TeamUp to your website, you can link to or embed the Customer Site. Or, if you need to send information from TeamUp to another application or tool, you can use the Zapier integration to create the automation.
However, if your requirements are more complex, we have two full-featured APIs you can use. For example, if you need to integrate TeamUp with other tools (such as your CRM, marketing software, etc.), or you want to build a custom application or website for your business that's powered by TeamUp, our APIs may be the solution.

An API (Application Programming Interface) is a software-to-software interface that enables different applications to talk to each other and exchange data.
What do the TeamUp APIs do?
We have two TeamUp APIs:
The Customer API allows a user to interact with TeamUp as if they were a customer
The Business API allows a user to interact with TeamUp as if they were a staff member at a business
The APIs interact with your TeamUp business and customer accounts. They can power custom websites or apps for your business or build automations for your business.
To use the API, you'll need to work with a developer or use the integration with Zapier. If you need help determining which option works best for you, we recommend checking out our Zapier integration guide first. The integration covers multiple use cases, so you may be able to achieve what you need without any coding.
If Zapier doesn't cover your requirements, keep reading!
How to get started with the APIs
To use the API, coding skills are required. You can find the documentation for the TeamUp APIs here. When you're ready to use the API, you'll need to submit an application and obtain credentials.
Let's take a look at how this works for each API type:
Business API
Our new API tool on the Integrations page allows you to submit an application directly from your TeamUp account and generate your API credentials instantly.
To submit an application, head to the Settings tab on your TeamUp account and click on Integrations.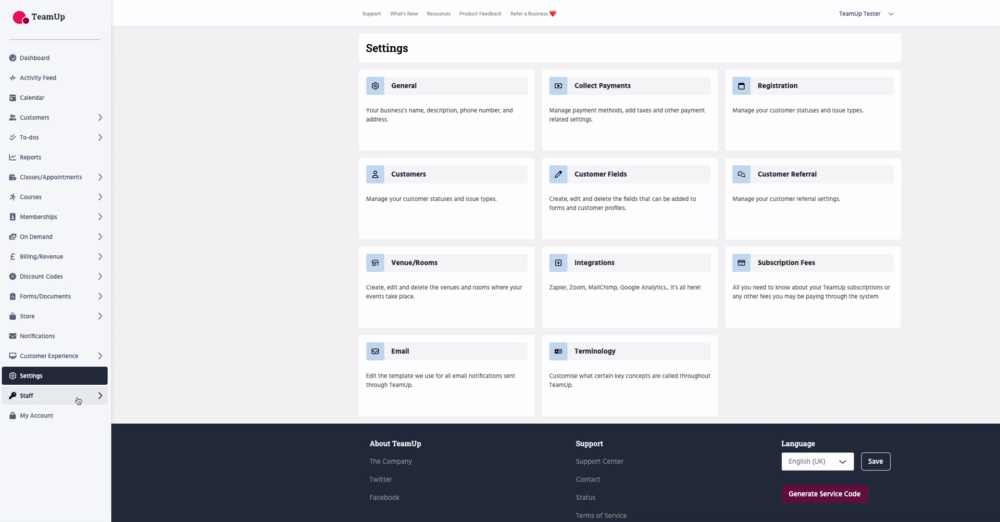 On this page, click 'Get Started' and fill in the required information. For a step-by-step tutorial, please see this guide.
Customer API
To submit an application for the Customer API, you'll need to reach out to our Product team. Please follow these instructions to submit your application.
Still need help figuring out the best way to integrate with TeamUp? Reach out to our friendly Support Team via the chat app in your account or support@goteamup.com - we're happy to help!
Open Comment Form