You can have spent hundreds of hours and several years preparing to become a yoga instructor and studio owner only to then find that once you get there, you end up spending all of your time drowning in business admin. Struggling with unorganised schedules, customer bookings, and missing or late payments can lead you to wonder why you started your own business in the first place. Yoga studio software can help.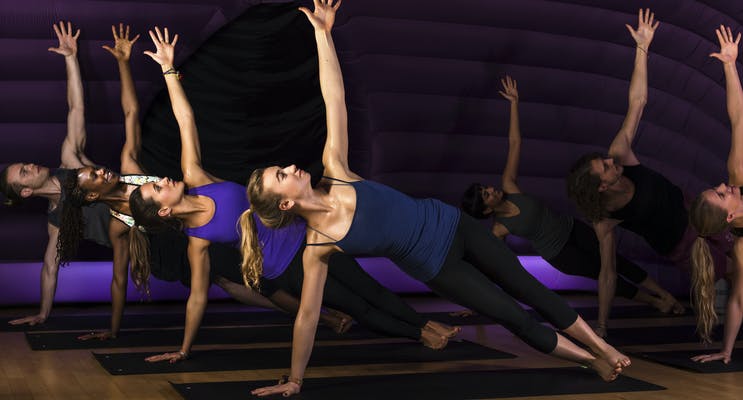 Photo Credit: Hotpod Yoga
Having a tool that will help you eliminate the struggles of managing class schedules, customers, and instructors give you more time to offer a better yoga experience for your customers. And grow your business at the same time. We asked several yoga studio owners to share some of their pain points with us so we could better understand how to help them run their businesses. Here's what they told us:
Being prepared for class
"I was spending all my time dealing with class bookings and payments and not enough time talking to my customers."
Spending too much time on administration leads to being unprepared for class and even worse, less time for communicating with your customers. How can you meet your their needs when you don't have time to engage with them? Yoga is one of the main types of fitness that requires more of a personal relationship with customers. If you are unable to help them with their practice and plan your classes to help them develop their skills, your business will suffer. You need a tool that will help you streamline your tasks and free up your time to spend with your customers.
Unorganised calendar system
There wasn't any system for them to be able to look at. And everyone had to book through me, so I was having to be in communication with people all the time.
While having your own planner or calendar can help you manage your personal events and plans, it is not as easily accessible for your customers. Without somewhere for your customers to find your classes (as well as details including instructors, venues, and availability) and book, you will have to be much more hands-on with your customer's booking experience. An online calendar and booking system will solve this for you instantly.
Overbookings and no-shows
That first summer of doing that rooftop yoga class was just an administrative nightmare. Trying to handle what was sometimes 40 bookings a day, coming in via Google Forms, which then required me to confirm by email myself and of course, make payment. So then I realized I was going to have to overbook my classes by a third because of no-shows because they weren't paying.
Telling a customer they can't attend a class because it is full, to then end up having no-shows is an unfortunate situation that you can easily find yourself in without a booking system. Why? Because one of your students could have easily filled that spot via an automated waitlist. When your student misses a class and you do not have another to automatically fill that spot it can throw you both off track and even result in you missing out on being paid for that class.
Missing or late payments
We had over 300 members and trying to keep track of who has paid and who hasn't, who's booked in and who hasn't was a nightmare and very time-consuming.
Without a system in place to help you keep track of payment information, you will spend all of your time chasing down customers to confirm if they have paid. Not only will this lead to some very uncomfortable conversations, but it will distract from both you and your customer's experience and trust in one another.
Issues like missed or continually late payments, are something you can prepare for in advance with a booking system. Having a payment plan set up that will collect payment automatically on a set date or recurring basis the only way to guarantee your customers will pay on time, and secure your business's income.
Having enough time for your own yoga
I was teaching 5 times a week, but I wasn't practising myself. I realised how much that affected me, spending all my time on the business, and not being able to focus on being a better teacher.
Is dedicating time to your own practice just as important as dedicating time to your students'? Many yoga teachers have told us, yes. But when your business relies on giving classes to others, it's possible that you will put yourself last in order not to lose momentum. Sometimes there just isn't enough time in the day...is only an excuse if you don't have a system in place that can help you manage your time. Figuring that out will allow you to give your customers an excellent yoga experience as well as time to work on your own practice.
11 TeamUp features to improve your yoga business flow
While overbookings, late payments, and unorganised schedules may not be an everyday problem at your studio, they can become one without a booking system. TeamUp's tools will help you avoid these and any other issues that can arise in the future. Here are some of the best that will help you run your yoga business.
Easy online bookings
An online booking system will help you fill up classes without having to personally confirm every attendee's spot and ensure that classes are never oversubscribed. Your customers will be able to filter by class type, venue, and instructor to find and book their favourite classes at the click of a button.
Offering your customers the ability to book online will encourage more people to come to class and mean that the class day is focused on your teachings rather than whether people have paid. Everything from registering to paying can be done online so your customers can come straight to class ready to start.
If you offer multiple types of classes (advanced yoga, yoga for new parents, ashtanga, vinyasa) give your class a clear name and description to ensure that your customers are registering for the right class.
A waiting list will keep your class full
One of the best features in having an online booking system is automatic waiting lists. If your customer wants to register for a class but the class is already full, they can sign up for your waitlist. If a customer cancels in advance, the first person on the waitlist will be automatically registered for the class and fill their spot or your software will automatically message them if it's after the cancellation cut-off time. An automated waitlist is one of the top ways to prevent no-shows and reduce last-minute cancellations.
Guarantee their favourite class
Let your customers automatically book their favourite times for class every week using the recurring reservation tool. You have the option to either book their favourite classes for them ahead of time or give TeamUp's support team permission to allow your customers to do this on their own. That way they never have to worry about missing out on their class with you or not being able to receive a spot on time.
If one of your customers makes a recurring reservation and is unable to make class that day, as long as they cancel in advance their spot will go to the first person on your waitlist.
Keep your customer info all in one place
Keep track of all of your customers in one place using the CRM (customer relationship management tool). Having a dedicated section of your dashboard where you can find all of your customers' information, personal details, injuries, progress, and fitness history will help you organise. Each time you sign up a new customer they will be automatically added to your customer list and you can update their profiles at any time.
The tool will also help you monitor your customer's status at your gym. For example, you can keep an eye on any customers who used to come but have stopped so that you can send a personal message - or even automate the entire process. Having easily accessible customer information will help you better help them and find out what they need from you as their instructor.
Send your customers a reminder
Pre/post-class notifications not only helps you keep track of their attendance and progress, but it helps your customer do this as well. Set up notifications that are sent to your customer before class starts to reduce no-shows or last-minute cancellations. Post-class notifications are a great way to let your customers know how many classes they have attended and how many are left in their class pack or membership.
You can also send your customers milestone notifications to remind them when they are approaching an anniversary at your studio. Milestone notifications can be customised depending on the number of classes taken or length of membership, and should always come with a positive message. This is a great way to also let your customers know you are involved in their progress and recognise them for their achievements.
Online payments
Online payment systems are one of the most useful business tools to ensure you are paid on time before class even starts. To register for your classes or sign up for a new membership, your customers are required to pay in advance and online to ensure a hands-free experience.
This will also help you reduce no-shows and last-minute cancellations. TeamUp partners with several payment providers to offer you smooth, streamlined payment collection options for your customers.
Membership packages
Offer your customers the perfect membership package to match their class needs and simplify the booking process. You can offer any amount of membership packages or class packs for your customers. If you have long-term customers that know they will be returning monthly, you can encourage them to purchase a recurring package that will bill them routinely. This is great for your cash flow as well as almost entirely removing money conversations from your life and business.
Once your customer is signed up they can download the member app to book your classes even faster.
Filter classes by ability level
You can also arrange your packages by skill level. Depending on their level, you can choose to show certain classes only with more beginner or advanced class offerings. This way your customers can avoid accidentally booking a class that is above their current skill set.
If one of your customers progresses quickly and is ready for something more challenging, you can manually change their package from one to the other without requiring them to purchase a new one.
Give classes online
If you have customers that prefer practising yoga from the comfort of their home, you can offer them, online classes, through TeamUp's Zoom integration. Many yoga studios are giving their customers the opportunity to do both in-person and online classes through membership combos.
Using Zoom, your customers are sent a link to your online class before it starts, and their attendance will be marked off as soon as they enter the online room.
Multiple class types and venues (in-person and online)
Having an online booking system makes managing multiple class types, instructors, and venues, much easier. If you offer different classes at different studios you can filter your class types and venues in your dashboard for easier view and reporting. This also makes monitoring the activity at each of your venues streamlined and will help you assess if you need to make any changes, updates, or improvements at any of your venues.
This can also help you track the difference between your in-person and online classes. If you see that more of your customers are coming to class online over in-studio or vice versa, those observations can help you make important business decisions.
Welcome new customers through referrals
Ask your yogis to spread their love for your studio through your customer referral program. When a customer signs up for your studio, they receive their very own referral code and link that they can send to friends, family, anyone. If a new customer signs up using a referral code they can receive a free class pass and your customer who referred them can receive a credit applied to the account for future classes or memberships. A customer referral program helps you grow your business and incentivise your current customers to contribute to your studio's success. Your program can also show you which of your customers are most responsible for referring new members.
Running your yoga studio should be more rewarding and less of a struggle. To use these tools and more head to your TeamUp dashboard or sign up for your free 30-day trial.
If you struggle with admin at your yoga studio, drop us a line at stories@goteamup.com and we'd love to understand and help.
Open Comment Form