As a Pilates instructor, your goal is simple. Guide and empower your clients to learn and grow in their movement. New Pilates clients start their journeys for a number of reasons. They have back pain, they want to improve their strength and balance, they want to better their overall wellbeing, they want to relax, and the list goes on. But how do you as a studio owner and teacher help guide your clients when you are stuck working out how to manage your studio? Pilates booking software will give you the tools to improve your business and smoothly manage your studio ultimately helping your business to grow. Before using software many of our customers came to us with similar problems.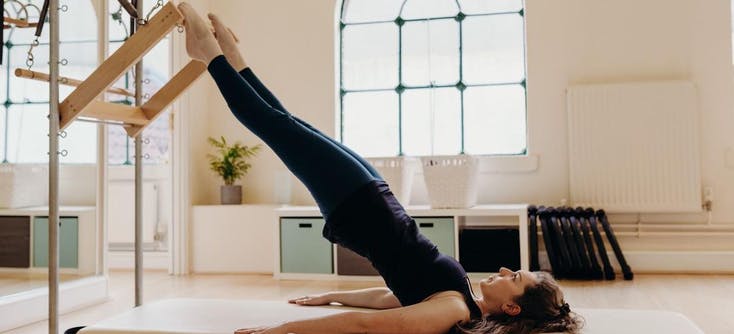 Photo Credit: The Pilates Studio Norwich
Too much time wasted on admin
If you're stuck trying to figure out how to manage your business, you won't have time to focus on making it grow or give your clients the attention they need. Pilates software can both streamline your admin and day-to-day tasks to give you more time to help your existing customers, welcome new customers, and take your studio to the next level. Attempt to grow without software and you'll find yourself backtracking unable to recover.
Cancelled bookings and registrations
Without a proper booking system to keep your clients accountable for their class registrations, both they and their payments can slip through the cracks and lead to no-shows and last-minute cancellations. Having an online booking system through your Pilates studio software that requires your clients to book and pay in advance and gives them a place to quickly and easily register can help you reduce your no-shows as well as boost attendance for the clients that actually want to come to class.
Unreliable payments and tracking
Another common reason owners do not have enough time for their clients and classes is due to tracking whether payments have been made on time. Seeing that a client has yet to pay for their class or membership can lead to awkward conversations and more wasted time. A reliable booking system with the top payment processors will organise all of your invoices, memberships, and ensure that you are always paid on time and before class. Say goodbye to chasing down payments ever again.
Tailoring classes and memberships with Pilates sofware
With so many different types of Pilates, it can be a challenge on its own to explain what exactly it is you offer, especially to new clients. Being able to tailor your classes and memberships to give your clients the most suitable options for their ability is important for their safety.
Scheduling and offering different class types and memberships based on client level and experience will ensure they take the correct classes for them and avoid injuring themselves. Without Pilates software, this can be very tricky to navigate and avoid clients booking the wrong classes.
Welcoming new teachers and staff
One of the best indicators that your business is succeeding is by seeing it grow. Which includes hiring teachers and staff. Pilates studio software can help you manage your clients and staff all in one place, and integrate your staff training right into your class schedule. Reporting tools will give you valuable insights into which teachers your clients love taking class with and which may need a little help.
Not knowing where to get started
Big or small, existing clients or no clients, starting a business is a big enough challenge, so why add more to your plate than you can handle? Launching your Pilates studio with the right software will give you an instant advantage and get you started on the right track from the very start. With Pilates software in place, potential clients will be able to see your class schedule, sign up and book, and purchase memberships before you are even open for business. Not only will you know your clients' names on the first day, but you'll be able to start building meaningful relationships with those clients from the moment they walk into class.
Top TeamUp tools to help you manage your Pilates studio
While all of the TeamUp tools can help you manage your Pilates studio, here are the standouts that target the common problems we mentioned above.
An intuitive class schedule and calendar easily accessed in Pilates studio software
Booking your classes should be the easiest move your clients make. Using the business management calendar you can both schedule classes as well as customise them to offer your clients an even better booking experience. The calendar scheduling tools allow you to organise and schedule by class level and ability, teacher and venue, and type of class. Having a clear name and description with details of each class, availability, teacher and venue will make it even easier for your clients to find their favourite classes and book in advance. Sit back and watch as your classes fill and stay full, freeing up your time to focus on planning your powerful classes. Your calendar will be your favourite TeamUp tool yet.
Manage your clients and staff all in one place
Don't waste time switching hats between being business owner and Pilates teacher. In your TeamUp dashboard, you can manage your class and staff scheduling, customers, and their payments and invoices, all in one place. Watch as your clients get billed on time and your staff paid on time as well. You will also be able to see which of your teachers your clients prefer taking class with and make important business decisions for your studio with that knowledge.
Valuable insights and reporting
From class attendance to memberships to invoices to which teachers' class performs best, the reporting tool will provide you with the most valuable insight to smoothly manage your studio. The reports will also help you make important business decisions like which classes to keep, add more of, schedule less, and if you need to check in with a client if they are slipping away. Easy to download and even easier to view right within your dashboard, you check on your reports anytime anywhere.
Keep your classes full with automated waitlists
We get it. Sometimes a client can't make it to class. The right thing to do is to let you know in advance so that you can find a client who can fill that spot. But what if this could be done for you?

The automated waitlist tools will make sure you always keep your classes full by automatically notifying and registering the first client on the waitlist after one of your clients cancels their registration in advance.
Book your clients into their favourite classes
Your customers will love that they always have a reserved spot in their favourite classes. With TeamUp's block booking tool you can book your clients into recurring classes at one time. You can either give them permission to do this themselves or do it for them using the tool. If the client is unable to make a class, all they have to do is amend their booking in their dashboard or member app and easily reschedule.
Set up recurring payments for your clients
Pilates clients are very loyal to their studios. Offer your clients recurring memberships where they can be billed monthly and even annually. You can customise your membership plans however you want. Whether you would like to set up long-term memberships, term blocks, class packs, or drop-ins, let your clients make the most out of your classes and workshops.
more convenient for clients
better for your cash flow
no more chasing for renewals
Grow your studio with referrals
Show your clients loyalty too by rewarding them for helping your studio grow. Create your very own customer referral program where you can give your clients account credits to redeem once a new member signs up. All your current clients need to do is share their unique code which will automatically trigger a free trial class or discounted class once redeemed. You'll win over new business, your existing clients will have more credit to spend at your studio, and your new clients will begin their new journey at your studio.
Integrate with your favourite apps and software with your Pilates software
To simplify your marketing and payment processes, TeamUp integrates with some of the most popular apps and software including Mailchimp, Zoom, Zapier, and GoCardless. Have an app that helps you run your studio? Let us know! We are always welcoming new partners and would love to work with platforms that help make the process even smoother.
Using our email marketing integrations you can ramp up your newsletters and content so that your clients can receive them right away. Our payment providers will ensure that your payments are collected and you are always paid on time.
An enhanced customer experience
Make your business look more professional and branded by customising your account. Using your brand's logo, colours, tailored messaging, and the TeamUp widget, clients will be able to make a seamless transition from browsing your website to booking classes without missing a beat. With help from the marketing integrations mentioned before you can enhance the customer experience throughout all of your studio, booking portal, social media, newsletters, and more. You'll be wearing the branding pro hat in no time.
Offer classes online from home
Can't make it to the studio? Host your engaging classes online using the TeamUp Zoom integration. All you need is a Zoom account and to add an online venue to your dashboard. You can even run in-person and online classes at the same time. When your clients register for your online class, they will be sent a unique link to join right before class starts. They can join using the link or their member app on their mobile device or tablet. Once your client enters the Zoom room, they'll be automatically marked off the register. It's that easy and the perfect solution to being able to reach your clients no matter where they are.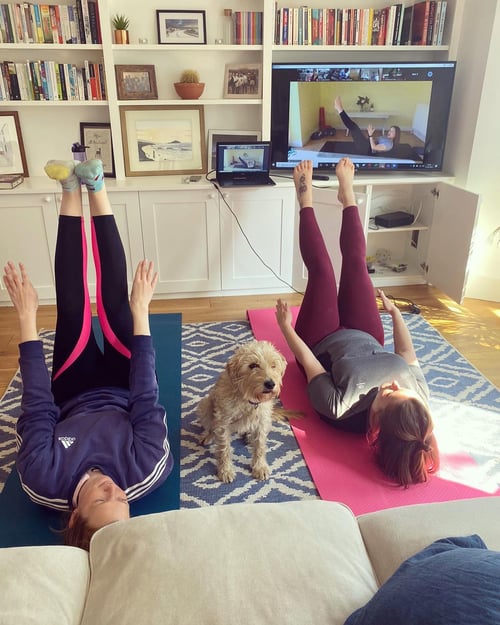 Teaching online classes live also gives you the opportunity to incorporate hybrid classes into your schedule. When your in-studio classes fill up, your online classes give you the opportunity to allow more of your members and clients to join in the session as well. Additionally, it gives you the chance to increase your memberships with people who live further afield. You're no longer confined to your local area, you can target new members from wherever you want. Most importantly, your current members won't have to worry about spaces filling up. If they can't get a spot in your class, they can join from home.
We'd love to hear about your Pilates classes! Have a fun story to share or advice for other owners and instructors? Share with us at stories@goteamup.com.
See how TeamUp can make managing your Pilates studio easier and sign up for a 30-day free trial, here.
Open Comment Form