If you want your gym or fitness business to succeed, generating leads is essential. Lead generation opens the door to a never-ending stream of new clients. And with the right strategies, you can generate quality leads from your target audience who have already expressed interest in what you have to offer.
A lead can be anything from a word-of-mouth reference to an email address, phone number, or a complete profile of a potential customer.
For gym owners, generating new membership leads is crucial to keeping their business afloat. Getting quality leads regularly can mean the difference between success and failure.
Although new leads may seem like a lot of work, they help to fill the sales funnel and turn your target audience into paying gym members, generating more monthly revenue for the business. This monthly income is vital for any fitness center; a higher number of leads usually means more potential clients.
If you're struggling with coming up with lead-generation strategies, keep reading for tips on how to generate leads efficiently.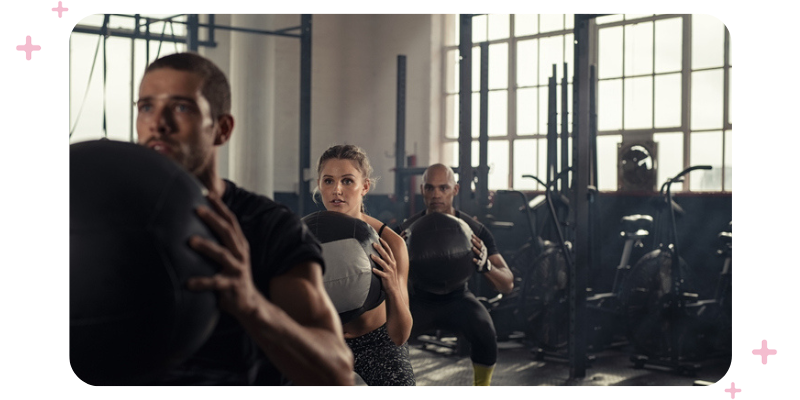 What is lead generation?
Lead generation is the process of identifying potential clients and collecting contact information from them in order to nurture leads into long-term relationships. Lead gen usually involves a combination of digital and traditional marketing efforts such as website forms, social media campaigns, conferences, emails, and more.
By tracking lead interactions, businesses can better understand their customer base and build trust with potential buyers before making a sale.
Why does a gym need lead generation?
Lead generation is integral to a gym's marketing strategy as it helps you reach new potential customers interested in joining your gym.
Lead generation can also help increase brand awareness and trust and build relationships with potential members.
With the fitness industry becoming increasingly competitive, you may be up against various studios from the get-go. They will attempt to nab the largest market share in your area.
To succeed and develop your business, you need to construct a reliable membership base immediately--which is why you must explore all primary lead generation channels available.
Attention can't be bought by gyms from customers as it could in the past--you must now earn it. If you want people to trust your business and give it their attention, your team and results must prove themselves worthy first.
The best way to do this is with a lead generation plan; research shows that companies with one of these plans attract 67% more monthly leads than those without a strategy.
Lead generation does more than increase interest in your company--it also drives customers to take further action. It's the first step of any sales process and is vital for success.
How do gyms generate leads?
You may already know that leads are essential, but how do you acquire them? Here's a guide to help you create a plan and generate leads for your fitness studio.
Set clear goals and objectives
Before generating leads, you need to sit down and decide your goals - what do you want your potential customers to do?
For instance, many fitness facilities sell activewear as an additional source of their gym revenue. A lead might be someone interested in buying new workout clothes.
Alternatively, the lead could be interested in signing up for a monthly or yearly membership. Or perhaps they're a bodybuilder getting ready for their next competition.
To put it simply, a lead could turn into a paying customer. However, because your fitness center has numerous customers, it's not always a clear-cut process. And that's where our next step comes in.
Figure out who your perfect customer is
It's common to go into a store not knowing what you want but trusting that you'll know it when you see it.
However, you can't apply this same analogy to business--you have to know what you're looking for, i.e., your ideal leads.
Fortunately, identifying your perfect customer primarily depends on developing buyer personas and lead scoring.
What is lead scoring?
Lead scoring enables you to get real-time feedback on how responsive and engaged your potential customers are with your marketing initiatives. Lead scoring can indicate if a customer is interested in buying but has yet to contact you.
Lead generation mediums for gyms and fitness businesses
There are many ways to attract leads for gyms, but these three methods, in particular, tend to be the most successful:
Lead magnets
The best way to get people interested in your fitness business is by offering a lead magnet.
Lead magnets are content requiring a person's contact information before accessing it. For example, this could be an e-book, an Instagram ad, or a marketing email.
Usually, lead magnets result in more qualified leads because the person has to exchange something personal for the piece of content.
According to a survey, half of marketers believe lead generation converts into customers at higher rates than other types of content.
Landing pages
A landing page is a single web page designed to promote or sell a product or service or speak to a specific type of client.
On average, conversion rates for landing pages tend to be 9.7%. Of course, this number will differ based on specific industries, as seen below:
A fitness company's landing page should speak to potential customers' pain points and show how the service can solve their problems.
For example, if you're promoting your gym, highlight what makes your gym unique and worthy of a subscription.
This will encourage potential customers to input their email addresses on the landing page.
Lead capture
Creating great content helps you earn your customer's attention rather than buying it. What kind of content? Infographics, blogs, and discounts (we'll get into that more later).
The point is this: your lead capture idea should be based around creating amazing content. For example, almost half of marketers say that web forms are their best converting lead generation tool.
12 best lead generation ideas for gyms
With your plan in hand and knowing what separates a good lead from a bad one, it's time to enter the digital world where your potential customers spend their time.
Still trying to figure out where to start? Here are 12 of the most effective channels for creating gym leads:
Google Ads
Google Ads, previously known as Google Adwords, is one of the most popular forms of lead generation for gyms. By running targeted ads through Google Ads, you can reach potential customers who are searching for fitness services in your area.
Social media
Social media can be one of the most beneficial lead-generation platforms for a gym or fitness-related business. This is because people are more visual when working out and seeing results.
A strong social media presence is crucial for gyms to increase brand awareness, engage with leads, build trust and credibility, target specific audiences as well as stay competitive among other businesses.
Social media post ideas for gyms
On Facebook, you can post various content types regularly, such as class pictures and videos, workout and nutrition tutorials, class timetables, motivational quotes, and member transformation stories.
Additionally, an infographic from your blog would look great on Instagram and help to reach a wider audience. Choosing the appropriate medium for each social media platform you use accordingly to the type of content being published helps build social proof organically over time.
More organic social media engagement and positive interactions with potential positive leads create brand awareness, making it easier for them to buy into any lead magnets for products or services down the road.
Read more about social media post ideas for gyms.
Sponsored posts and videos
Consider using Meta's paid promotion targeting system if attempting to reach a different buyer persona on Instagram.
Although it may take some effort to get the settings right, investing in this method is worthwhile because of how visually appealing gyms can be.
Additionally, since Instagram is largely visual-based, your lead-generating content will likely have more impact if it contains images or videos.
Challenges
Aim to run at least four challenges a year, each 4 to 8 weeks long. These can be themed according to the time of year, like a "Summer Shred" to help people get in shape for the holidays.
Or a "Winter Warrior" challenge for those who want to stay fit during winter.
Not only does healthy competition help foster engagement and brand loyalty among your gym patrons, but many fitness fanatics love a good challenge too!
Nurturing a relationship with prospective members is the perfect way to get them to full-paying membership, and it has worked since the early days. If done correctly, this marketing strategy can continue benefiting your business.
Website
Most of your company's lead-generation content is on your website, including blogs, e-books, whitepapers, and workout plans.
Therefore, this information must prompt customers to quickly give you their email addresses.
Optimize local SEO
To generate leads, your content should address the pain points that you know your current customers experience. Through SEO keyword research and a well-executed SEO strategy, that content will also draw readers who are not familiar with your brand.
The relationship between search engine optimization and lead generation is an effective way to market your gym, primarily through local SEO.
Learn more: How to attract website visitors with SEO
When someone searches for something like 'Gym near me' or 'fitness classes near me,' you want to ensure that your page appears high in the search results.
Referral program
Referral programs at your gym can result in some serious word-of-mouth marketing. And there are three key benefits to running a referral program for your gym or studio:
You'll reach potential customers who, for one reason or another, haven't seen any of your other marketing campaigns up until now.

Prospective clients are more likely to trust a recommendation from a friend over just another fitness campaign they see online or hear about on the radio.

Can prevent members from canceling their gym membership and act as an early intervention method to identify any issues the member may have with your studio.
Referral programs benefit the business by bringing in new leads and solidifying customer loyalty. Everyone wins!
Email marketing and newsletters
Email marketing is one of the most effective ways to get your content seen by customers, and it can also help turn leads into paying customers. Furthermore, email campaigns are also an effective way to generate leads, as they allow you to track every step of the process automatically.
And with automated campaigns, you can deliver content tailored to each lead's interests, increasing the chances of conversion.
Learn more: Email marketing guide
Alternatively, newsletter automation can help build relationships with less-engaged leads.
The cost-effectiveness of email also allows you to follow up with as many people as possible until they unsubscribe from your list. Therefore, email should be a crucial part of your lead generation strategy.
Ratings, reviews, results, and testimonials
Did you know that 88% of consumers trust user reviews just as much as personal recommendations? Social proof, like a review of your services or Yelp reviews of your gym, can come in many forms.
But you might not realize that these reviews are only one type of lead generation idea. Review-based lead gen ideas are often overlooked, but they shouldn't be!
With so many consumers searching for online reviews before making a purchase decision, incorporating positive customer feedback into your marketing strategy can help engage more leads and convert them into paying customers.
Trials
There are two types of trials you can go for: a classic free trial or a low-cost trial. The latter's advantage is that you filter out people with zero interest in your product/service by getting a small upfront financial commitment.
Therefore, the person willing to pay for a trial— however small—is more likely to sign up long-term.
Guerrilla marketing
To market your product unconventionally, try guerrilla marketing. This type of advertising uses unexpected tactics and can be memorable. It's important to keep in mind that this won't be a low-cost strategy--in fact, it might not even be possible to calculate your lead cost per lead. Even so, these methods could turn some heads and make people more aware of businesses in the area.
Mobile app
A whopping 27 billion apps were downloaded from Google Play in Q3 2021 alone. This is one of many reasons your fitness center needs a mobile app - because that's what your customers want.
And contrary to popular belief, developing an app doesn't have to be a costly or time-consuming endeavor.
Position yourself as an industry expert
Position yourself as an industry expert by creating content that provides valuable resources to potential customers.
This can include blog posts, videos, podcasts, and more. Creating helpful content for potential leads helps you generate leads in the long run and establishes trust and authority with prospects from day one.
Additionally, providing valuable and informative advice makes it easy for prospects to find you, as they'll be more likely to search for terms related to the fitness industry.
By making yourself the go-to resource for fitness solutions, you can generate leads that are interested in your services and create a lasting relationship with them.
Lead generation for gyms doesn't have to be complicated—as long as you use the right strategies. With the right tactics, you can quickly generate leads and keep them engaged without spending a fortune.
The cost of lead generation strategies for your gym
Now that we understand the basics of generating leads, let's explore one of the most critical questions - how much does it cost?
How much of your budget should you set aside for lead generation?
Yes, you will have to spend some money when starting your gym if you want any chance of seeing a return.
With that being said, never aimlessly throw money around and cross your fingers that something works - that's a surefire recipe for disaster. Instead, methodically test different lead generation strategies so you can calculate the cost per lead from each one.
The cost per lead is determined by taking the total amount spent on a campaign or channel and dividing it by the number of leads received from that same channel.
For example, if you spend $1,000 on a Facebook Ads campaign but only receive 20 leads from this, your cost per lead would be $50 ($1,000/20).
The goal for all marketing strategies should be to lower the cost per lead while still maintaining an adequate return on investment (ROI).
Tips for optimizing your gym's website for lead generation
Optimizing your gym's website for lead generation is crucial in today's digital landscape. One of the first things to consider is making sure your website is mobile-friendly.
With the majority of internet users accessing the web from their smartphones, having a website that is easy to navigate and read on a smaller screen is essential.
Here are some additional tips for optimizing your gym's website for lead generation:
Keywords relevant to the gym and lead generation should be used on the website's content and meta tags to improve search engine rankings. For example, if you have a CrossFit gym in New York, this information should be in the SEO title and description as well as on the web copy of your website.

A website should load quickly. Nobody likes a slow-loading website, and it can also negatively impact your search engine rankings, as speed is a ranking factor for Google.

High-quality images and videos can be included to showcase the gym and its offerings. This can help capture the attention of potential leads and give them a sense of what it's like to be a member of your gym.

The website should be easy to navigate. A clean, well-organized website can make it easier for potential leads to find the information they're looking for and encourage them to take action.

Consider implementing chatbots or live chat functionality on your website. This can help provide immediate answers to potential leads' questions and make it easier for them to get in touch with your gym.
Whether you own a gym, are a personal trainer, or plan to open a new fitness center, TeamUp gym management software can help with everything from managing memberships to scheduling classes. Get a demo today.
Frequently asked questions (FAQs) about lead generation for gyms
How do gyms and personal trainers generate leads?
Lead generation strategies for gyms include:
Social media

Sponsored posts and videos

Challenges

Website

Optimize Local SEO

Referral program

Email marketing and newsletters

Ratings, reviews, results, and testimonials

Trials

Guerrilla marketing

Mobile app

Position yourself as an industry expert
How do you attract customers to the gym?
The key to attracting customers to the gym is creating a memorable experience and building relationships. Focusing on offering unique services can also help your fitness business stand out from the competition.
What is the cost of lead generation for gyms?
The cost of lead generation for gyms depends mainly on the strategies used. Lead cost can vary depending on the platform or channel and the budget you have allocated to it. To accurately calculate your lead cost per lead, methodically test different strategies to determine which generates the most leads at a reasonable cost.
What is the best source for leads?
The best source of leads will depend on the goals and objectives of your gym. By methodically testing different sources, you should determine which ones yield the highest number of leads at a reasonable cost. Some of the gyms' most successful lead-generation strategies include social media, website optimization, email marketing and newsletters, and referral programs.
Should I hire a marketer to generate leads for my business?
Although it's not required, hiring someone to handle lead generation for your gym can be the best option for your business - if you have room in your budget.
Are there tools available to manage email marketing or social media marketing?
Many great platforms exist for email marketing and social media management. Sites like MailChimp and Constant Contact make it easy to send mass emails, while platforms like HootSuite let you manage all your social media accounts in one place.
What types of leads are relevant for gyms?
There are several different types of leads that are relevant for gyms. These may include people interested in joining a gym, people looking for personal training services, or people interested in participating in group fitness classes.
Open Comment Form