Influencers are individuals who have the power to affect the purchase decisions of their followers. Riding on their authority, experience, expertise, or engagement, fitness influencers try to promote and grow the sales of the sponsors. With 17% of companies spending half or more of their budget on influencer marketing, influencer marketing is definitely worth considering.
Influencers aren't limited to social media platforms. Actors, athletes, and singers, whomever the brands appoint as ambassadors, are considered influencers. The issue with celebrity influencers is that they may not be willing to promote your gym or have no authority over the niche to influence their followers.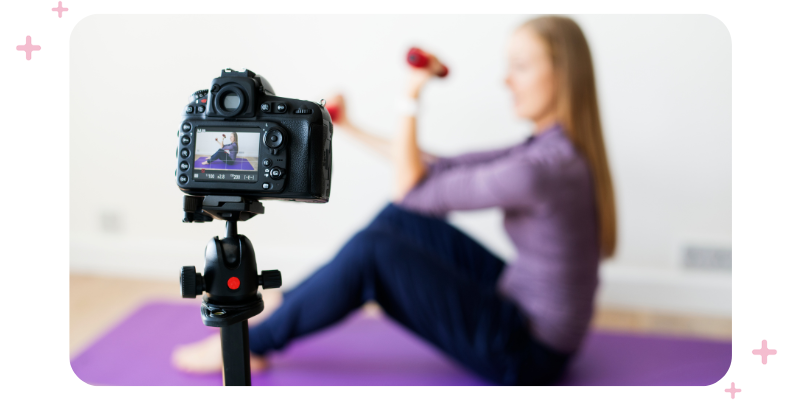 In this article, we'll guide you through the basics of influencer marketing, pro strategies, and how to choose the right influencers.
What is influencer marketing for gyms?
Influencers aren't marketing tools. They're the impersonification of a social bridge built between your gym and fitness enthusiasts. Influencer marketing is leveraging this newly found relationship with the audience to grow awareness, sales, and revenue.
Typically, paid product and brand placements are popular for influencer marketing. However, collaborations and affiliations are also considered, depending on the influencer and your strategy.
Influencer marketing is similar, in essence, to word-of-mouth marketing. The reason word-of-mouth marketing works as efficiently is that the prospects trust the individual for the results. Influencers, on the other hand, have a huge follower base that relies on their use, results, and feedback on services and products. With word-of-mouth, your marketing strategies are limited only to a close-knit circle, but with influencer marketing, the outreach is much broader.
Moreover, as influencers only affect the prospects who're interested in the fitness community, it has a higher chance of conversion than word-of-mouth marketing.
A few choices of influencers that you may consider in the fitness industry are:
Personal trainers

Doctors and healthcare professionals

Athletes and local student-athletes.

Sports coaches and local entrepreneurs.
Strategies with influencer marketing for gyms
Starting with influencer marketing requires developing effective strategies for it to become a powerful tool.
Establish your gym influencer marketing goals
Your gym can't just associate itself with any influencer and start generating sales. Your priority should be to establish your gym influencer marketing goals before looking for the right partner. Is it to improve brand awareness? Is it to drive more sales? Is it to offer online services?
The relationship between you and the influencer will be more fruitful through transparent communication about the goals. If your influencer perceives the goal as awareness and you're looking for more engagements, you both may not benefit from the arrangement and lose on potential future collaborations for the wrong reasons.
Moreover, keep your goals in mind while choosing the influencers. Analyze their content and see if their interest lies parallel with yours.
Understand the target demographics of both you and the influencer
In addition to marketing goals, decide your ideal customer persona and their demographics. If you already have clients secured through a structured sales process, you have the data to work on building customer personas. Leverage the details and understand your target demographics. Analyze the influencer's profile to determine if the followers fit into the definition of your target demographic.
As a gym owner, you must also niche down to determine your ideal influencer. If you keep broadening your domains to every inch of the fitness industry, your influencers may not be able to represent your gym's business goals and values. This may be a bit challenging for local gyms as they thrive on the inclusion of different needs, but you can appoint separate influencers for individual services of your gym.
Choose your social media platform
Different social media platforms cater to different audiences. While you may find the most suitable platforms on the first attempt, it often comes down to trial and error. Initially, you need to invest in influencers from each potential platform.
After a few weeks, when the traffic starts coming now, you can decide which platform or influencer has been more successful for your campaign. Depending on that, you can either indulge other influencers or disregard unsuccessful platforms altogether.
The best way to determine the success of platforms is website traffic. Consider allowing influencers to include your landing page on their promotional materials with call-of-actions. With the incoming traffic and conversion rate, you can ensure the potency of the influencer and the social media platform.
Genuine engagement
Two prominent types of influencers are macro-influencers and micro-influencers. Macro-influencers cover a broad spectrum of audiences, and micro-influencers cover more niche topics. A celebrity athlete is an example of a macro-influencer, and a student-athlete is an example of a micro-influencer.
More than the number of followers, the engagement of the audience with the influencer determines the success of your campaign. Typically, macro-influencers generate much more traffic but a lower conversion rate, while micro-influencers generate a higher conversion rate through lower traffic.
Decide on your goals before finalizing your type of influencer. If your objective is to increase brand awareness, go with macro-influencers, if you are lenient towards conversion, choose multiple micro-influencers.
Gym influencer budget
Whether through commission, collaboration, or upfront payment, you somehow have to pay them. In this regard, micro-influencers are more affordable than macro-influencers. Consider how much you can spend on influencer marketing and for how long. Analyze potential returns from the deals and if you're ready to put your money on them.
Usually, influencer marketing requires engaging multiple influencers for the campaign. If you can't afford that yet, consider looking for influencers who may work on sales commissions. While this method won't need an initial investment, it may scrape off a percentage of your profit.
Mutual content planning
Influencers share content in diverse formats. Depending on the platform, they may share informative videos, photos, stories, short videos, polls, articles, and many other forms of content. You have to mutually decide what works for you both. The mutual aspect of the decision is essential because if you force your influencer to go live with your product without the backing of their followers, it may backfire.
The goal is to guide the followers to your online presence. Keeping a mutually beneficial relationship with the influencer is the key to achieving that. Prepare actionable content that may offer discounts, free trials, or even free products for the influencer to engage more users.
Additionally, try to generate high-quality visuals for social media platforms like Instagram and TikTok for better reception and engagement. It's also crucial to stay authentic and not claim things that you can't deliver.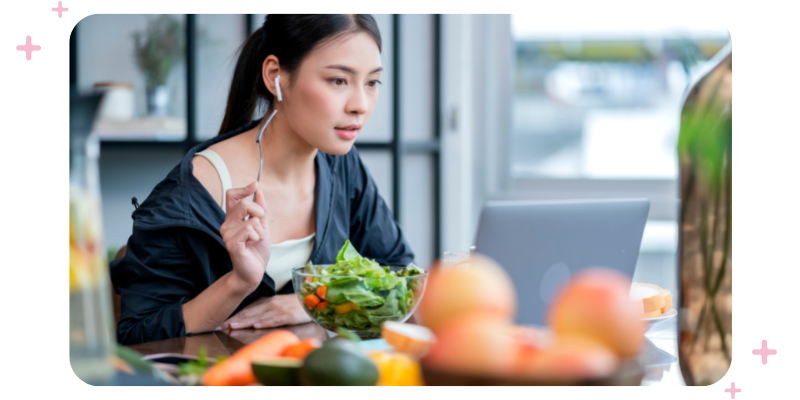 Follow data metrics
Measuring your success (or failure) is critical when it comes to influencer marketing. Decisions like the replacement of influencers, change of CTA, and platform priority depend on the metrics available to you. A few metrics that can measure your success are:
Increased website traffic

Higher lead generation

Better sales revenue

Increased brand awareness

Higher content downloads

Higher engagement

Better return on investment (ROI)
Fall back on these metrics and follow the strategies mentioned here to develop a better influencer marketing campaign for the gym. However, choosing the right influencer is also critical.
How to choose the right influencer
The mission of the influencer
Depending on their motivation, influencers are categorized into different segments. The ones who are exclusively here to gain support and motivate others. These influencers aren't prepared to handle extended business opportunities yet, but with proper guidance, can become high-value assets. Nano-influencers and micro-influencers fall into this category. They have genuine empathy for their audience and strive to help them through their content.
The other types of influencers are the macro and mega-influencers with millions of followers. Individual engagement doesn't hold much value in such cases.
When choosing the influencer, consider what your goals are and if the influencer can be respectful towards that. For gyms, smaller, compact communities with dedicated influencers work the best. They may not bring thousands of website traffic, but they'll bring genuine prospects who're more likely to close.
The number of followers and engagement
While not the only determining factor, the number of followers and content engagement are important metrics to consider when it comes to choosing influencers. As you'll be paying them for the engagement, not having enough followers diminish the purpose.
Fake followers are also an issue. Many influencers buy followers for their accounts. These accounts, while increasing followers, don't engage with the content. Consider analyzing the engagement metrics to see if they lie in parallel with the number of followers.
Moreover, follow the influencer to see which type of content they have the best performance on. If possible, use the engagement metrics to determine that.
The niche of the influencer
We can't stress enough how important it is to find influencers in your gym niche. An influencer doesn't engage people without an interest in the domain. For example, a hiking influencer won't be attracting users with an interest in track running or swimming. A few followers with mutual interests may creep in, but that's not the norm.
Stay connected with influencers who engage a similar audience to your target. Analyze their content, follower demographics, and especially engagement. Moreover, if upfront payment is involved, understanding the niche of the influencer becomes much more critical.
Reach of the gym influencer on social media
Once you've determined which influencers you want to work with, it's important to understand which social media platforms they're active on and what kind of content they usually create. You can broaden your horizons by associating with influencers that have a presence on multiple social media platforms.
When choosing influencers, communicate about what your requirements are and which platforms you want to focus on. Typically, influencers hint at the type of content they're comfortable with in the first meetings. Develop content around their preference and social media platforms for maximum engagement and profitability.
Connecting with the influencer and making deals
Three typical payment options are considered when hiring influencers.
Service exchange contract

Paid product promotion

Collaboration
Service exchange contracts involve paying short-time influencers for free or discounted products, services, and even membership plans. This arrangement may also work with smaller influencers with exposure in mind. Leverage your presence on social media to attract them for free collaboration.
The second way, paid promotion, requires upfront payment with variable fees for different content types and upload frequency. The influencer is paid to promote your gym. The content may be developed by the influencer, but you may also pitch in with your gym videos and testimonials.
Collaborations revolve around creating content with your preferred influencer. It can be gym tours, workout videos, meal planning, podcasts, or educational YouTube videos. The authoritative presence of the influencer should increase engagement and brand visibility. The payment arrangements of collaborative efforts are ultimately decided by the influencer. It can be a paid session or a freebie.
The bottom line
Influencer marketing is the evolution of word-of-mouth marketing. In this article, we've covered some of the strategies involved in influencer marketing for gyms and a few tips on choosing the right influencer.
FAQ for influencer marketing for gyms
How effective is influencer marketing for gyms?
50% of Millennials trust influencers more than online or traditional ads for their purchase decisions. Moreover, with an average ROI of $5.25 for every dollar spent, influencer marketing seems to be quite effective.
What is the biggest challenge with influencer marketing for gyms?
The challenge with influencer marketing is not finding the right influencer. Use this article as your checklist to determine the appropriate influence for your gym.
Why is it important to collaborate with the right influencer?
The right influencer brings the best out of your content. As they'll be sharing your products and services with the already interested prospects, the leads come in hot.
What are the key strategies of influencer marketing for gyms?
The key strategies of influencer marketing for gyms include establishing a marketing goal, understanding your audience, and zeroing up on a platform.
Open Comment Form