As an independent business owner, you have the power to define your business's success. Whether that is based on the number of customers, retention, feedback, or other factors, the best way to ensure that your company succeeds is to find what works and repeat. Marketing can help.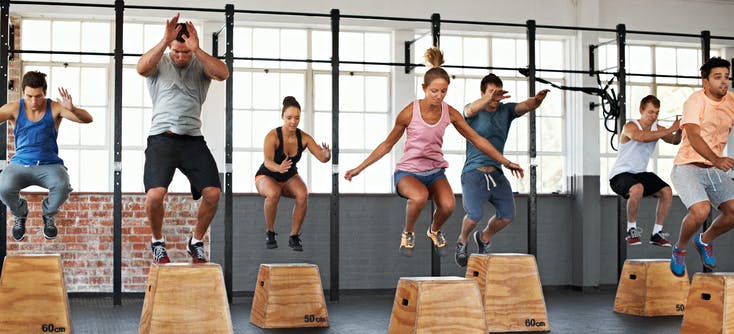 Why marketing?
Some of the key factors in growing your business lie within correctly marketing to your customers and potential new customers. Your business's brand reputation, retention, and relevance are directly related to your customer's happiness and view of your business.
Marketing has gained the reputation that it requires years of education and experience in order to work. However, marketing your fitness brand can actually be very simple and straightforward. Build a strong brand, focus on customer retention, and grow by attracting new customers. If you can achieve these things while providing an excellent customer experience, your business will succeed.
Need more convincing? Check out these examples of what marketing can do for your fitness business.
Give you an opportunity to engage with your customers
Asking your customers for feedback is a very valuable tool that you can use to improve your customer experience. Many new business owners confuse success with only on bringing in new customers or clients. When in fact they really should be focusing on keeping the customers they currently have active happy.
By engaging with your customers and finding out what they need and expect of you, you can ensure that you are providing them with the best possible experience at your gym. Which will then lead to stronger trust, confidence, and reliability in you.
Go the extra mile and show them what you are doing with the information they provide you with. Whether that's changing up workouts, teaching new skills, or being more hands, your customers will see that you are actively working to meet and exceed their expectations.
Help your customers learn even more about your services
It's not just about you getting to know your customers, it's also about them getting to know you. If a new member joins your gym or studio, it's because they are looking to solve something and they believe your services can help. Find out what that is and make sure you can deliver.
Using marketing tools including blogs, social media, and newsletters are great ways to keep your customers informed without constantly bugging them. Give your customers handy ways to easily investigate your offerings outside of class and keep them wanting more.
Boost your brand's reputation
When a customer subscribes to your business both financially and emotionally they can become key players in boosting your brand's reputation. It's simple. If a customer enjoys what you offer, they'll keep coming back for more. If they don't, they'll stop coming and slip away before you had a chance to correct the problem. Getting your customers to emotionally invest in your fitness brand will drive their desire to not only be loyal to your business but also refer new potential customers.
Putting effort into public relations, collaborations, and sharing your expertise on other blogs and social media will help you reach new audiences while building your current customers' awareness of your brand. You also have a responsibility to bee authentic, honest, and follow through with your brand's promises.
Generate sales and revenue
Every time a new potential customer buys into your message, brand, and services, their membership generates new revenue for your business. By investing in creative marketing tactics including ads, campaigns, and collaborations, you have an opportunity to get in front of new audiences and sell your brand.
If your business goals are more focused on retaining your customers, you will not want to put all of your efforts into targeting new markets. Rather you should focus on making sure your customers renew their memberships and are interested in all of your services. However, if your goal is to grow your customer list, you need to amp up your efforts in targeting new audiences, finding more of your ideal customer, and launching into new markets.
Guide your important business decisions
Creating marketing reports is a very useful way to help you make important business decisions. If you are not progressing in your goals or growing the way you imagined, it's time to change up your strategy. Using the data from your marketing campaigns will help you identify what does and does not work well, and how you need to adapt. With every business comes with trial and error. Find out what works right for you and continue to build on that.
Build relationships within the industry
While competition is a driving force in business, the fitness industry is one of the best examples of using competition to grow and succeed together as a whole. Joining online communities, networking, and social media groups will allow you to connect with other experts and fitness owners. You can share advice, new ideas, and learn ways to improve your customer experience.
Encourage you to learn new skills
Maybe you start using social media to engage with your customers outside of the gym. Or you launch a YouTube channel to start posting recipes that fit with your fitness program. Marketing can help you develop new skills that you can use to build your brand in other relevant areas. This is an area where you can let the creative side of you flourish. Keep things fresh and find new ways to connect with your customers to build your brand's relevancy.
Help you be a better coach or instructor
When it comes to defining your services and what you bring to the table as a coach, marketing can help you make good your promise to your customers. Identifying any gaps between what you offer and what you say you offer will help you quickly correct any gaps. This can also make you a better coach or instructor. While focusing on the things you are good at, you can use spare time to improve the things that need work, both in and out of the gym.
Separate you from your competition
Every gym or studio is different in one way or another. But the biggest difference between your gym and another is YOU! Who the instructors and coaches are is one of the leading factors in what makes someone choose a gym or studio. Show your customers what you can do to give them a fitness experience unlike any other, and make it count. A customer will return if they trust their coach to help them progress in their fitness journey and can see results.
Marketing will get you excited about running your business
At the end of the day, you started your fitness business for a reason. Managing a gym or studio, customers, coaches, and admin, can be tiring and challenging. Use the effort you put into making an incredible experience for your customers to motivate you to keep going and succeeding. If you want to grow your business, you have got to be the first person to make it happen. Set achievable goals that you can constantly be working towards and as you get close, set new goals.
There's no perfect formula or one size fits all when it comes to marketing your fitness brand. But there are many ways to start using marketing and figure out what is right for you. For more examples of how to grow your fitness brand, check out our article, here.
Thanks for reading!
Open Comment Form