When customers show up to class whether that be on Zoom or in-person they're ready to go and get started. However, it is often not discussed how much time and energy you put in as a coach or teacher into planning for every single class in advance. Preparation is a fundamental part of ensuring classes are effective and keeping your customers engaged. And, motivation and engagement can be especially challenging for fitness professionals teaching online classes to their customers from afar.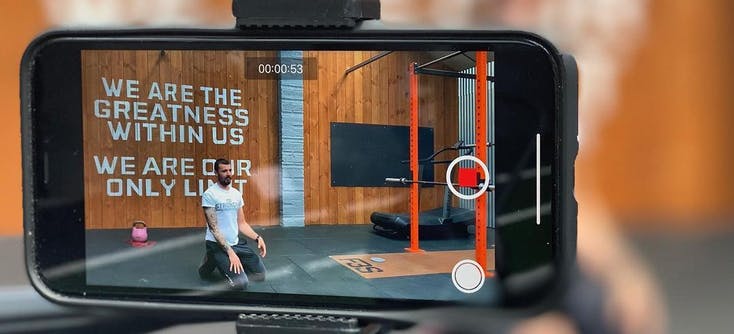 Photo Credit: FIT3SIXTY
Without face to face interaction and being present in a physical location, it's more important than ever to make sure your classes are beneficial, helpful, and valuable to your customers. We wanted to save you time and reduce the stress of class planning this week, so we asked several gym and studio owners to share with us their best ideas for running online classes on Zoom. From dressing in costume to organising games and events to bringing along a friend (person or pet) these class ideas will surely keep your customers entertained and eager to come back.
1. Host a themed week
Take your customers to another decade, destination, or through their favourite film or series. Giving online classes a theme can help get your customers pumped up to combine fitness and the things they enjoy outside of class. Create You UK is celebrating January by taking their customers back to the 90s, and we want to join them!
2. Get your pets involved
Hotpod Yoga hosted the "Furby Awards" and awarded their most pet-friendly customers with a shoutout on their social media. Winners included a customer doing lunges with his chicken and many a pet doing their own stretches. See yourself, here. While your animals may not be able to do jumping jacks or chaturanga or planks, they will be able to bring a smile to your face and keep class exciting. Bonus points if your pup or cat can hold downward-facing dog or cat pose on screen.
3. Ask your customers to wear costumes
The laughs that will be had when everyone comes on-screen wearing their funkiest most creative costumes will be enough of a workout. Ask your customers to let their creativity soar and pick a class where a costume should be worn. Carly Wilkinson is our favourite ballerina, superhero, and barre instructor all in one. Rumour has it this week she will be dressing up as a lobster dancing to the B-52's "Rock Lobster," and we definitely don't want to miss that.
4. Have a dance party
Who doesn't love a spontaneous dance party? Make your classes even more active by blasting your favourite tunes and getting everyone to shake out the tensity and stress of lockdown. Dance Fit Bath isn't afraid to get groovy. Their 45-minute dance classes include songs by Sean Paul, Shakira, Ed Sheeran, and more. Their customers can't get enough of them and neither can we.
5. Organise a game night
Schedule classes that don't have to do with fitness at all. One of the best parts about being a member of a gym or studio is the community. Offering free game nights that your customers can sign up for in advance and attend will help you get your community together to bond and socialise even from home. You can even mix it up and offer different styles of game nights. James Pattison of CrossFit13 split his customers into teams and lead them through virtual escape rooms.
6. Set up a challenge
Your customers definitely will not want to miss class when they know there is an incentive involved. Hold competitions and challenges to encourage your customers to give class their all. Making your challenge over a period of time can help you ensure your customers sign up to participate in the entire challenge. MZ9 Fitness schedules six-week-long challenges for men and women looking to transform their lives, and no obstacles will hold them back from helping you transform yours. You can use your software tools to set up a course that will allow your customers to book into the entire event using their membership or by creating its own purchase options.
7. Let your customers plan the class
We're not saying hand over the reigns completely, but allowing your customers to fill out a survey and make suggestions for class themes can help spark inspiration and give you a better idea of what your customers are interested in. You can even choose at random and at the start of every class pull out a different workout idea so that your customers are intrigued and you can stay on your toes.
8. Donate to a charitable cause
If you're passionate about a charity, philanthropy or group let your customers get involved. Several studios including Glasgow PT, Fit3Sixty, Yoga-In, HotPod, Northants Pilates, and more have offered several classes to their customers whose proceeds go directly to groups in their communities. These studios have raised thousands of dollars, euros, and pounds from customers who want to show their studios and communities support. There is no greater feeling than knowing your efforts to exercise and stay fit are also contributing to a fantastic cause.
9. Host an educational webinar
Fitness doesn't just include the workout. It's a combination of exercise, wellness, mental health, and nutrition. Studios can take advantage of online classes to host webinars to educate their customers on the importance of balance and adopting a wholesome plan that includes every fitness aspect. Karen Grinter owner of Northants Pilates and Claire Willet owner of Millstream Pilates are doing just that and bringing in professionals to share important information and educate their Pilates students on everything from thyroid disease to nutritional facts to women's studies.
10. Unleash your inner DJ
While we don't expect you to take your customers to Las Vegas or Ibiza, you could virtually, pump up the class by creating a stellar playlist or bringing your favourite DJ to host one of your virtual events. Shirefit created their own Shirefest to motivate their customers with music, dancing, acts, and fun. You won't want to miss attending the next one, so check them out to stay up to date!
11. Set up a buddy system
Help your customers stay accountable for their attendance by creating a buddy system. Pairing up customers and encouraging them to create their own pods will help them stay motivated and keep track of their and their partner's progress. Everyone will feel better and united knowing their best bud is grooving or working out right alongside them. Jen Johnson even names her customer partnerships to further the team spirit.
12. Start class with a new mantra or motivational quote
Do you have a morning pick me up or a quote you always come back to? Share with your customers before class starts and ask them to bring their own. Quotes and mantras are a great way to bring mindfulness and focus on your classes. Your customers will love sharing something so personal with them and you will get an opportunity to get to know them better. Anita and Rachel of Fitness Unit UK schedule in motivational talks into their class schedules that customers can attend when they need an extra pick me up during the week.
13. Make your Zoom grid a puzzle for circuit training
Organize a puzzle using the Zoom grid view. By drawing out columns and rows in a Letter by Number format you can choose at random which customers can begin certain circuits in your circuit training classes. For example, B5 can start with pushups and C6 can start with burpees, which A1-4 start running in place. This can a great way to keep your customers moving while also mixing up who starts what and when in every class. Looking to explore this idea more, check out Kyle's Bootcamp for more circuit training inspiration.
14. Host a festival or month-long event
Your course tool can help you set up short term events over a period of time. Jake Hooker, owner of Hove Dance Centre is in the middle of hosting Janfest where he has collaborated with 17 other professional dancers in the UK to put on one-off workshops and events that his customers can attend. Talk about fun! It's even boosted his revenue from last month.
15. Take your customers on a virtual vacation
While you may not be able to jet-set to an international destination right now, you can have your customers show you where they want to go, using Zoom's virtual background feature. Ask your customers ahead of time to come to class ready to show their favourite place or bucket list destination as their background. You can open class early and give your customers a chance to share where and why they selected that place.
16. Plan a workout with the kids
Between juggling working from home, parental responsibilities, and exercising, it can be challenging to fit it all in, especially for new parents. Kelly Ann Yoga and Body Control Pilates offer classes and courses to include the little ones as well. From mindful meditation for kids to sit calmly with mom or dad to fun exercises that will have your toddlers and children bouncing around to shake the wiggles out, your customers with kids will appreciate that you planned a class with their needs in mind.
17. Encourage your customers to invite a friend or family member to class
The customer referral program is the best way for your customers to bring their friends and family to class. By sending out their customer referral link to your gym or studio your customers can receive a credit to class and their friends and family will receive a free Zoom class. Your customers will love seeing familiar faces in class and that they receive an incentive for bringing them along.
18. Ask another fitness instructor to guest host your class
Do you have a friend or family member who is also a fitness instructor? Ask your friends who are also fitness coaches and instructors to guest host one of your classes to give your customers a chance to learn from someone new. You can return the favour and guest host one of their classes too. Or you can combine your customers to host a class together and merge your communities. Lucy owner of Lucyoga loves attending other instructors' classes and even has #LucyogaRecommends to shout out her favourite teachers and instructors. Chances are you'll see her in Carly's lobster themed class this week!
19. Offer both equipment and no-equipment workouts
Not having the right equipment at home can be a bit of a bummer, especially when you are used to using your gym or studio's machines and gear. Krish owner of CrossFit Uckfield tackles this hurdle by scheduling both equipment needed and no-equipment needed workouts. Whether her customers do or not have the equipment they can decide which class best fits their needs and register for those.
20. Take class to the great outdoors...or garden
Weather permitting, if your students have access to a garden, backyard, terrace, any outdoor space, pick a class and take it outside. You can use the elements and outdoor furniture as a way to introduce new techniques and exercises that your clients can use in and outside of class. Fitness Unit Buggy Workout takes advantage of every opportunity to get the kids involved and encourage outdoor activity. Squats and lunges with kiddos as weights in the little rain? No problem! Nothing holds them back and they have the most fun doing so.
Bonus tip!
Use your phone and an additional camera for extra views and angles. Your customers will love the 360 feel and be sure to nail the positions correctly. It'll feel as if you're right there with them. You can check out more of our tips for producing outstanding online content in our guide to delivering high-quality online classes and on-demand videos.
And remember...
No one expects you to become the best online coach or teacher overnight. This is still a new situation for everyone and you are in great company. There are thousands of teachers going through the exact same thing you are and taking it day by day. If you do not have a super exciting class planned, your customers will not fault you for it. There are hundreds of ideas for classes all the over the internet. You just have to find the ones that work well for you and your business. And when all else fails you can:
Search on Pinterest for fitness class ideas

Ask a friend what's working well for them at their studio

Inquire with your customers what they want to see from you

Find a mentor who can help you with your class planning and organisation

Use your management software to plan ahead so you can reduce your stress
and much more. You got this, and your customers will appreciate every ounce of effort you put into making their online class experience enjoyable, effective, and memorable.
For more tips on encouraging your customers to come to class and resources for running your online classes check out our guides and advice from our community, here.
Do you have an amazing Zoom idea you'd like to add to our list? Drop us a line at stories@goteamup.com and we will include it.
Thanks for reading!
Open Comment Form