As the world adjusts to a new brighter chapter, fitness business owners are trying to figure out which formats work better for their businesses. Do they stick with online classes and on-demand? Do they go completely back to in-person and offer smaller groups? Do they try to find a way to manage both?
There's no perfect answer for everyone, but Amy Francis, owner of Amy Francis Fitness, based in Colorado, is here to share her insight on why US fitness businesses would benefit from offering a combination of in-person and online services, especially for members who aren't 100% ready to commit to only in-person indoor fitness quite yet. Read our interview below to learn what she had to say and what has been successful in her delivery of both online formats and outdoor bootcamps.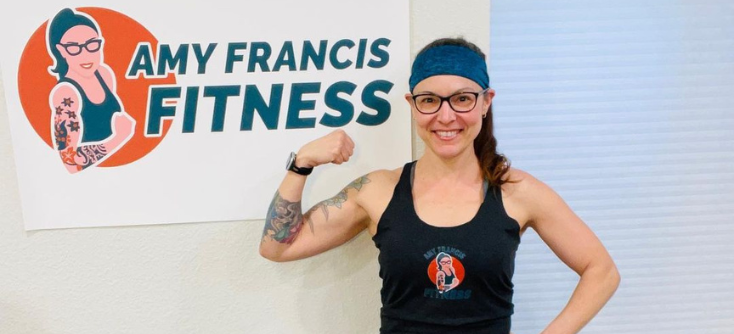 Why do you think it's important to offer both in-person and online fitness content?
I think it's important to offer both in-person and online formats because in the new era post-covid, some people still do not feel comfortable working out around other people, especially indoors. They don't want to wear a mask when they work out because it feels restrictive and they have already created a routine of virtual home workouts that works for them.
I offer an outdoor bootcamp because my clients here in Colorado love to be outside and they feel more comfortable outside than inside. They also love the virtual classes as well as my clients all over the country so it's important for me to offer outdoor and online classes.
I think virtual fitness options are here to stay now that people know they can do it, have learned how easy it is and how many options they have. A lot of people already have a home gym set up for when we were all on lockdown. They've invested in that and want to keep using it. It's not for everybody and not everybody is open to it, but I feel it's an important piece of my business to offer both.
What class format do your clients prefer?
Now that people are used to having virtual options, having that option is really important to many of my clients. It's definitely a mix. Some people only want in-person, they want the social factor. But other people have gotten used to having online classes as an option or being able to access any workout they want from anywhere on demand.
I have a lot of clients in lots of all different time zones in the US, and they love the fact that they log in and get a little bit of social time before class to see how everyone's doing. People start to get to know each other. The social factor for virtual is a little more effort than in person, but I always chat with my clients after the virtual classes to encourage the community piece. I ask them how they're feeling, what they thought about the workout, what was most challenging, and so on. Engaging them virtually is key to building the community that way.
As a sole business owner, how do you balance the workload of offering both in-person and online?
If my clients live in Colorado, I love offering them my unlimited membership which means they can come to as many in-person and virtual classes as they want. In person, my class is at a local park, when the weather is inclement we move it to a virtual class. I have a lot of clients who mix both virtual and in-person classes. Many clients like to come to both the in-person bootcamp and the numerous other live virtual and on demand formats I offer.
One thing I love about the on-demand feature is that I can sub for myself. If I take a vacation or if I get sick, I can post recorded classes they can use from the on-demand library and still keep their same routine. I love to travel and I have three sons, so things come up and I can get very busy.
How do you think virtual fitness helps businesses grow sustainably?
You don't have the overhead that you have with a brick-and-mortar or in-person situation, virtual classes are a great low-cost option. It's not a lot to set it up. You need a good internet connection, a zoom account, a laptop and some space. That's really it.
Equipment
It depends on what you teach. If you're teaching a strength training class, you're going to need some weights and a mat. But there are tons of no equipment formats that I offer.
Camera and lighting
The most upfront cost would be a laptop which most people already have. There's an upfront investment in getting a quality camera and a little bit of lighting. I just used my laptop until I had a little bit of money to buy a nicer camera. Now I have 2 camera angle options, one for standing work and one for floor work. I use a large TV and cast my view to see better. It's a great set up and it was easy and not too expensive to put together.
Cloud space
If you want to offer on-demand recorded classes, you have to pay for the cloud space which is important because you don't want to run out of space for your on-demand classes.
Location and facility
There are some costs for virtual classes, but certainly not what it would be to rent a brick-and-mortar space somewhere. It is much more economical this way as far as overhead costs.
How do you differentiate your virtual and in-person offer to encourage members to take advantage of both?
With virtual fitness, you may not get as many clients locally, but offering virtual classes allows clients anywhere to have access to your classes. I live in Colorado and I have clients on the West Coast, on the East Coast, and the Central Time zone. I definitely have more virtual clients than I do in-person clients. There are a lot of different formats that I can offer virtually.
What are your growth strategies for the in-person and virtual sides of your business in 2022?
I'm trying to grow, it is challenging. I've only been in business for a year, so I don't have a huge number of clients, but I am growing slowly. As far as strategies, referrals from current clients have worked best for me so far. I always ask for referrals and give referral incentives to my current clients and use social media to try and bring more people in.
The best income for me are the monthly memberships. The class punch passes work fine, but I've noticed they are not as consistent as the people who are paying for it every month and have unlimited access.
I am also a certified nutritional, health and habits coach. Right now, that side of my business is actually growing faster than the classes. My successful clients who have reached their goals have been my best advertisement and brought in many referrals. I love helping people better their lives this way. The Team Up platform works great for that as well giving my one-on-one coaching clients the ability to set up a recurring membership. I set up weekly one-on-one virtual meetings with these clients so that I can coach them from anywhere. All my health coaching is done virtually and it works great!
Thanks for sharing Amy! To keep up with Amy Francis Fitness, check out her Instagram.
Video: Why Amy chose TeamUp for her hybrid business
If you're doing all of those things, this is awesome. I think if you were just doing it in person or just virtual, it would be awesome too. It just makes your life so much easier and it's totally worth it.
Thanks for reading! For more online and post-covid resources, check out our guides.
Open Comment Form