TeamUp's very own Tom Fischer has worked within the fitness industry as a coach and he still competes in Brazilian Jiu-Jitsu. We previously spoke to him about the history of Jiu-Jitsu and the role of the IBJJF.
Now he talks to us about how to run a martial arts school nowadays. Due to his experience in the industry and as a TeamUp team member he also shares why martial arts schools should use booking software and how it can help schools grow their businesses.
See what Tom has to say about how to run the best martial arts school by following along with our interview.
What is one way that the martial arts school business model differs from a typical fitness business model?
The way the Jiu-Jitsu community and Jiu-Jitsu schools are built centres around an affiliation type set-up. If I am a school and one of my students goes on to open his own school, It is common that he will use my name and affiliation with my school to support his.
There is someone who starts the affiliation, typically world champion pros, and it's their representation and affiliation that gets passed down through the lineage. The person will pay an affiliation fee to help with branding, marketing and setting up the structure of their business.
How becoming an affiliate helps new business owners
This helps them get started right away with support of the name and representation. It is normal for black belts from the affiliation to come at least once or a few times a year and give seminars and support their satellite school.
Of course, you can go out and start your own martial arts school without any affiliation or sponsorship, you don't need to start on that path. But it helps to have that bigger name behind you and the resources to get your business and school off on the right foot.
There is still a pretty set stronghold as far as how people do things because some people need a lot of help and backing, but that mold is deteriorating a little bit and some people are trying to go more independent.
Why is using booking software important in martial arts schools?
Using martial arts software has become more popular due to the need to modernize their business. Getting with the times, everything is done from our phones nowadays. It simplifies a lot of the admin work. As far as all the reasons anyone would use martial arts software, for schools it really depends on how they are run.
Some schools are just Jiu-Jitsu and some are mixed martial arts where you have a variety of different disciplines and classes. A school that only offers one type of class may have it simple enough that they don't think it's necessary, but it's all the other things martial arts booking software does that are beneficial no matter how many classes you have.
Why martial arts software is important for students and customers
Martial arts software can help streamline things and in some cases, it can be a deal-breaker that makes a potential customer want to go somewhere else. If a customer comes in and has to start filling out paperwork, it's that kind of old-school thing that can push a customer away.
However if a customer can sign up online, log in, check the schedule, sign up for a consultation, and know that someone will reach out to you to get you going, that would obviously help businesses get more people in the door. Once you have those systems in place, then it's much easier to run people through with less manual work.
Discover how martial arts software can help you better run your martial arts business
What are some of the obstacles Jiu-Jitsu schools run into without martial arts software?
Tracking attendance
Tracking attendance in classes is very important. It matters a lot to schools. If it's the same teacher every class, they can get a better feel of who's coming and who's not, but that's still not very objective or accurate.
Logging classes and monitoring signs up is hugely important for businesses. They need to know their numbers and make changes to improve them as necessary. Attendance is important when it comes to belt ranking as well. How often you're coming to class and progressing one's skills.
Unpopular time slots
One problem that can be very common for fitness studios which is not typically a problem for Jiu-Jitsu schools, is overbooking. However, what is the problem is poor performing time slots or having time slots that don't get filled.
Being able to pull reports to get a better picture of what's working and what's not or what needs to be adjusted or what needs attention, are the kinds of things that make classes better and more productive.
Retaining new members
Meeting people where they're at is very important and how the sport grows. If people have the slightest negative experience that makes them uncomfortable or hesitant, they won't want to come back. If they're unsure, that can scare them off and that means a lost opportunity for the business.
Getting people in the door and retaining new members is important. Setting clear expectations of what to expect in your first class is something worth addressing, especially for those who are trying jiu-jitsu for the first time.
If someone is completely new and has no idea what to expect, that initial experience and onboarding process can be make or break. The process for a new student used to be, to jump in and get beat up for the first six months to a year until you start figuring things out, but unless they really want to learn, they likely won't stick around. Setting clear expectations, and having a great onboarding process helps a lot with the retention of new members.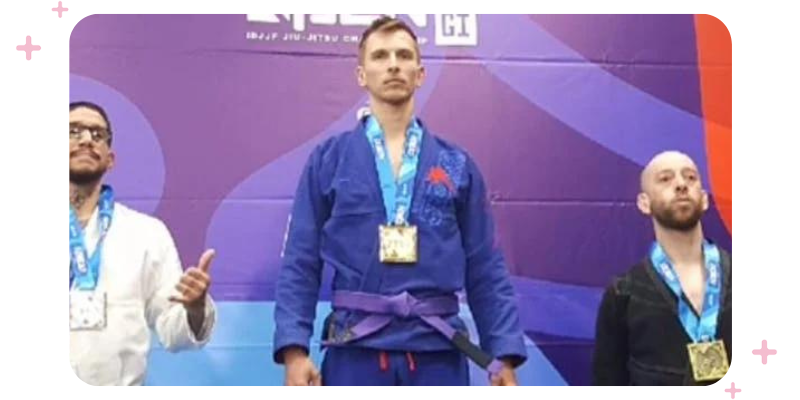 Why should martial arts schools use TeamUp for their booking software?
TeamUp is such a great platform for jiu-jitsu schools because in general, the operations are not that complicated.
A seamless customer booking experience
I would say the tools that TeamUp has that help schools be more efficient and successful are the big ones such as memberships, class types, appointments, and payment integration. Those are huge for sure.
Additionally, the On-Demand feature that TeamUp has is a very useful tool that especially in the last year, people have been trying to utilize some form of on-demand content, but it's usually not in their membership software.
It's commonly an entire other platform that they need to buy into and learn how to use, and that's a whole other login, username, password, etc for their customers.
Easy to use outreach and communication tools
Outreach tools such as emailing lists and SMS where you can notify customers on different things are hugely important too. Being able to notify customers of weather updates, changes to the schedule or reminders of special events is really helpful, especially to schools in the middle of a big city that can be hard to reach.
The ability to offer a variety of memberships
Being able to offer a variety of memberships for kids, adults, and families with recurring or month-to-month commitments is really easy to do with TeamUp. It's also fairly common for jiu-jitsu and martial arts schools to provide discounts for families, military, and first responders, all of which are extremely simple to do with TeamUp.
TeamUp works with schools of all sizes
Some software is very traditional such as Mindbody which won't work with schools that are too small sometimes. Those schools get stuck between a rock and a hard place and keep using spreadsheets because they don't know where to go.
It becomes much harder to grow your business because you have to keep track of more manual stuff until you're "approved" for more expensive software that you're probably only going to utilize 10% of their functionality.
Find out more about Tom's journey working and competing in martial arts and learn about the history of Jiu-Jitsu.
f you're interested in learning more about TeamUp for your martial arts school, schedule a call with our team today!
Thanks for reading!
Open Comment Form