The perfect solution for your clients who want the flexibility to take advantage of your in-person and online services whenever they want has finally arrived. Now that you can offer your clients live classes AND on-demand video content the only thing left to do is decide how to package your new offering. With more access and more services to subscribe to, whether you want to create new plans or add to your current plans, we have a few tips and steps that can help you make the right choice for your business and clients.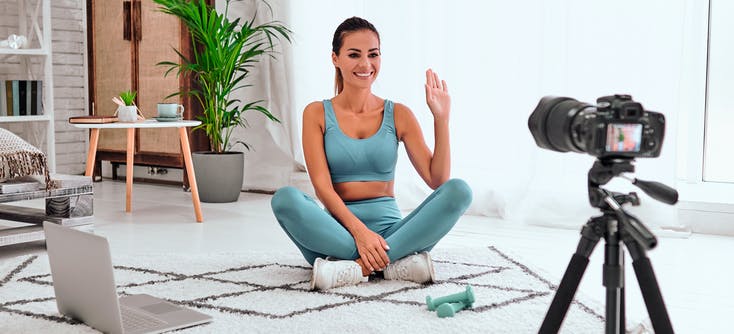 If you already offer several different packages and membership plans, you know how tricky it can be to find the right formula. Having options is great but too many options can distract your clients and leave them unsure of how to move forward. Offering the right memberships plans and options will not only steer your clients in the right direction but it will also add more value to the experience they gain from you.
The value of your classes, content, and services should be packaged appropriately and just because your clients choose to access your services online, does not mean you should slash the amount your clients pay for their memberships either. If anything you should be focusing more on how to deliver the same quality service online for an excellent price. In this guide, we will dive into on-demand memberships and how to build the right ones for your business. First, let's dive into the new service you can offer your clients - on-demand.
What does on-demand fitness content include?
While it is completely up to you and your business model to decide what type of on-demand content to supply, here are a few examples of what our customers offer their clients:
Pre-recorded class videos. Typically to save time and energy and give their clients the community experience, many business owners will share recordings of past classes with their clients. This also gives clients an opportunity to repeat their favourite classes and workouts and improve and progress on certain workouts outside of class.
Curated videos. Many business owners will also record or curate dedicated online content that could include exercises, workouts, meditations, and more that they do not offer in class. This can also give clients the one-on-one personal training experience as well as give clients the flexibility of working out at their convenience.
What are the benefits of including on-demand to membership plans?
Remember that offering on-demand content is an upgrade to your offering and the services you already provide. There are numerous benefits to offering on-demand to your clients, but when it comes to including it in your membership plans, some of the biggest benefits are:
Boost in membership sales and generate more revenue for your online services
Increase in engagement and interest in your membership plans
More added value to your services and offering
Your clients won't need to looking to external services to fill any content gaps
A solution for clients who can't make it to each and every class, but want to be a full-time member
Increased retention and customer referrals
At the end of the day, it's your responsibility to your clients to offer them the best possible experience if you want them to keep being your client. Including on-demand in your memberships or creating new memberships to offer on-demand access is not only a way to keep your clients happy but also a way to keep adding value to your customer experience and business.
What are the most common types of membership models for on-demand content?
Although the experience of watching your on-demand content and using your online services is slightly different to that of an in-person session or class, the subscription and membership models for both work in a similar way. Remember, that although the medium is different, you are still the same coach, trainer, or instructor. Your clients pay for what you bring to the table, not because they can't find similar content somewhere else but because they return for you.
Currently, there are two membership models you can choose from to offer your on-demand content to your clients through TeamUp: recurring memberships and prepaid plans.
Recurring memberships
With a recurring membership, you can provide your customers, weekly, monthly, or annual access to your on-demand content, either on its own or alongside live in-person or online classes. Your customers will be billed based on the time period you set and with their membership, they'll be able to access your on-demand content (that you give permissions to). This type of membership is perfect for your customers who love attending your classes but would like more content and flexibility. It's perfect for clients who can't make it to those classes and want to take advantage of your services that are more convenient for them.
Prepaid plans
The second type of membership plan you can offer to your clients that can include access to your on-demand content is a prepaid plan. This type of membership is billed once and valid for a specific period of time that you can customise and set. Similar to the recurring membership plan, you can also customise your prepaid plans to include as much access as you'd like, however you cannot choose to include a certain number of classes with this plan. You can only provide unlimited access to classes and limited or unlimited on-demand access. This type of plan is perfect for customers who want to do a certain program for a specific length of time or want to explore your services before committing to a recurring membership plan.
Bonus tip: If you offer multiple memberships that include various levels of on-demand access, make it easy for your clients to differentiate each plan by giving your plans clear names and descriptions. To lend you a hand we have provided several examples of different on-demand memberships that you can use to create your own.
Creating new memberships vs. amending current memberships
Between the transition from in-person to online classes, lockdowns, and limited face to face training, your membership plans may have already changed quite a bit this year. It's up to you whether you would like to change them again now to include your new service into your current packages or create new ones. But remember that consistency is key. If you change your prices or offer new plans make sure that you plan to keep them around in order to keep your customers happy and avoid any confusion or big changes to the plans your clients have already carefully selected and purchased.
What about pricing?
There are numerous benefits to finding the right price for your on-demand content and memberships including:
Increasing profits and revenue
Earning for the valuable services you offer your clients
Attracting new clients and increasing client retention
Driving subscriptions to larger packages and services
Customer-based referrals to your business
With more and more resources online for your clients to look for, it's more important than ever to ensure that they agree with your pricing model and see the value of your offering. While you can turn to your competitors and see what they're doing, remember that your clients pay for what you uniquely offer to them. Own that and work with your clients to offer a solution that works best for you both without devaluing and underselling yourself. You can use our pricing guide to help you find the right price for your new membership and offering.
Before you doubt, ask your clients
They'll be the first to tell you whether or not they want to purchase one membership over another. If you are not quite sure what variety of memberships to offer or what your clients would like to see, ask.
How your clients feel about the on-demand content will reflect in if they purchase or inquire about your new services and which memberships include access. Asking your clients how they feel, what you can improve on, and what they'd like to see more of will further enhance the customer journey and show them that their opinion matters to you. Their desire to be your client and the value they receive from your services is the most important part of it all.
You can also use your TeamUp reports to track and monitor your memberships including on-demand content and use your marketing integrations to let your clients know about your new services.
To sum it up
Including on-demand content in your offering is a big upgrade to the services you already offer and an opportunity to give your clients even more of you. To create a valuable service then you need to invest, so your pricing should reflect this and focus on building the best for your clients. They will celebrate the addition to your plans and purchase what you recommend is best for them.
We hope this guide helps you understand how to include on-demand in your memberships and can't wait to see your business grow!
To learn more about how TeamUp's On Demand feature and how we can help you with pricing your on-demand memberships sign in to your dashboard or sign up for a free trial.
Thanks for reading!
Open Comment Form