Your customer experience can play a large role in potential new clients deciding whether or not to give you their business. When looking for a new personal training business to invest in, a potential client will check out reviews and social media pages, investigate their website and offers, and might even try to inquire with other clients to get their feedback and see what they have to say.
Ensuring that not only your customers enjoy and value your services but share their enthusiasm for your business with others is a very powerful marketing tool that can quickly help you grow your client list.
In this guide we break down easy-to-do marketing strategies that can help you both improve and build on your current customer experience and help you attract new clients. We'll show you which TeamUp tools can help and how to motivate and encourage new clients to choose you as their PT. Let's go!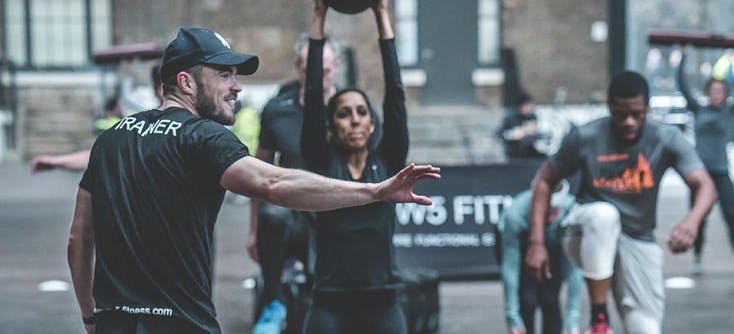 Photo Credit: Martin Whitelock, owner of MW5 Fitness
What clients look for in a personal trainer
Anybody can go to their local gym or studio and sign up for a membership that allows them to come and go as they please. But when someone signs up for a personal trainer, they're not looking for the bare minimum.
They are looking for someone who is committed to guiding them through a fitness journey that will help them achieve their personal and physical goals. They want to trust and rely on that person, expect a commitment and want their trainer to be as fully invested in their journey, just as they are into their business.
By prioritising your community and going the extra mile to create an unbeatable customer experience for your clients that they can't get anywhere else, you can prove how committed to them you are beyond training.
You can also demonstrate what that commitment means to you to potential new clients and show them how invested you are in them when they are your client. Here are some ways you build the customer experience that PT clients look for:
Make your social media pages a community
Social media platforms including Instagram, Facebook, Twitter, Linkedin, Youtube, and more are great places to highlight your business and showcase your clients. You don't have to have a million followers to have a community on your social media pages.
What you do need is to build a community and audience made up of genuine followers and clients who are invested in what you have to share on your pages. Engaging with your clients, posting their achievements, and showing the work that you do as a trainer to help them achieve their goals are great ways to both build up your clients' motivations as well as attract potential clients to want to be a part of your community too.
Produce new content regularly to promote your personal training business
Remember, consistency in your business is key. If you want your social media pages to be as powerful of a tool as they can be you need to be consistent with your engagement, posts, and interactions with your community there too.
Don't leave your clients hanging and don't promise them new content if you can't make it happen. Start out small and be intentional about the ways in which you want to represent your business and who you are to your clients. Once you start engaging with them and sharing that they can connect and get even more from you on your social pages, your community will grow.
Keep your clients up to date with a weekly newsletter
Whether you have a new challenge coming up, will be offering a new service, or just want to say to all of your clients at once, a regularly scheduled newsletter or email blast is the perfect way to reach all of your clients at once. You can share all important news and information, updates, and even shout out stellar clients in your newsletters.
It's completely up to you and can help you build a lot of interest in your services. You can also create a set template and schedule your newsletter to go out at the same time and day every week, month, or quarter so that your clients know exactly what they'll receive it. All you'll have to do every time a new newsletter is coming up is swap out the old content for new content.
Use your newsletters to encourage your leads to become personal training clients
If you have potential new clients who want to get to know you but aren't 100% sure yet, you can encourage them to subscribe to your newsletter so they can stay up to date and check out all of your content until they finally sign up.
Finding new ways to keep your clients interested in your content and including ways for them to interact and engage with your newsletter is a great way to get them excited about your services and keep them wanting more.
Complete your offering with On Demand
Doing the most for your clients doesn't mean you need to be at their every beck and call. While accessibility and availability is an important factor, you can be there for your clients and offer them the best experience without having to be available 24/7.
Whether you train clients in-person or online, or both, you can take your offering to the next level by including on-demand content in your offering. Providing your clients with session recordings, extra videos and additional content they can use outside of your workouts and sessions will be the ultimate add-on your clients will love having.
Your clients will love that you are constantly figuring out new ways to offer them more and to be accessible to them even if that isn't live and on-demand content can help you achieve that. Potential new clients will also appreciate that you have covered your bases and provide both live sessions and content which would help them avoid having to look for external services outside of sessions. They'll choose you because you not only offer the experience but because you value your clients' needs.
Share what your clients think about your business
If your clients love the value you give to them they will love sharing that with others. Ask your current clients to leave a review either with you directly or on a review site like Facebook, Trust Pilot, or Google.
Reviews are one of the most powerful marketing tools and new clients can heavily base their decision to give you their business based on how your current clients feel about you. Those reviews can make the biggest difference in a new client signing up with you versus another business.
You can even take those reviews left on review sites and share them on your social media pages, website, and newsletters to shout out to your client for leaving it and as a way to get that review in front of a larger audience.
Your client will love being part of your business growth and more clients will feel encouraged to participate and help you out to also experience that recognition and value.
Recognise your clients during check-ins and milestone attendances
Check-ins are one of the most exciting, yet nerve-wracking parts of being on a fitness journey. Clients want to progress and improve and rely on you to get them there, and when they don't hit their goals each week they can feel discouraged.
By recognising them not only for their physical progress but for their commitment to doing the work and coming to sessions, you can make check-ins enjoyable and something to look forward to for both you and your clients. One of the ways you can do this is by setting milestones for their attendances and lengths of membership.
By celebrating the number of sessions they have attended or the length of time they have been a client, you can recognise their dedication and they'll feel valued for their commitment, not just their physical goals.
Share your clients' achievements on social media
Sharing your clients' achievements and milestones on your social media, on your website, in your newsletter is also a great way to show how committed your clients are and how long they have been a client of your business.
New potential clients will see you celebrating a client being a member for a year or two years or that a client has come to 100 sessions, and they'll start thinking of what it would be like to also achieve that goal.
They'll want to enjoy that accomplishment and you'll be able to show them how to get there too. Current clients will be encouraged to keep going and new potential clients will be encouraged to get started.
Host challenges and competitions
Friendly competitions and challenges amongst your community is a great way to get all of your clients involved and engaged, as well as keep them on their toes. Your clients will love finding out what the next challenge you offer will be and love having new goals to accomplish every week. You can make it even more of a challenge by including a prize or something your clients can earn by both participating or winning.
Whether you include them in your memberships or offer them as an add on that they can purchase and participate in, challenges and competitions are a great way to keep your offering fresh and differentiate you and what you offer your clients from other competitors and businesses.
Plus, they can also motivate your clients to encourage each other to participate and compete against their friends and pals. It becomes about working together and bonding and new potential clients will want to participate in that fun and engaging environment.
Create a customer referral program
If you want to attract new business through your current clients, then there is no better strategy to implement than a customer referral program. Incentivising your current clients to share their personal discount codes with their friends, family, and peers will encourage them to assist you in attracting new business while also giving them the added benefit of a free class or discounted future membership when that referral code is redeemed.
Your current clients will love having their friends in a session with them and sharing tips on what they are working on with you, and you will be able to earn business from people who are truly interested in taking advantage of what you have to offer.
Celebrate upcoming events with discount codes
Discount codes excellent way to celebrate upcoming events, holidays, and even your own milestones as a business. By offering discount codes that your clients can use to renew or purchase memberships they can enjoy the extra discount in your prices and ensure you keep their business.
Whether you offer regular discount codes or only every once in a while, remember that discount codes aren't meant to slash your prices and if your clients get too used to paying a certain price, they aren't going to want to pay more if you raise them. Use discount codes wisely and with a purpose. This will make your clients appreciate when you offer them and not be irritated when you don't.
You can even customise discount codes for new clients and offer special codes that can only be redeemed when a new client signs up for your business. They'll love being offered a discounted rate for your services to make sure you are right for them and will appreciate that you didn't make them pay your full rates without knowing what your sessions and business entail.
Helpful TeamUp marketing tools to achieve these strategies
Now that you know some of the ways you can build the best customer experience, TeamUp's personal training software can help you do it all.
From email marketing to syncing your social media platforms to creating unique discount codes, PT software can do much more for you than just help you schedule your appointments and classes and accept payments online.
If you haven't already explored the number of marketing tools and integrations that your TeamUp dashboard includes, here is a quick breakdown of the top marketing tools:
Zapier marketing integrations
TeamUp integrates with over 3,000+ of your favourite apps and websites using the Zapier integration. You can use Zapier to connect with all of your favourite marketing tools and create triggers (Zaps) based on the events and actions your customers take, for example referring new members, attending a certain number of sessions, purchasing new memberships and more.
Zapier pulls all of your customer information from your dashboard and syncs it up across all marketing platforms, giving you an all-in-one easy-to-use marketing flow. You can even use Zapier to connect your social media platforms and make your process for social media marketing even easier and more streamlined.
Mailchimp and Constant Contact
Your TeamUp software also integrates with several email marketing platforms including Mailchimp and Constant Contact. You can integrate directly with the platforms or through Zapier to easily automate and send regularly scheduled newsletters and email updates to your customers without a hitch. Your customers will love learning about upcoming sessions and challenges and you will never have to worry about your customers not being informed and in the know. Anytime you add clients to your dashboard their information will be automatically sent to your Mailchimp or Constant Contact accounts and you can set up certain newsletters or email blasts to be sent to them automatically.
On Demand
Your very own On Demand library lives right in your TeamUp customer site and can be accessed on desktop, tablet or your clients' mobile device web browser or the TeamUp member app.
They'll love how easy it is to go right into your library select the content they want to view and within seconds have their workout up and playing. That flexibility and convenience will make it easy for your clients to avoid stressing about missing a class or session or worrying if they can't find time to meet in your schedule. I
t's easy to use and can be added right into your memberships so that your clients can get access anytime they want or need.
Notifications
Sending your customers notifications from your personal training software before and after class with reminders and notes for future classes will help your clients one, never forget about a class or session, and two, appreciate your consistency and the expectations you set as a coach or trainer.
Your notifications or automated and triggered for several events including purchasing a membership or registering for class. Use these notifications to set your standards for your business high and be accountable for your clients and their memberships so they can follow by example. In your post-notifications, you can also include a link where your clients can leave reviews so they remember to do it right after class or a session.
Milestone emails
When individual clients reach a certain number of classes or sessions or hit a certain length of time with their memberships you can trigger the milestone email setting that will send them a notification either before or after they reach that milestone moment.
You'll be able to celebrate and recognise your client for their achievement and loyalty to your business and they'll feel valued for your recognition and the work you have done for them.
Discount codes
Your dashboard comes with its very own discount code generator. You can customise your discount codes to offer a select number of clients the chance to use the discount, only new clients, or offer it to everyone. You can also choose whether you'd like a percentage to be discounted or a fixed amount. Customise and save discounts, and turn them on and off whenever you want to run a certain promotion.
Customer referral program
Your dashboard also comes with a built-in customer referral program. Once enabled, each of your customers will have their own personal referral code that can be shared via social media, text message, email, however, they want to send it either right from your customer site or the TeamUp member app. The code will also tell them what they will receive when the code is redeemed and what the redeemer will receive.
To learn more about marketing and the many tools and features you can use to run your personal training business, check out TeamUp's personal training software.
Thanks for reading!
Open Comment Form