Did you know that one of the most effective ways to make your gym or studio stand out can come directly from your customers? While you and your offering will get the attention of potential new customers, it's your existing customers' reviews and testimonials of your business that will really bring them in.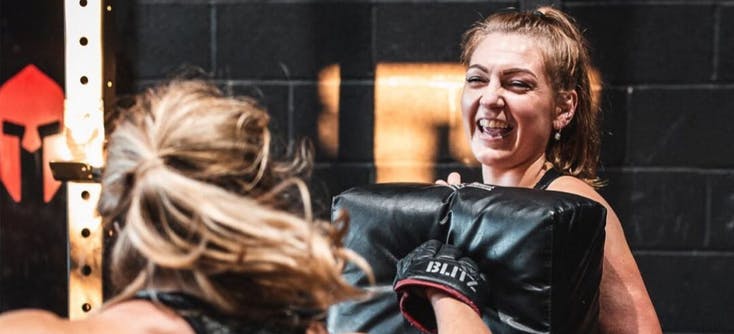 Photo Credit: Spartan Chamber
Five-star ratings and reviews and customer testimonials are as strong as currency to some brands and businesses and when promoted in the right way can be their most powerful marketing tool. Positive reviews shared across reputable review websites, social media, and a business's homepage can influence a customer to take the next steps forward and prove to them why that business is reliable and worth investing in. While one negative review can completely dismantle one's confidence in moving forward with a purchase or investment, especially if the business fails to address the review.
What we're now seeing more of is gyms and studios finding clever ways to include their positive customer reviews in their content to earn the trust of new customers and encourage their purchase. Not to mention some are even using the negative reviews to show how they've grown and how they can do better for their current customers. But it does beg the question...
Why do potential new customers give so much value to online reviews?
While there is nothing stronger than the influence, advice, or recommendation of a close peer or family member, more and more people are giving that same value to the reviews and testimonials of complete strangers or people they have never met before. In fact, according to Brightlocal.com and Qualtrics.com, "91% of 18-34-year-olds trust online reviews as much as personal recommendations, and 93% of consumers say that online reviews influenced their purchase decisions." This means that while one's closest friend could suggest a product purchase or subscription, seeing a high star rating or large quantity of positive reviews can have the same impact and be the higher motivating factor in moving forward.
Websites such as TrustPilot, Capterra, Google, and more have created entire business models based on sharing and promoting the reviews of businesses both positive and negative. And now gyms and studios are including links to their profiles from those pages on their websites, in their social media, in their newsletters, and even in their email signatures to encourage their clientele to leave a review that they can then share with current and potential new clients.
What reviews mean in the fitness industry
As new fitness products and services emerge, especially with growing online fitness technology, gyms, studios, and trainers are finding it difficult to set themselves apart from their competition. The oversaturation of the industry and the popularity of at-home fitness products like Peloton or The Mirror have forced traditional fitness businesses to take a step back and look at their service and find new ways to innovate and grow.
Several fitness businesses, however, have already recognized that reviews have a very influential impact on new businesses and can help them grow their gyms and studios without having to invest in expensive marketing campaigns, rebrands, and ads. The positive sentiments and testimonials of a current customer and their experience at a gym or studio have become the new motivating factor in a potential new member to sign up for a membership or subscribe to their fitness content.
We have three examples of TeamUp customers that currently use their customer reviews in their online marketing content, and we're even showing you how we showcase our very own reviews on our website. Each example demonstrates how they display their reviews, where they feature them, and why marketing reviews in this way has helped encourage new customers to sign up and boosted customer retention.
CoeActive Fitness in the UK shares its customer testimonials on Instagram and Facebook.
Not only does the community-led fitness business share their customer testimonials on social media, but they also encourage newcomers to engage with their business via a 7-day free trial. This customer testimonial about the on-demand Zumba class is a great example of a review that has the power to influence a potential newcomer. It asks the question of who else like that client hesitated on a new feature and then wishes they tried it sooner. The potential new client could see this post and deduce that not only did someone hesitant take the steps forward but that the business listens to their customers and releases new features to deliver an even better service. Not to mention they say directly in the review that they give their recommendation for others to try it too.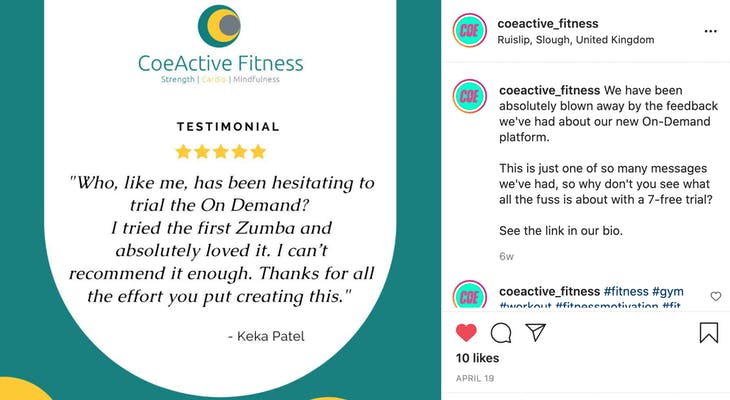 Freda Fitness shares client testimonials in her weekly email newsletter
Amongst other exciting news, timetable and class reminders, updates, and tips, Freda Macdonald, owner of Freda Fitness, also includes a client testimonial in each of her weekly email newsletters sent out to all of her clients and subscribers. Including testimonials and reviews in your newsletters, e-blasts, and email marketing content is one of the smartest places to include your client reviews because although a good number of your subscribers are already your clients, several will either be people who have signed up for the newsletter but still haven't come to a class or purchase a membership, someone who has come to class, but hasn't come back to another, or someone who was previously a client and might consider returning.
Including recent relevant reviews that give great insight into what's going on in your business right now is a helpful way to encourage those on the fence, but who still engage with your business via your newsletter to engage more by signing up and coming to class. It's also a useful tool in keeping current clients happy by giving them a shoutout in your content and reinforcing why they should remain a client of your business. The review Freda shares in this particular email speak about healthy fitness and lifestyle habits that the client has adopted thanks to the help of Freda and her fitness business. For a potential clients looking to also add new healthy habits to their lifestyles, this would be a fantastic example that would inspire them to get started with Freda.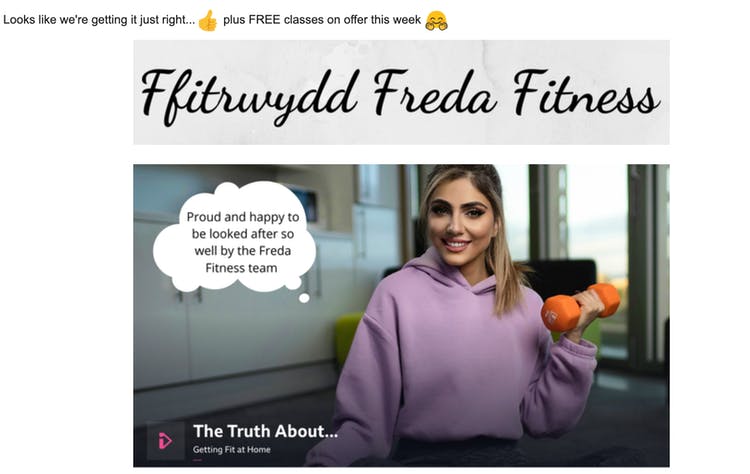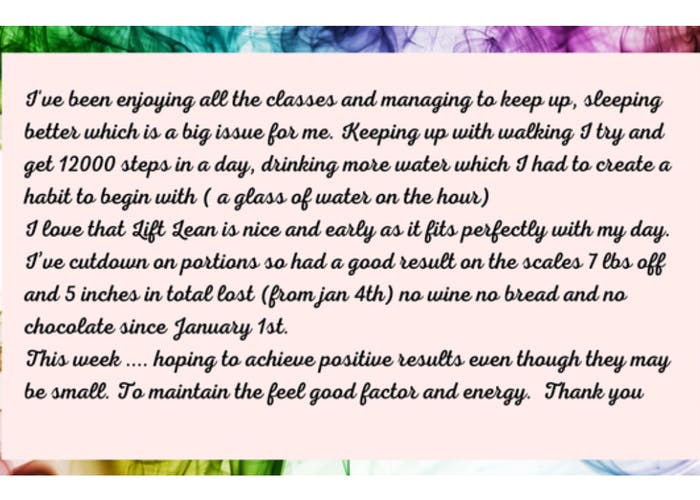 Lucyoga features client testimonial quotes on her website's homepage
Collected from some of her most loyal clients, Lucy Bannister, owner of Lucyoga in-person and virtual yoga studio, shares the client testimonials she has received right on her homepage where potential new customers can easily find them. Not only do these testimonials speak about the specific services she provides these clients, but they also speak to her character, reliability as a person and instructor, and the results she has provided her clients with. Several of the clients even mention something they were hesitant about or something they weren't used to prior to joining her business that they now love and appreciate. She even includes their professions below their names to both show the variety of clientele she has and boost her brand's reputation with reputable sources.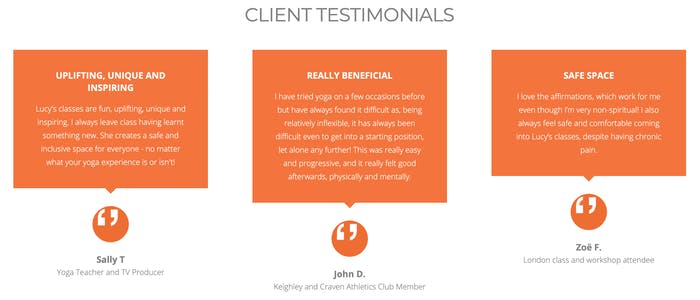 We share video testimonials and case studies on our website
We are so happy to have a community that is eager to share what they think about our software with us and through video testimonials and case studies. Shared on our social media and in blog posts, our dedicated TeamUp testimonial page can be found right in the header of our About Us section. We'd love to include you, too! If you would like to participate in a video testimonial, send us a message at marketing@goteamup.com.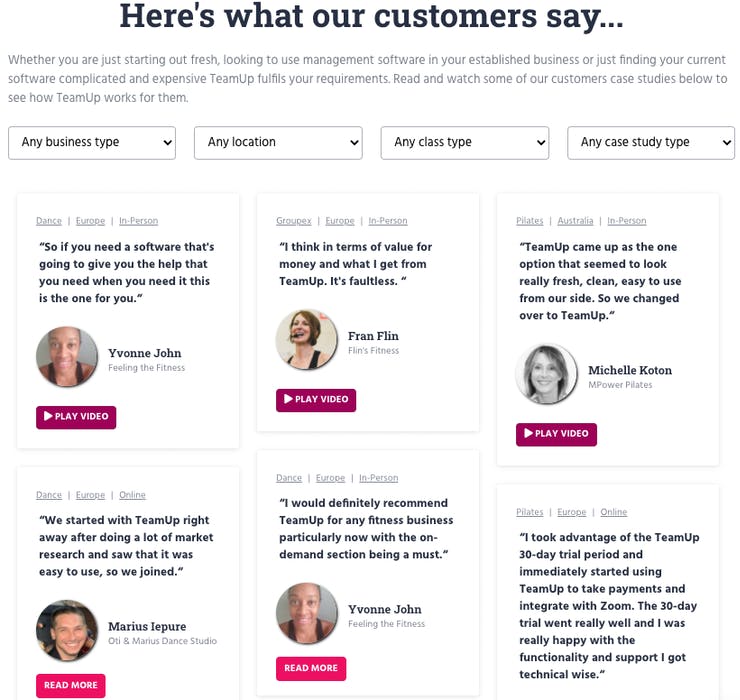 To sum it up
Reviews can be your most powerful marketing tool, especially when included and promoted across your content. Whether you share your testimonials and review on your social media pages, or ask your clients to engage via a video testimonial or case study that you can share on your website, being able to show a new client or potential new client that not only are you an authentic business but that your current clients value your business so much that they are willing to leave a review or testimonial about their experience can have a major impact in that potential new client deciding to invest in you and your business. Don't let one of your best marketing opportunities go to waste, and start using your reviews to show why your business should be the one someone chooses.
To learn more about marketing your gym or studio, check out our TeamUp marketing tools and integrations guide.
Thanks for reading!
Open Comment Form