When your business grows and you start to see more and more customers come through the doors of your gym or studio, it's time to give yourself a well-deserved pat on the back for a job well done. More clients on the roster is a rewarding thing to see, but it's important not to forget about your loyal customers who have been such a big part of your fitness business reaching new heights.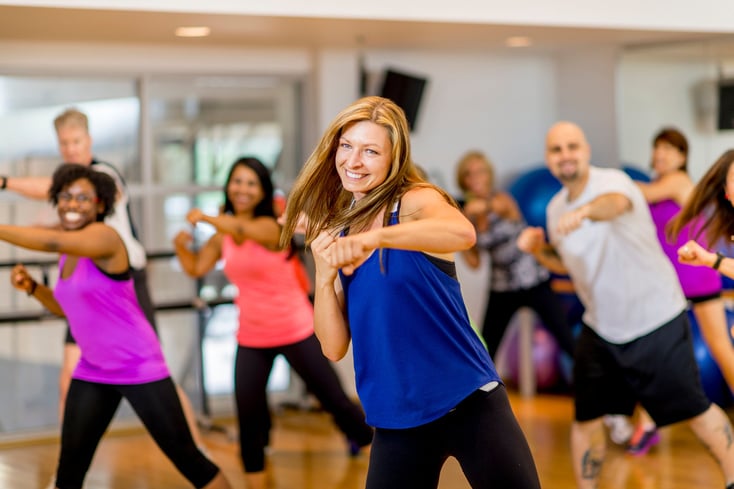 With more customers coming through the door, you'll have less time to stop and chat with your members who you've built a rapport with, but this doesn't mean you have to lose the personal touch. It just means changing your approach so you can keep offering a great customer experience for both your long-term members and your new, fresh intake of clients.
Don't be afraid to embrace the changes
Making changes and adapting aren't negative things though. It's a sign that your fitness business is growing and progressing. But you still want to know if your clients are happy, and you should be excited about the next step in your business's life cycle. In this guide, you'll discover 10 easy ways to keep track of how existing customers feel about your business.
How to know if your customers are happy
From in-person interactions to engaging online, getting feedback from your clients to find out if your customer experience is positive and if they enjoy their time at your fitness business is simple enough to do by using some straightforward indicators and strategies.
1. See who keeps coming back for more
The first and most obvious way to tell if your customers are happy is by looking at customer retention rates. If you see that people are signing up for memberships and then never returning, that's a surefire sign that something isn't right.
On the other hand, if you have clients who regularly come back and take part in different activities at your gym or studio, that's a good sign that they like what you do and how you do it. Customer loyalty is key to any business, so retaining clients should always be a top priority.
There are a few things you can do to keep customer loyalty high, such as offering incentives for referrals or customer loyalty programs.
2. Create a referral program
Nothing tells you that your clients believe in what you do more than them encouraging their family and friends to come along and try out a session.
The happier your clients are, the more likely they are to bring their loved ones along as well. It's a simple but effective way to test the waters and see how your clients are feeling about your fitness business.
Reward your customers for bringing their friends and family along
Creating a referral scheme is also a way to show your loyal customer base that you appreciate the time and effort they put into attending classes and purchasing memberships.
By bringing their friends and family along, they help to keep your customer base growing, and you can give them a heart-felt thank you at the same time.
3. Keep an eye on your social media
Happy customers will actively engage with your social media. Loyal members will give you likes and engage with your posts. Regular and positive exchanges let you know that your members are engaged and find attending your classes an enjoyable experience.
Take it a step further and encourage your clients to create some user-generated content. This means getting them to post their own photos or videos of their workouts with you and your team and having them tag your business in them. Think of it as a social media referral scheme.
Your social media pages are excellent for engaging with current and potential clients. But it's also a place to look for feedback. People often share their thoughts and views on businesses on their social media pages, giving you very direct insight into how customers feel about the different areas of your business.
4. Read online reviews to see what people are saying
Online reviews are now as important, if not more so than referrals. Checking what's being said by both current and former clients is an important part of making the right changes to your business to ensure you're doing everything that you can to retain your members.
Negative reviews of your business can really hold you back. Encourage your happy customers to leave reviews about their positive experience at your fitness business in forums and on review sites.
Look at some business review sites to see the types of reviews other fitness businesses are receiving. Encourage your happy customers to get on board with a bit of brand loyalty and get as many of those stars lit up as possible and catch the eye of potential clients.
5. Use detailed reporting to see what's hot and what's not
Use your reports to see which classes, memberships, and courses are the most popular and which are the least. From there you can assess whether a class type or a particular course is less popular because of its scheduled time if there's a link between the instructor and attendance numbers, or maybe it's simply a class or membership type that your clients aren't that enthused by.
Whatever the reason, using your reports to see if your customers are happy can give you a more tangible sense of what is happening behind the scenes in your gym or studio so that you can bring in any necessary changes to boost your business.
Your reports can also show you which clients are slipping away. You can see who hasn't booked a class in a while or who hasn't renewed their membership which gives you a clear indication about any potentially unhappy customers.
With this information, you can then use your email marketing to reach out to them. These are the people that you should consider asking for specific feedback about why they're not coming to classes. What's putting them off? What can you do to reassure them that your fitness business is the right fit fo them?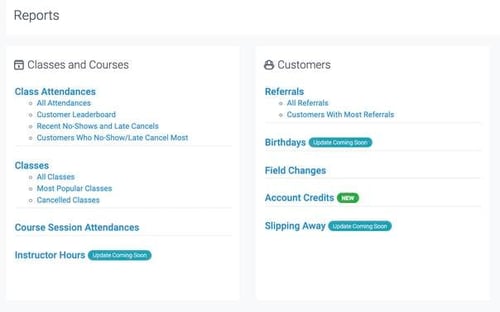 6. Send out surveys
Facebook and Instagram are great platforms for polls and surveys. Polls are a quick and easy thing for people to complete and save you creating a larger, more in-depth survey for your clients.
However, there is value in more thorough surveys. When you've had to make some big changes in the way you operate, from class sizes and scheduling to your day-to-day interactions with your clients, it's important to see how they feel about it.
Email a survey, keeping it as brief as possible, to your clients asking for their thoughts on how things are going. If you have clients who decide not to renew their membership, an exit survey is a great way to find out what led them to make that decision.
7. Listen to your clients' feedback
Emailing out a short survey or creating a poll on Instagram and Facebook is great to get an idea of how your members feel things are going with your fitness business. But it's also important that you make yourself available for in-person feedback.
If you've noticed in your reports that certain members are slipping away, this only becomes more important. But the reality is that as you get more clients, it becomes more difficult to carve out time for individual customers. You can't just drop what you're doing every time someone wants to talk to you.
When you have a system that allows you to add one-to-one appointments to your calendar, your clients can see when you have availability outside of class time.
Your clients can book a time with you or your trainers to go over any concerns they may have. It's also an important part of your time management. Knowing you have set hours during the week for your clients to book a one-to-one session means maintaining your timetable and ensuring you're not working late due to a late drop-in.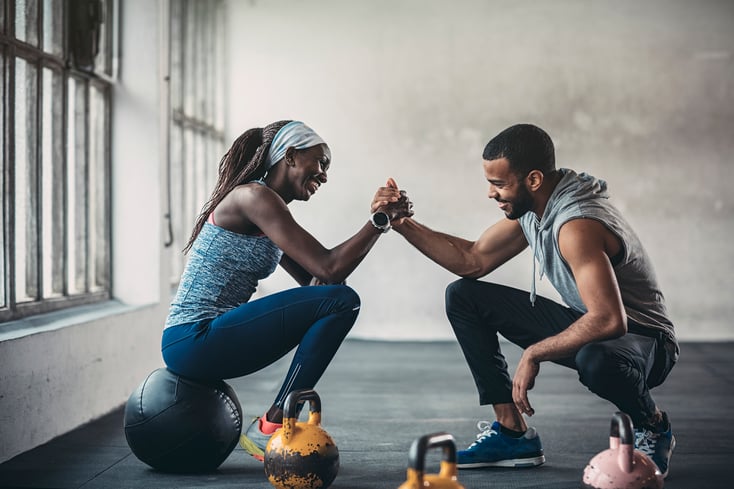 8. Take a step back and assess your customer service
It's not just the little things that you do in your fitness business that make a customer happy, it's the big things too. The way you handle customer service is one of the most important parts of your overall customer experience and encouraging people to come back to your gym or studio.
Your customer service starts from the moment a customer walks in the door. How are they greeted? Are they made to feel welcome? Do you have a process for newcomers to follow so that they know what to expect and where to go?
It's important that you regularly assess your customer service, not just when things have gone wrong. You might think that everything is running smoothly but your customers might have a different experience. Speak to your staff, see what they think could be improved and listen to feedback from clients.
9. Get involved in your community
Your fitness business is part of a larger community, whether that's the local area where your gym or studio is based or the online fitness community. Getting involved in your community is a great way to show that you're more than just a business, you're part of the fabric of the area.
There are lots of ways to get involved in your community. You could sponsor a local sports team or sporting event such as a fun run. Take that a step further and hold charity events or simply become a drop-off point for food donations. It's a great way to connect with your local area and show that you care about more than just making a profit.
Getting involved in your local community is a great way to meet potential customers. But it does more than just advertise yourself to new customers. It shows your current crop of customers that as your fitness business, so is your social awareness.
Encourage your long-term loyal customers to come along and help out at any events you take part in. It gives them a sense of being more than just your customer, they're a valued part of your business. Even though you're welcoming new customers, you don't want to see your long-term loyal customer base become unhappy customers.
10. Show your appreciation
Finally, don't forget to show your appreciation to your customers. There are lots of small ways to do this that can make a big difference to the customer experience you offer at your fitness business.
Saying thank you is always a good place to start when you want to encourage repeat business. If you or your trainers make a point of thanking your members after a class and as they're leaving the premises, it adds a personal touch.
Use your thank you emails to your advantage
Sending out a thank you and well-done email to them after completing a session with you is another way to offer a superior customer experience, but more than that it also gives you an opportunity to remind them to come again next week.
Congratulate your loyal customers on a job well done, with a big thank you for attending your class or session, and then add a link to your calendar so that your customers can easily sign up for their next session.
Emails don't just have to say thank you though. A great way to keep clients engaged and focused on their fitness goals is to send milestone emails. When a customer has completed a course or has attended a certain amount of classes, sending a milestone email shows them what they've achieved and gives them encouragement to keep returning to classes.
To sum up
By following these 10 tips, you can make sure that your customers are happy even as your business grows. customer satisfaction is essential for any business, but it's especially important in the fitness industry where customer retention is key. If you can keep your clients happy, they'll keep coming back – and they'll tell their friends about you too.
For more tips on keeping your clients happy, check out this article with 10 ideas on boosting your customer experience.
Thanks for reading!
Open Comment Form