Staying connected with your customers goes beyond the gym or studio. As fitness businesses transition their classes online, your objective as an owner or instructor should be finding ways to motivate your customers to stick with their fitness journeys - even when in-person classes aren't available. Here are our top tips for keeping your customers engaged with you online.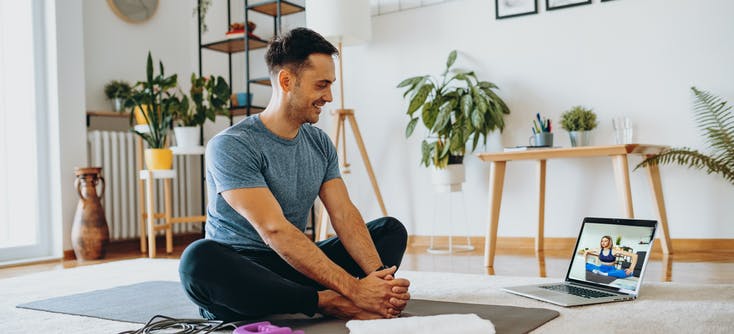 Introduce your customers to online classes
The best way to stay connected with your customers when in-person classes aren't an option is by introducing them to your online classes. Using TeamUp's Zoom integration, you can easily transition your classes online and give them from anywhere. All you need is a Zoom account to get started. Once you have created your account and integrated with your TeamUp dashboard, and of your customers who sign up for your online classes will receive a link to attend and join. It's that easy. Online classes are the best solution for making sure your customers are staying motivated and prioritising their fitness at home.
Check-in with your customers
Checking in with your customers who haven't hopped on the online class wagon will help you determine what you can do to make sure they stay motivated. Ask your customers how they are feeling and what you can do to help. Their feedback will allow you to offer better classes and build on what you are doing. It will also help you get to know your customers better and spend some time understanding their fitness goals.
Your TeamUp tools can help you monitor your customers' activity from home, too. You are able to see if your customers are coming to class, how many classes they are coming too, and track their progress. If you notice something is irregular about their attendance or performance, you can check in with them and see what you can do to help them stay engaged and on track.
Schedule "office hours"
It's normal that your customers may want a little extra one on one time. While online classes are the perfect solution to staying connected, not having that face time with your customer can create distance and distract them from their fitness goals. It's easy to be online all the time when you're at home and don't have someone pushing you to work out. Not only will their physical health suffer, but their mental health can suffer greatly too. Make sure your customers are using this time at home to stay productive with their goals. Offer your customers the opportunity to connect with you for an hour or two once a week for a wellness check and chat. Whether you talk about fitness or your everyday lives, this is a chance for you and your customer to bond and make sure you are both staying positive and motivated.
Let your customers get to know you
What are you up to at home? Did you make a delicious meal, or watch a new show, or find a new podcast that you can't get enough of? Your customers see you as a guide and role model and many of their health and wellness decisions can be based on your advice and recommendations. Let your customers get to know you a little bit better outside of a fitness class so that they can enjoy the things that motivate you, too.
This is also an opportunity for you to get creative. Create a bingo of things you like to do at home and share on social media. Your customers can fill it out and see how well they match with you. It's a fun interactive way to get to know each other and a great way to expand your community as well.
Offer new skills in your online classes
Keeping classes fresh is something our customers tell us their customers rely on constantly. Offering new skills, teaching new moves, and mixing it up is one of the best ways to keep your customers interested in your classes. Take the extra time at home to learn new skills that you can teach your customers. Maybe you found a way to incorporate chair poses into your flow or used the backyard to set up a training course, finding ways to give your customers something new will ensure that they stay motivated and keep coming to class.
Engage with your customers on social platforms
Use social media as a tool to engage with your customers. Going on live videos, hosting chats, answering questions and polls, are all ways that your customers can interact with you via your channels and provide you with some useful feedback at the same time. You can also use social media to post motivational quotes, wellness tips, customer advice, and really use your channels to be a support for your crew. Your customers will love that they have a place where they can access you and your fitness content beyond a class or workout.
To learn more about the current lockdown and the tools and resources you can use to manage your fitness businesses from home, check out our guides, here.
Thanks for reading!
Open Comment Form