Congratulations! You've entered your TeamUp trial, which means your customers have already started booking through your TeamUp customer site or the TeamUp member app. Brilliant! Now comes the fun part...learning how to best take advantage of your trial to set you and your business up for success.
During your free trial, you'll quickly see how easily your software can help you streamline your admin and allow you to do what you do best - teach and coach your customers. To help you become the number 1 expert of your business from the moment your software journey begins, we have created a list of 10 ways to be successful during your TeamUp trial.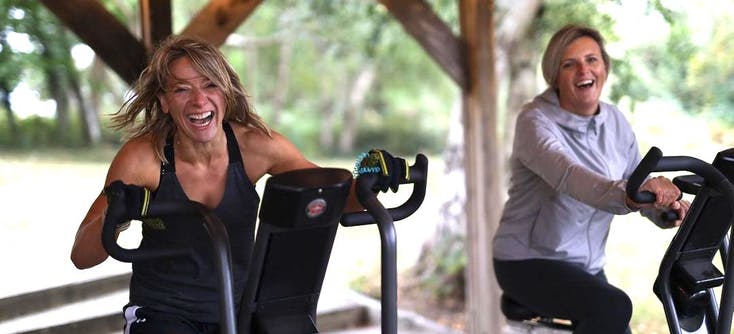 Photo Credit: MZ9 Fitness
Learn from your customers' queries
Before your trial began, you had a little extra time to familiarise yourself with the ins and outs of your new platform. Now it's your customers' turn. Whether you have never had software or have switched over from another platform, as you would expect, the introduction of a new system will oftentimes lead to a few (or a lot) of queries early on. Do your best to help your customers learn how to book and use their member app and don't be afraid to lean on your new support team to help you navigate and answer their questions. There is always a learning curve to a new system and their questions can help you better understand how to use your software to provide them an unbeatable experience.
Channel your inner explorer and easily share with your customers
During the early days you'll have found the tools you needed to get started, but did you know your software comes with so much more? Your trial is the perfect time to investigate the additional tools and features that can help elevate your customer experience. From special discount codes and customer vouchers to a customer referral program that will make it easy for customers to recommend and refer new customers, you can grow your business with your full set of tools and features right from the very start.
High-powered features like our newest On Demand feature can help you introduce new services you hadn't previously considered including in your membership plans. If you want to send each of your customers a "thanks for coming to class" message an hour after class finishes, you can automate that too. It's all there for you to discover and we're happy to make a suggestion whenever you'd like us to. Don't forget to explore our own referral program to use your personal referral code and earn with TeamUp, too!
Create a customer account to review
One of the quickest and most efficient ways to check that your customer site looks right to you and your customers is to add yourself as a customer. Using the same email address you use to log into your business account, you can switch back and forth between business and customer accounts with ease. Simply choose your customer account when you want to review and your business account when you want to go back to where you were.
And don't worry, your customer account won't count as an active customer so your customer account won't be included in your monthly charge.
Take time to reflect
You are now the proud owner of a tool and feature set that will help you run the best version of your business. But you don't have to get it done all in one night. One of the most valuable lessons you can learn during your trial is how to read your business and understand how to use your reports to make decisions that will benefit your long term growth and success. Review what is working well and what needs improvement. Dig into trends and patterns and see what continues to grow and what needs to change. From average attendances to popular classes to your best selling memberships, both in-depth and at a glance, you have the resources to become the expert of your business and you have time to do it all.
See what works well for other TeamUp customers
Our customers are not shy when it comes to sharing how our software has helped them run their business and providing other business owners with insight and advice. We have dozens of case studies and fitness business advice, and testimonials videos from personal trainers and gym, studio and box owners just like you. From what worked well from the start to what they've learned along the way, these guides coming directly from your peers will provide you with some of the best advice you can find on our site and give you the best insight on how to run your business with the right software on your side. Here are a few examples that will be especially helpful during your trial:
Engage with our social channels
Our most helpful tips and advice can be found on our social media channels, Instagram, Twitter, Facebook, and Linkedin. Not only do we share our blog posts and customer advice, but also tips and guides shared by publications that feature TeamUp in their content, and other industry experts. Connect with other TeamUp customers, get your marketing questions answered, and find quick insight into how to use specific tools and how to take advantage of certain features. Not to mention you yourself can also get featured on our social pages and earn some exposure for your business right from the start. Have an idea you'd like to contribute or something you'd like us to share? We're all ears! Our social communities are a place to grow, share, and learn together which is why you won't be bombarded with sales ads and pitches when you follow our channels.
Take advantage of our free import service
If you haven't already, your trial is the perfect time to take advantage of our free import and migration service. If you're a business owner who previously used another booking platform or used spreadsheets and paperwork to manage your business, we can get all of your information brought over and uploaded into your new system for free! You shouldn't be wasting valuable trial time manually adding contact details and client information when we can do it for you behind the scenes. All we need is the data you want us to bring over or access to your previous software, and we can bring over anything from payments to contact information and even ongoing membership plans without you having to do a thing. Every new customer that signs up and books will be automatically added to your new CRM along with all of your other customers.
Have fun with high-powered integrations
We integrate with some of the most powerful marketing, payment, and automation platforms to make your life easy. Zapier connects you with 3,000+ of your favourite apps and websites to help you automate your marketing, Zoom enables you to run your classes online, and MoveGB, ClassPass, and OpenActive can get you in front of the eyes of potential new clients. Our integrations are added to seamlessly connect your necessary functions together and allow you to manage them all in one place. BoxMate will give both you and your customers the functionality to track performance (and even book classes via TeamUp right from their app). To enable each of our integrations in your dashboard all you need to do is turn them on and create an account with the platforms you want to use and it will instantly connect to your dashboard.
Phone a friend, you're not on your own
And by phone, we mean call, email, or chat. We are all readily available to you at any time to answer any of your questions about using your software, helping your customers use their apps, which is the best payment processor to use, and anything in between. You can get in touch with us by scheduling a setup help call, sending us an email, or using your chat widget within your dashboard to drop us a message. You can also explore hundreds of resources in our support guide section found right on our website and in your dashboard. Our number one goal is to see you succeed and our mission is to help you get there, so don't be afraid to reach out because whenever you need us, we are here.
Don't be afraid to make a suggestion
Even customers who have been with TeamUp for years are still finding new tools and features within their software that simplify their processes and boost productivity. If there is something you know you need but haven't found it or want some advice on how to use certain tools or integrations within your system, all you have to do is ask.
The brand new Product Feedback section in your dashboard is the perfect place to add wishlist items you'd like to see. Once they are selected you can watch them progress from start to finish within the Product Feedback section and be the first to know once your submitted idea is live
Our customers are not afraid to tell us what they want or need, and oftentimes we already have it and simply need to show them how to use it within their business model. But when we don't, we're happy to see what we can do to provide you with that tool, feature, or make a suggestion on how to use what you do have until we can provide you with that resource.
Open Comment Form