To celebrate the International Brazilian Jiu-Jitsu Federations 2023 World Championship in May, we sat down with TeamUp's very own Jiu-Jitsu purple belt, Tom Fischer. With over 10 years of training Jiu-Jitsu and attending live international competitions and events, Tom walked us through the history of Jiu-Jitsu and martial arts and why the championship is such an important event for Jiu-Jitsu business owners.
See what Tom has to say, learn about the importance of Jiu-Jitsu by following along with our interview.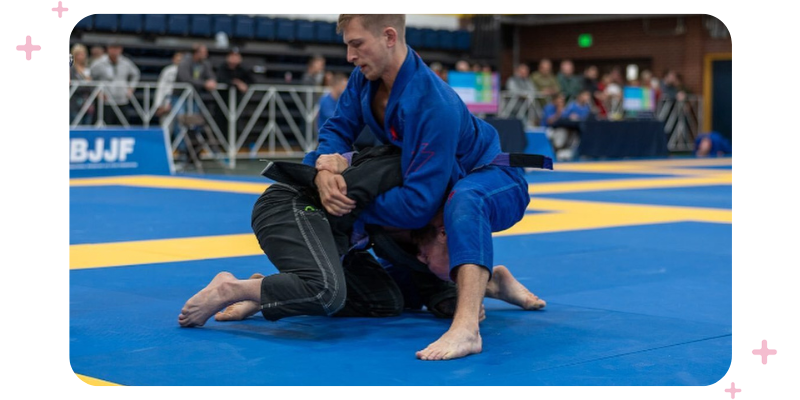 My name is Tom and I have been involved with various martial arts throughout my life. I've always been a big fan of martial arts and the philosophy and lifestyle associated with various styles as a means for personal growth and self-improvement.
I have seen the practice of martial arts change countless lives for the better and therefore I am a huge advocate for the community. These days I spend most of my training focused on Brazilian Jiu-Jitsu, where I have so far made it to the rank of a purple belt (about halfway black belt).
I'm excited about the opportunity to share my passion for martial arts with the intention of continuing to help grow the martial arts community and see it flourish.
History of Jiu-Jitsu
Over the last 25 years, the martial arts scene has developed incredibly around the world and especially in the United States. There was a big familiarity with the UFC and that was a huge influence on the boom of Jiu-Jitsu on a consumer level. Its popularity made people seek out similar sports and recreation; that demand has helped Jiu-Jitsu grow.
The very first UFC fight was in Denver, Colorado in 1993 and it was created by the Gracie family, who are traditionally known for bringing Jiu-Jitsu to mainstream popularity. The whole reason they created UFC was to demonstrate Jiu-Jitsu's effectiveness against any other martial art such as karate, boxing, wrestling, and so on.
In the early days, Jiu-Jitsu was very underground and wasn't well organised as a sport. The creation of the UFC put Jiu-Jitsu on the map in the early nineties leading into the early 2000s.
In the early days the UFC was seen as a brutal and blood sport before becoming the organised sport it is today. As the popularity of the UFC grew, so did the general population's interest in Jiu-Jitsu, leading to better organization as a sport and recreational hobby.
Jiu-Jitsu today
Since then Jiu-Jitsu has grown and grown. What grew into a "you have to know someone" to get into the sport has now grown into an international network and community of students and fighters from all points of the globe.
The growth in popularity of mixed martial arts (MMA) has created more organisation, there are now various combat sports featured on mainstream sports networks like ESPN and Fox. There is now an established loyal MMA fandom.
Many fans are curious about learning martial arts and with the increased interest in the general population, there are now more options to participate other than the path of only becoming a fighter, it's a fully-fledged community.
What is the IBJJF World Championship? why is it such an important event in the martial arts community?
The International Brazilian Jiu-Jitsu Federation (IBJJF) World Championship is what it sounds like; the World Championships! It's the most prestigious and important event of the year because it determines who are the absolute best jiu-jitsu fighters in the world. The top athletes train their entire lives in hopes of one day achieving the title of IBJJF World Champion.
Why is it such an important event in the martial arts community?
From a fan's perspective, it's the biggest show of the year, guaranteed to deliver amazing matches where the highest proficiency of jiu-jitsu is displayed. As the sport continues to grow, this event and other larger ones like it become a week-long convention with tons of different vendors and the opportunity to meet, chat, network, and take pictures with your favourite athletes.
What are some changes you have seen in the Jiu-Jitsu community?
Increased accessibility to Jiu-Jitsu
Jiu-Jitsu is now more open and accessible to more people who wish to train and participate, most notably the growth of women and kids in the sport.
The modern model of jiu-jitsu schools is a good example of businesses taking the "Jiu-Jitsu is for everyone" approach and changing the way it was previously done.
They welcome students no matter size, shape, background, or where you come from, and you'll fit in no matter what. It's very accommodating and welcoming.
Women in Jiu-Jitsu
Women's Jiu-Jitsu has really grown over the last 10 years. Not long ago, women's tournaments only had two weight classes and they would combine a lot of skill levels.
Now, largely due to more women participating, they have the same amount of options that men have when it comes to competing at the appropriate level by age, skill, and weight class. It's a really great example of growth in the sport. Now we have women running their own schools and it's becoming more of the norm.
Training Jiu-Jitsu and networking between schools
Back in the day, maybe 10-15+ years ago, there was a lot of loyalty to only one school. You never trained anywhere else and you weren't meant to be friends with anyone from other schools. Nowadays, training Jiu-jitsu is much more acceptable in multiple schools. Even in my local area, we have an event called the travelling open mat.
Each weekend a different school hosts the open mat for all other schools to come in and mingle, train together, and train with different people, a great way to motivate martial arts students. It's evolving and is now much more common than not. Even if I don't train at a certain school, I can still go there and pay for a drop-in fee like a traditional fitness class.
Now even schools network with each other and refer to each other. For example, if a student wants to train at one school but it might not be convenient for them, that school might recommend another school that better meets their needs.
It's great for schools to network with other surrounding schools. It's not as competitive when the schools are working together to build the industry rather than necessarily just focusing on themselves as an independent.
Jiu-Jitsu in consumer culture
The sport has become much more of a lifestyle and culture. People have custom uniforms made, sponsors, and branded uniforms. Some apparel companies even make limited-edition gear and merchandise that become sought-after collector's items.
The largest population of the Jiu-Jitsu community is probably people in the 30-45 age range. This population has a more disposable income that they're willing to spend on their hobbies. They are combining their free time and training, travelling to events and making vacations out of going to tournaments.
FAQs
What are martial arts?
Martial arts means many things and includes many different types of martial arts activities. I would consider boxing and wrestling martial arts, even though, probably traditionally people would consider those just sports, but they are technically martial arts. This is my opinion, but it's not unheard of either.
Krav Maga for sure is a martial art. Jiu-jitsu is a martial art. And then there are those ones on the fence, you could call them a sport or a martial art. It just depends on who you're talking to and in what context.
When is the IBJJF European Championship
The event will be held in Long Beach, California on January 23rd - 29th, 2023. For more information, click here.
If you're interested in learning more about TeamUp for your martial arts school, sign up for a free trial here, and see why Tom believes martial arts software is vital to run a martial arts school today.
Thanks for reading!
Open Comment Form