It's easy to confuse growing your client list with growing your business. While the number of clients that come to your classes and walk through your door every day is essential to your business, it's the plans and strategies you put in place that determine how successful you'll be. Here to share her strategies for growing her fitness and lifestyle studio is Maggie Elliot, owner of Spark Life, formerly Spark Fitness. In this guide Maggie shares why:
finding the perfect location for every stage of your business
the importance of knowing your brand
hiring the right staff and team
knowing which marketing strategies are the best for your business
are crucial in order to set your business up for success and encourage long-term growth through incremental steps. Hear her story and why she focuses on these areas.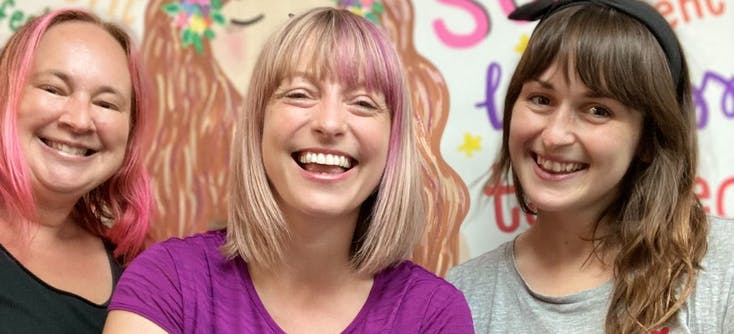 When I first left teaching, I gradually went into setting up my own business where I went out to train women who couldn't get to the gym. Most of them were on maternity leave or pregnant at the time and didn't want to go to a gym. But within a year that wasn't working anymore because I had too many people to be able to get to with the travel time.
Finding the perfect location
I then took on a tiny little studio, which was more of a conservatory out of the back of a mixed-use building. It was absolutely tiny but gave people a way to come to me. I still went to clients who couldn't come and leave their houses but also created a space so that mothers who could come could bring their babies with them. You could still bring your children rather than having to find someone to look after them while they trained.
But then within another year, that became too small because I wanted to be able to offer group classes. I trialled out hiring a martial arts studio in the same building which was really successful with morning group classes, so I decided to look for my own space, which was tough. It's actually quite hard finding retail space that someone will lend to you.
I went down the route of harassing the landlords who I found via the land registry to see where buyers were building. You could see all the shutdown buildings that had been closed but didn't have any signage, so I started working through them, contacting the landlords and seeing if they'd rent the buildings. And the owner of the studio where I currently am, did, which is when we expanded.
The importance of knowing your brand and who you are
Ethos first has always been my idea. I knew that when clients walked into my studio I wanted them to feel a certain way. It's always been important in any decision making for me. I wanted the space to be small. I didn't want it to be big. There were larger spaces and warehouses in nearby cities that were also much cheaper, but I didn't want that because I built a customer space here and those spaces were for me. I wanted our space to feel homey and cosy. I wanted customers to be able to bring their kids, bring their dogs, and feel like a home away from home.
In some ways now it's become harder to have a smaller space because we do have three people managing one space as opposed to one. But when you have a management system that sorts it out, it's absolutely fine.
I know that the time will come where we will have to grow in space again. I always have my eye out and know the possibility is there. I know what's going on in the community, where might be closing down, where we may be able to move next. But I always prioritise the idea of how I want that space to feel.
Find out why your hiring strategy is important for your business's growth
Hiring team members to support business growth and build trust
We have personal training and fitness classes, mainly kettlebells are what I'm known for. Helen joined us last year who really added to the business, and we work together. She offers yoga and Pilates as well as Reiki, and she's focused on the holistic side of the business. Most recently Ruth joined our team who offers baby yoga and baby massage. It all really ties in together, and now Ruth is a personal trainer as well. We've really been growing.
I like to think that Spark Life doesn't offer people personal training. I've never thought about the business like that. To me, Spark Life offers confidence. It offers self-belief, it offers them fun, strength, and feeling good about themselves. And we do that. As a personal trainer, thinking about how to build this, I wanted to bring people on to the team that made people feel that way. I thought besides personal training, what else could make people feel that way? What else can I offer in terms of services?
Diversifying your services to expand and offer more
And that's how Helen joined. She approached me and said, "I'm a yoga teacher, would you be interested in offering yoga?" And my first thought was, yes yoga makes people feel amazing.
I do think if you diversify, it brings more of your community in. It introduces something that brings them here, and they do one thing and then want to try another, for example, yoga and then they see the kettlebells. They might think they look scary at first, but then they're already in here and they know us and that we're not scary, so they give it a try and then want to do it again.
The same thing happened with Ruth. We brought her in because we wanted another personal trainer and because we had people who were asking for things we couldn't cover at the time. She has a child and was interested in baby yoga so we said that was brilliant and a perfect way to grow the business. We already had moms coming in who could now bring their babies as well as moms who already came with their babies and would ask what else we offered, so that diversity really works.
Determining what's more important: the right fit or the qualified fit
We knew the person we hired didn't have to be a personal trainer yet. We could help with that if they were the right person for our team and space. We hired Ruth because she was the right fit for who we are and how we want to make people feel she also wanted and knew she could help with that. So once she started we helped her with her qualification.
We said she would need an Active IQ Level 2 and Level 3. Active IQ is our governing body along with CIMSPA, but Active IQ is who actually certifies the qualifications. There are so many qualifications especially in the UK and you can go online and pass a personal training course in six, even three weeks.
We said that she could go with whatever provider she thought was best but that it had to be certified by Active IQ. We also pointed out some that we knew were good programs and ones we've heard about from others. For the practical training, we had her shadow classes and do individual sessions where we would take her through the progressions of a deadlift, squats, and exercises such as that.
Advertising exactly who you are looking for
When Ruth joined the team, our job advert did not say we wanted a personal trainer. Our job advert said that we are an anti-diet studio, meaning we create a weight neutral space and do not talk about losing weight or using exercise to change your body shape. We are a safe space for people who may have struggled with an eating disorder or just for those who want to do fitness for fun, health and confidence, rather than to change their bodies. We wanted someone who shared that same ethos and wanted to work in the space we offer.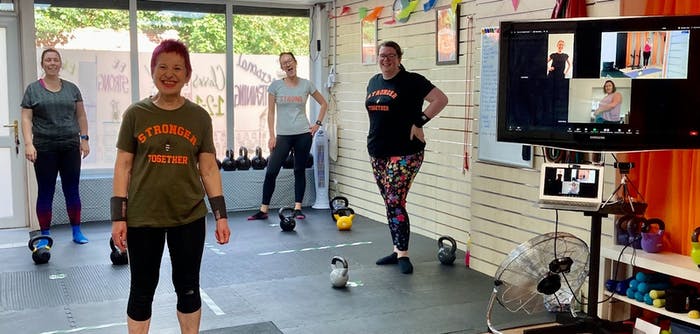 Marketing your business - learn which strategies work best for you
Build your presence in the local community to encourage referrals
Word of mouth is massive for us. I'm in the group, Lift the Bar, and one of the things Chris said early on when I joined was "become the expert in your local area." It's so important and it's made such a difference for me. I've done things such as free womens' running groups, free jump clubs, I'm out in the community, and if you want some help I'll just answer it. I'm on Facebook, I'm on Instagram, people can just ask questions and we'll answer them. That has grown our presence in the local community because even if the person asking hasn't been to one of our classes, they now know to come to us, and it's been so helpful and positive.
Prioritise your website, writing blogs, and SEO
The second way people come across us massively is via our website. When I first started this, I read somewhere that it takes time to build your presence on Google for people to find you and your website and that it works best the longer they stay on the page. So the first thing I ever did before I started training people was start a blog. That now means that my website is easy to find on Google and find the blog and then people resonate with that. That's been so helpful. Pay someone to do the SEO implementation part and all the rest of it. It really pays off.
Create an attractive atmosphere inside and outside of your studio
Recently we've had new signage done. We've gone for a really vintage, fun feel which is very us. We had a local window artist come and draw on the windows what we do. I removed one of the little privacy screens, not all of it, but just on the top window of the door, and it's brought us more enquiries from people passing by. I think it's because they can see inside a little bit and so it feels safe to open the door and ask. This tied in with the window art that tells people what services we offer has meant I've had more enquiries from people just stopping by as they pass in the last week than I have in the last year!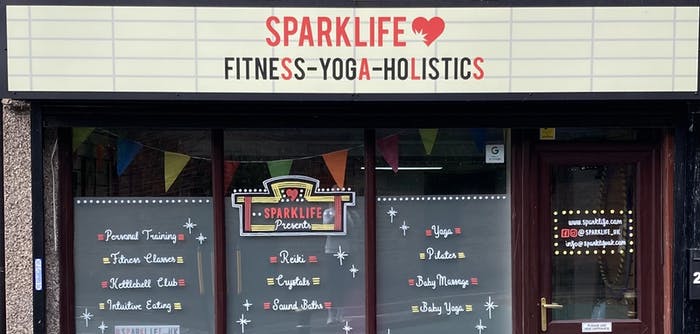 Growth strategies to help increase your customer base, find a location and build a reliable team
Be brave but also realistic
We often put off making decisions because we're not sure if it's the right decision. But if you make a mistake, you can always go back and do something different and rectify it. If you don't try, you'll never know whether it works or not. Don't be afraid. When I walked into this space, I knew this wouldn't be forever, but it is affordable, and it is us, and that's what was important to me. I know I can pay the rent, I know I have enough people coming in, and I know I can build. And when I want, I'll take the next step.
Know your financial situation and plan
When I took this place on, I could afford it before I took it on, rather than once I've got the people and then I'll be able to afford that. So I always knew that any more people coming into this space would be growth for the business rather than being able to pay the rent. When I first started the business I went part-time at my job before I went full time in Spark Fitness. I always had a number I had to hit. I had my outgoings, my mortgage, my electricity, the amount I spend on food, and also for the stuff I want to be able to do. I knew if I am going to enjoy my life, I needed to know that number I could hit and say I can quit my job and build my business.
That number has now changed because it includes things for the business now, paying peoples wages, things to save for, but I always have a number and that number is at the heart of what drives everything. As long as we're above that number, everything's all good, and knowing that number I can track everything else.
Stay on top of what's going on in your business
Reporting has been so helpful. I can see how many people I'm getting in and how many people I'm losing in a month. That kind of thing. That's really simple to keep track of now, whereas it started as a really dodgy spreadsheet.
Have an incremental plan
If you know where you're going and you know what's put in front of you, you'll be able to respond. It's not, I have a plan and I won't deviate from it. It's I have a plan and am willing and responsive to what happens in the world.
Thank you so much for sharing Maggie! Follow Spark Life on Instagram.
Video: Why Maggie uses TeamUp for her growing fitness and wellness business
But also above all else what I've always found is customer service with TeamUp is second to none. I've not experienced customer service with any other business that I've come across that is like TeamUp's and it makes me want to make mine like that.
Open Comment Form