When the pandemic created a greater demand for online fitness as a way to keep people moving at home, many trainers jumped at the opportunity to launch their own businesses. However, for Carly Britton, while she loves fitness and was happy to share her exercise expertise with her coworkers, family, and friends during the pandemic, she never intended nor imagined that hosting at-home workout classes via Zoom would transform into the successful online fitness business that it is today. Now over a year later, Carly's business Diligent Fitness in Detroit, Michigan is thriving.
Carly shared with us the many valuable lessons that have helped her navigate running a business and climbing the many stages of business growth. From tapping into the resources that built her up to assessing the growing pains and how to overcome them. She also shared a story about the major thing she almost didn't do that has helped her in her career and been a major support to how she runs her business. If you're eager to take your online business to the next level, read what Carly has to share.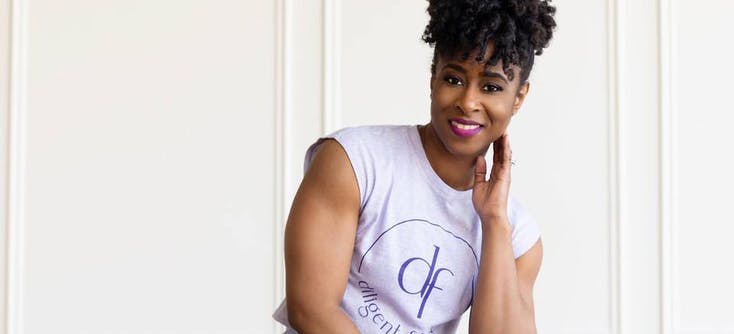 How to launch a fitness business - without even knowing
Launching a fitness business was not on my radar at all. I have two small children, a full-time career, and a husband. It was not a thought at all that I would do it. But one day, pretty early in the pandemic, I was on a call with my boss and coworkers, and he suggested "why don't you take us through some workout classes a couple of times a week to keep us moving because we'll be home for a bit?" We thought we would be in this pandemic for a couple of months.
I ran track in college and have always been into fitness, and my coworkers knew that. We started with just about five of my coworkers and a 30-minute class, three times a week. I never intended to keep it going and I thought they would get tired of it and it would fizzle out. And it just never ended.
Why taking the leap can lead to great success
Friends started finding out that I was running workout classes, so they joined. Then family joined, and it grew because people began telling other people. Even if I wanted to end it, I wasn't able to because people would tell me they loved coming to my classes.
Becoming a fitness business owner - it's go time
Six months in, my husband said to me "You have a business going." And I said, "Yeah, I do." I wasn't charging at this point. I would send out Zoom links via email to everyone that would come a day before. I didn't know how to charge or how to tell people who were coming for free for the last six months to now pay me to come.
Once I got over that, people started paying me via Cash App and Venmo and I would send them the link. But I knew it was time to do things differently. I had one woman who was interested in coming to my classes tell me she felt weird about sending me money via Cash App when she didn't even know me. I thought ok, that makes a lot of sense, and that's when I started looking for a more professional situation.
In-person or online: find what works for you
I still have a full-time career working in non-profit fundraising, so it wasn't really an option for me not to do virtual. I freaked out because everybody was about to start going back to the gym, especially in the summertime, so I started to find stuff to do outside. During the pandemic, people figured out that it was convenient to wake up, go downstairs, and work out. People were sold and they weren't worried about it half as much as I thought they would be. There was a small segment of people that went back to the gym, but I think, for the most part, everybody was sold on continuing online.
I did want the experience of training in person, so I did an eight-week in-person personal training session twice a week at a community center. I rented their little gym and had a group of people that I trained one-on-one for eight weeks. I have one on ones that come to my house and in the warmer months, I use the outside. It gives me a little bit of experience doing both things. I never once thought about working at a gym. I've always wanted to remain independent.
4 things business owners need to overcome early growing pains
Business coaching
I think early on if I had started out in this mindset of I'm going to start a business, I for sure would have done business coaching a lot sooner. I'm now in a six-month fitness business accelerator program through Jill Fit and I'm learning so much.
I've been listening to her podcast and every time I listen to her podcast, it's such good information. I think if I had started out in this mindset, that's the first thing that I would have done because I didn't know a thing. I have a master's in marketing and that didn't help. I don't remember anything or know how to apply what I know to this brand new thing that's fresh and starting in my basement.
Learning how to sell fitness
I definitely would have gotten into personal training clients earlier. I think that would have set my expectation for what's to come. I'm a fitness and health fanatic. You don't have to sell me, I'm in, but the way that you have to market this to people to get them to participate is mind-blowing to me. I get it, but I wish I would have been a little bit more prepared to handle the pushing and the selling and I just wasn't.
A big Instagram following doesn't mean more customers
At first, people didn't even know I taught fitness, I just posted it on Facebook one day and people came to me and were like "you train?" And I thought, maybe I should talk about this more often. It took me a year to start an Instagram and then I thought "what the heck do I put on this Instagram account?" I have no idea, so I'm still working through that. I have learned though that a huge audience doesn't mean that you have a huge number of customers. I have a small group of about 750 people on Instagram, but I have a good amount of people who are buying these classes.
Space and set-up are important but you don't need to nail it right away
As far as lighting and audio go, I'm still figuring that out too and I'm working on it. My basement looks amazing. It looks way better than it did in the beginning and that's because we worked on it.
3 big lessons business owners need to know to take their business to the next level
Booking and management software is a must for online fitness
I've been to a million different classes and a lot of them, I liked the process of being able to go online and buy whatever I want and show up. I've done that enough times to know that there's something out there people are using to do this. I knew there was something that I could use to register for classes online. I reached out at the time to the Facebook group of the company I have my certification from and got a million different answers from people about the software that they use, and one person said TeamUp.
At first, I wasn't sure because TeamUp was based overseas and I wasn't sure I could manage that if I needed help, but it hasn't been difficult. If I have questions, I am going to have to wait a few hours to get an answer or the next day, but it's never been something super immediate where I wished I could have gotten someone on the phone right now. That one person who said TeamUp, I don't know what made me look into it, but I did, it's been good for this.
It doesn't have to take a village to run a business, but it helps
I was lucky enough to have a trainer that I went to high school with. I ran track with him and now he's a trainer in Miami and has been training for 13 or 14 years. He and I would talk and he would be very frank with me. He'd ask how much I'd charge, and then say it was not enough. He would give me ranges that I should be in so that I wouldn't sell myself short. He said if I undercharged then I would be resetting the entire business and it wouldn't work.
He showed me how I should structure my memberships and plans so that people are getting something out of it. They need to commit to a timeframe, which is why I switched to eight weeks for my fitness classes. If you sign up and just take one class, maybe you'll come back, but maybe you won't. However, if you paid for eight weeks, you're probably going to show up.
I give my village a lot of credit because I have people that I can talk to about these things. The woman who even does my eyebrows has helped me understand that if you start out doing something now and you figure out a better way to do it, don't ever be afraid to do what's better. Don't ever be afraid to ruffle feathers. Don't ever be afraid to switch to something new.
I even talked to her about TeamUp. I told her how easy it is to just send people the link and they send me the cash and she asked me if it would make everything more professional and if it did then that's what I had to do. She also took my classes and that helped me to get her perspective as a customer.
Being able to talk through it all and have lots of smart friends that can help me and bounce ideas off people. I had so many thoughts and ideas, and I knew I needed a coach because I need to be able to ask these fitness-specific questions from a person who has been in my shoes before. I learned early on that there's going to be stuff that you're going to learn along the way that's going to make this easier for you and you shouldn't be afraid to implement those things. If you do it right, your customers will come with.
Networking with similar businesses is more valuable than competition
One thing that is absolutely free that I recommend people do is connecting with other owners. A year ago I was scrolling on Instagram and I saw this woman in Canada who does the exact same thing I do, virtual fitness classes in her basement. She has a huge class with 150 to 200 people three days a week. I remember showing my brother that she was a big deal and what she was doing was awesome and that I was going to reach out to her.
He said to me, "don't do it, she's your competition." I wanted to know what she was like and how she is doing her classes and he made me believe she wouldn't tell me or respond because she was my competition. I ultimately thought he was right and that it was crazy to reach out so I didn't.
I watched for a few more weeks and decided I really needed to talk to this woman because I had questions and wanted to know certain things, so I reached out to her. We talk all the time now and she helps me anytime I have a question. She is amazing. She is super helpful and I would tell anybody, don't be afraid to reach out, because there are nice people out there that will help you.
I'm no threat to her and she's no threat to me. There's enough to go around for everybody and there are enough people in this world to buy her products and to buy mine. She has never been selfish with any of her information. If you don't have a ready-made village of people you can ask for help, you need to formulate it. It's uncomfortable and it's scary because there are jerks that won't help you, but there are people that will.
You need to be able to come correct and approach the right way. I let her know I had been watching her videos for weeks and I complimented how amazing I thought her classes are. I told her what I was doing and if she would be willing to answer a few questions for me. I didn't just go into her inbox and ask questions. I built somewhat of a relationship with her before I even asked what her deal was.
Why you should always go after your dreams
For my whole life, I have been very active in sports. I think I have always known that I was supposed to be doing something like this. You go to college, you get a job, and you start working and then you have babies. You have all this stuff happen and it feels like the moment has passed and you can't do this anymore. I think what the pandemic has shown me is that I can do this, and I am doing this. If I ever wanted to go full time with Diligent Fitness, the bones are there. I never intended to start this, but now that I have started, it's been great.
Thank you for sharing Carly! To follow Carly's journey with Diligent Fitness, check out her Instagram.
Video: Learn why Carly chose TeamUp as her online fitness business software
I think being able to like prorate payments and the different options that you have for billing and you can change the structure of your membership and there are just all these different things you can do.
Open Comment Form