One of the most inspiring aspects of personal training businesses is how many bootstrapped, no-startup-capital success stories there are. Many personal trainers either have the funding they need or have a business model that doesn't need a large amount of capital right off the bat. However, if you are getting your business off the ground and need some assistance covering early costs, fortunately for you there are several options.
Between government aid, national and international fitness organisations, small business networks and funds, and banks and credit unions, you have the opportunity to receive grants and loans that can give you the support you need to get your business up and running.
In this guide, we break down the differences between a grant and a loan, what they can each be used for, and what types of funding you can earn for your personal training business. Let's get started.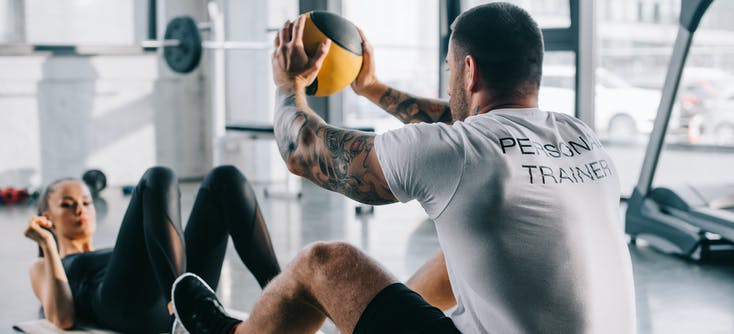 What is a grant?
A grant is a monetary award provided by a government body or organisation. You can apply for a grant and if your application is accepted they will provide you with financial capital and funds to support your business. It is both a form of financial assistance as well as a way to provide eligible businesses with the support they need to provide a service to the community. Certain grants will specify what the grant money should be used for in a fitness business, for example, personal training software, equipment, staffing, hardware, personal training business cards, and so on.
Contrary to a loan, you do not need to return this money. It's an investment in your business that the government body or organisation feels you deserve based on your application and desire for using the funds. Each grant opportunity has different requirements and it is up to the body or the granter of the grant to determine who is or is not eligible.
What is a loan?
A loan is a sum of money borrowed from a creditor (typically a bank, corporation, government, or other financial institution) in the form of a debt to cover the costs of a new business or venture. The terms of a loan are agreed to by both parties engaging in the loan prior to its approval and must be secured by collateral or an unsecured hold, for example, a credit card. Loans must be paid back with interest within a certain amount of time agreed on by the lender and the borrower.
Benefits of grants and loans for a personal training business
While obtaining financial capital is not a necessary step for launching a new personal training business, there are some benefits to applying for grants for personal trainers.
Many grants and loans are reserved for small and new businesses. Grants and loans are typically allocated to specific types of businesses and purposes, one of those being that the business is new or small. If you want to obtain a grant or loan, you do have more of an advantage in the early launching stages.
Earn an income from the start. With extra capital to spend on important business features such as personal training software, setup, and equipment, the income you see early on won't have to go to your expenses, it can go straight to your bank account.
Receiving a grant early on can increase your chances of being an eligible candidate for future opportunities. Once you have been rewarded or given a grant or loan in the future, if you are able to make good on the requirements that the grant or loan comes with, you can be an early candidate for future opportunities without having to go through the same application processes.
You do not have to repay grants, however, you do with a loan. Grants are very favourable because they do not require you to pay them back, however small banks and investors will either want to be paid back or see a return on their investment.
How to use grants and what to use them for
Once you have been given your grant or loan it's time to put that money to good use. For new personal trainers and fitness businesses, these are a few examples of what grants are typically used for:
Hiring staff and other coaches
You have the option to take on as many clients as you want or can, however many personal trainers looking to launch a larger business want to be able to hire staff and coaches to offer more personnel and assistance with clients.
Purchasing equipment
One of the early attractions of being a personal trainer is keeping your expenses low. While you do not need to purchase equipment to launch your business, it does help to have some kit on hand such as towels, mats, basic dumbbells and kettlebells to add variety to your sessions.
Renting space in a gym or facility
Owning and opening a facility is expensive and many new PTs don't always want to open their very own site. While rent is expensive as well, it is more cost-effective for new personal trainers looking to hit the ground running and give their clients the opportunity to train in an establishment that already has the proper equipment and facilities.
Opening a facility
And on the other hand, some new personal trainers want to dive straight into purchasing their own facility where they can train their clients.
Investing in software and hardware
Offering clients a professional customer experience comes at a price, but it's not over the top. There are several fairly-priced gym management software solutions that are perfect for new personal trainers and business owners looking to deliver their clients a seamless booking and member experience. New PTs can also use their new capital to invest in computers, laptops, tablets, or mobile devices to use for their business.
Loans and grants available to personal trainers
There are several different ways for personal trainers to obtain loans and grants for their new businesses. Here are the most common ways:
1. Bank loans
Local bank loans are one of the most common ways for personal trainers to obtain the funds they need to launch their businesses. As a member of a local bank, they already have your business and are there to assist you in receiving the support you need.
Typically, standard bank loans for small businesses have lower interest rates than other types of standard or conventional loans. To apply for the loan you will need to have a business plan of at least three years worth of projections for your new business to evaluate the success of your new business venture, as well as request to see prior tax returns and financial documentation.
2. Government supported grants
Government-supported grants, as their name states, are grants sponsored and available by the government. Various federal and international governments offer grants to support fitness businesses.
Grant.gov is a federal government based website for federal agencies to post funding opportunities. Using their website personal trainers can find relevant opportunities and grants and apply to them directly from the site. Government organisation, the U.S. Small Business Administration connects entrepreneurs with fitness businesses (and other small business owners) directly to help them launch and grow their businesses.
The United Kingdom's UK.gov also offers similar grant opportunities and will often pledge a certain amount of money to small businesses including fitness businesses. The government grants they mention and suggest often have a specific requirement associated with them such as how the grant is to be used and for what, ie. paying staff, purchasing equipment, funding fitness classes, and so on. Some governments will even go as far as to fund the courses required to become a certified personal trainer with specific grants and Advanced Learner Loans.
3. Small business loans and grants
Another way of obtaining funding for your personal training business is by receiving a small business loan. There are several different funding websites to support small businesses and their financial needs, so before you pick one it's best to look up the best options for your business. Small business loans are popular due to their low monthly payments and low rates.
Websites such as the Small Business Funding assist new personal trainers to gain the capital they need to launch their businesses through business loans, merchant cash in advance or an asset-based loan. National Funding also helps gyms and fitness centres with small business loans anywhere from $5,000-$500,000 dollars to cover your payroll, expenses, bring on new employees, upgrade equipment, provide new services, cover insurance, and more. UK Startups breaks down funding opportunities and grants by the year per region.
As with any other loan or grant, each funding agency or business will have its own requirements for applying for one of its loans. Application is fairly simply usually starting with an online form and consulting with a loan specialist to learn your immediate small business needs. Once you have applied and your loan has been approved the funding agency responsible for providing you with the loan will contact you with further details.
4. Fitness equipment leases
Fitness equipment can be a very large expense. Whether you're running your business in a studio, from home, from a park, or a clients' home, if you are not renting space from an already established fitness facility with equipment included, you'll need to invest in even the most basic kit. Capital leasing can help new fitness business owners finance their fitness equipment without the personal trainer having to spend their own income.
Fitness equipment leases also include large tax benefits with a full deduction of lease payments again your current earnings for the year. Businesses such as First Financial, recommended by Club Industry and Fitness Business Association, can help business owners secure the best leases for their equipment for terms as long as 60 months, with free credit and capital, and low down payments.
5. Fitness associations and organisation grants
Fitness organisations and associations can not only help you earn your personal training certification, but they can also assist you with finding and applying for grants, scholarships, and loans. These grants are typically given by various foundations either associated directly with or outside of the organisation itself. Here are some of the leading personal training organisations and their available or future opportunities for grants and loans:
6. Investors
Earning investors for your personal training business early on can help you secure the capital you need. These highly successful businessmen and women typically have a high net worth and are willing to invest in your business with the intention of receiving a return on their investment once you are successful. Whether this is a family member, friend, or angel investor (someone who might not be affiliated with you personally) they will then receive equity in your business, or partial ownership, or convertible debt, in order to ensure that they benefit from this partnership financially in the future.
7. Event-based grants
Occasionally when either a planned or unforeseen event takes place, certain government bodies and businesses will make stimulus grants for personal trainers available for businesses in need. Such is the case with the coronavirus pandemic, where businesses have been able to claim back funds they were not able to earn due to business closures and lockdowns. In event-based cases, businesses will either need to prove they were unable to earn an income during this period of time or support why they need a grant or loan during or for this event.
Here, you can read more about the UK's COVID-19 grant opportunities as it directly related to gyms, studios, and trainers in need of financial support during the pandemic.
In conclusion
There are multiple ways to earn capital to get your personal training business off the ground. Do your homework and evaluate the present opportunities available to choose the best funding options for you and your PT business.
To learn more tips and tools for running your personal training business, check out our resource section, here. If you have further questions about obtaining grants for personal trainers, please feel free to reach out to support@goteamup.com.
Open Comment Form