With spring comes better weather, warmer temperatures, and a reminder that summer and the mid-year marker for your goals are just around the corner. Breaking down the year by season, or quarters is a very helpful way to segment and understand your business's progress and metrics to make sure you're on track with your business goals for the year. You can learn a lot by reviewing your first quarter and using your new findings can ensure that you have a successful Q2 and so forth.
Whether your goals for the year are to bring in new fitness clients, open a new location or gym, or improve your client retention and referrals, these six TeamUp reports can help you review your winter quarter and see what decisions or changes you need to make to stay on track for the upcoming seasons.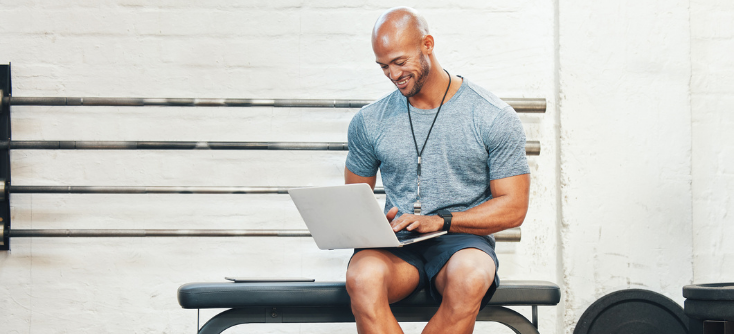 Popular reports for tracking your fitness businesses goals
Some of the most popular goals fitness businesses set themselves each year are:
Earn more customers
Retain more customers and reduce churn
Increase and grow revenue
Boost sales and subscriptions products and services
Increase amount of customer referrals
While there are many other goals you can set for your business when it comes to these main ones, there are some very helpful reports that can be used to monitor your progress, see how far away from or close you are to your goals and objectives, address what might not be going how you thought, and if your goal metric was too easy or challenging to achieve.
The best part of reviewing your Q1 stats right at the start of Q2 is that you have 3 more quarters in the year to achieve your goals. So do not be discouraged if you're not where you thought you would be by April 1st. There's still plenty of time to boost your numbers and take your business to the level you're striving for.
How to find your goal metrics in TeamUp
These six reports are excellent tools that you have access to in your TeamUp system at any time and can use to review any day, month, year, and customised periods of time such as the current quarter.
Important to note: for this article, we have used the Q1 period January 1, 2022, to March 31, 2022, but using the custom time period filter you can adjust for any quarter if you would like to repeat this exercise throughout the year.
Class attendances and most popular classes
The easiest way to see which of your classes are your best performers is by checking the most popular class report. However, if you want a more in-depth view of the performance of all of your fitness classes you can use the class attendances report to see which classes are most attended and which are not.
In this report you can also use your filters to see:
How customers book (on their member app or via your TeamUp website)
How customers are using their memberships
Which venue or instructor are more popular with your members (if you have more than one)
Which of your services (in-person classes, courses, online classes, appointments) are your most popular
There are many valuable lessons you can learn by reviewing these reports including which of your classes need a revamp, which should be left alone, and which should be removed from your timetable.
How to see all and your best class attendance for Q1: Open the Class Attendance Report and use the "See results from" filter and set the custom period Jan 1 2022 - Mar 31 2022.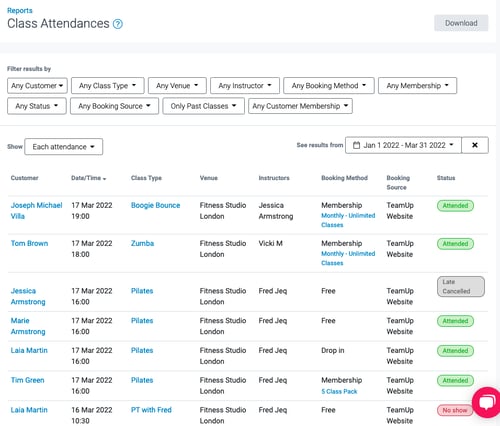 How to see your most popular classes attendance for Q1: Open the Most Popular Classes Report and use the "See results from" filter and set the custom period Jan 1 2022 - Mar 31 2022. You can use the average attendees organising arrows to see which of your classes and times get the best attendance per week.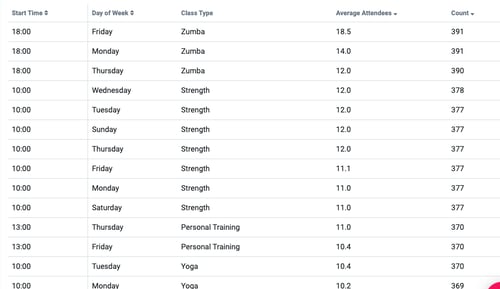 Customer referrals
An excellent way to boost new signups and get new members through the door (physical or virtual) is through a customer referral program. No one knows better what you can do for them than your existing members. Encouraging them to bring friends, family members, colleagues, and even giving you a shoutout to their social media audiences is a strategy that works time and time again.
With the built-in customer referral tool in your TeamUp system you can automatically provide each of your customers with their own referral code that can be redeemed to earn a free trial class or membership, and when they redeem your existing customer will receive an account credit of the amount you choose.
If increasing your number of customer referrals is a part of your 2022 growth strategy, you can use the Customer Referrals report to see:
How many referrals have been brought in during your first quarter
Which of your members are your best referrers
How many people have signed up using a referral code but have yet to redeem their free trial or membership
Using these metrics you can determine how well your customer referral program is working if you need to amend your offer or the credit a customer receives and can see which members need more incentive or encouragement to refer your business. And don't forget to give your customers who did bring in the most referrals a shout out on your social media and newsletter!
How to see your customer referrals for Q1: Open the Customer Referrals Report and filter for "Show referrals made" filter set the custom period Jan 1 2022 - Mar 31 2022.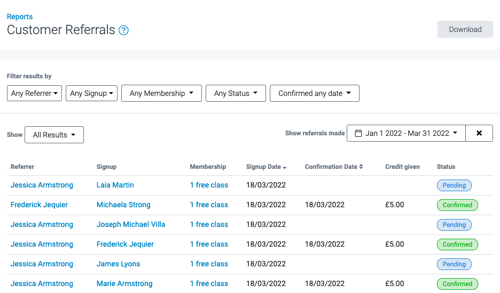 Free trial memberships
Often offered as the reward for a discount or marketing promotion, free trials memberships are another popular strategy for boosting new member sales and getting people to trial your business before signing up for a paid membership.
But remember, it's very easy for someone with little intention of returning to take advantage of a free trial, so it's important to get your trial membership offering right.
Using the customer memberships report and filtering for your free trial membership you can see how many people signed up for a free trial in Q1 and how many of those customers upgraded to a paid membership after the trial was completed.
How to see your free trial membership performance for Q1: Open the Customer Memberships Report and filter for the "free trial" membership or name you use for your free trials and set the custom period Jan 1 2022 - Mar 31 2022. You can also use the status filter to see how many free trial memberships are still active and how many have already been redeemed and completed.
Income and revenue
If generating more revenue and increasing your business's income is a high priority goal this year then the invoices report is definitely one that you want to keep your eye on more than once a quarter. Using the invoices report you can track the status of any payment made in your business and total the revenue you have earned over the past three months. With that metric, you can see how far away you are from your yearly goal, and decide which memberships to boost, if you need to offer more promotions, or if you're right in your sweet spot.
This report can be very helpful too for keeping an eye on customers whose payments failed within the quarter and ensure you don't miss out on valuable revenue needed to reach your goal.
How to see your revenue and invoices for Q1: Open the Invoices Report and use the "Any time" filter and set the custom period Jan 1 2022 - Mar 31 2022.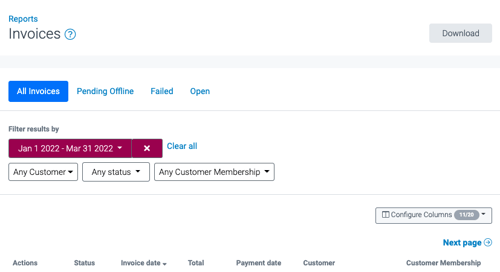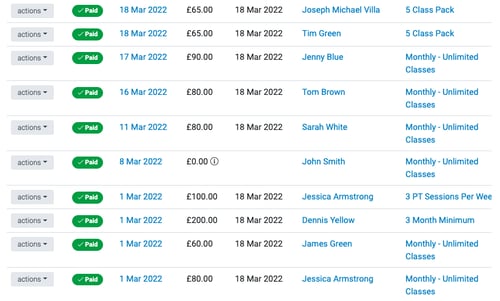 New customer memberships
Checking your memberships reports is a great way to identify which of your membership plans were most popular in your first quarter. Using this method of reporting not only can you see how many new members signed up between January 1st and March 31st, but you can also see
Which memberships were most selected and
If any customers purchased multiple memberships during this time
This will give you great insight as to which memberships you can expect to see a great return from and which might need to be adjusted or removed to earn you your desired sales.
How to see your new customer membership sign-ups for Q1: Open the Customer Memberships Report and use the "Start date is" filter and set the custom period Jan 1 2022 - Mar 31 2022. You can also use the "Any status" filter to see which membership plans are active or have been upgraded and the "Any plan" filter to see if recurring, packs or prepaid plans are being most purchased.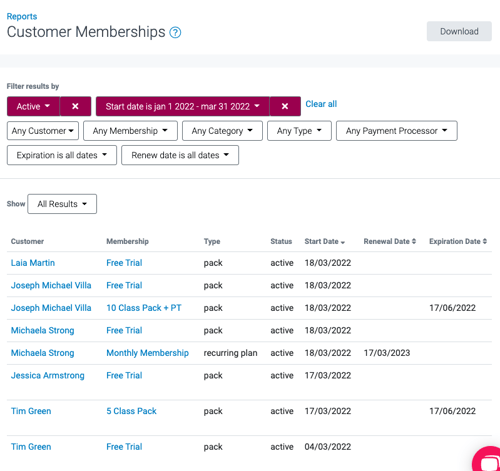 On-demand
On-demand became a very popular tool to keep members engaged and a way to generate additional revenue, especially over the past few years. Many fitness business owners saw the value in complementing their classes and sessions with on-demand video content members could take advantage of any time anywhere.
While this additional service can offer big rewards and give members content they can use when they're not in class, it can be a bit of extra work to create the content, especially if you are curating your pre-recorded content rather than using recorded class sessions. This is why it is very important to understand which of your content performs best, and what you should continue or stop supplying your customers with.
Whether you had a number of views goal or wanted certain content to really shine, using the On-Demand Content report, you can track the number of views your content received in Q1 and which of your members most utilise your on-demand service.
How to see your on-demand content views for Q1: Open the On-Demand Report and use the "Show content viewed" filter and set the custom period Jan 1 2022 - Mar 31 2022. If you see that a customer, in particular, is viewing your content more or less and has on-demand content included in their current membership you can use these learnings as an opportunity to ask what they love about the content or what they would like to see more of to make sure your customers are taking advantage of all of your content.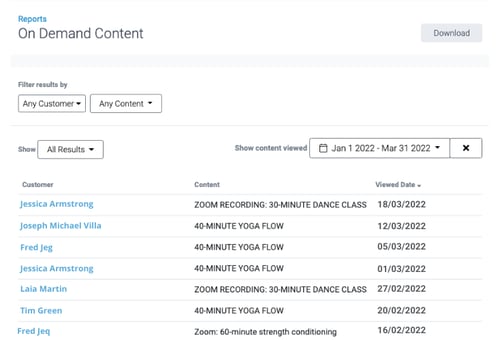 Stay on track with your 2022 fitness business goals
To sum it up, reports are incredibly useful in making the best-informed decisions for your business. If you want to stay on track to reach your goals for your business this year and speed up your progress, take advantage of these six reports in your TeamUp system.
Want to remember this blog to reference for future quarterly reporting? Use the bookmark feature in your web browser to easily come back to it again and again.

Additional TeamUp guides and reports to help you succeed this year
Thanks for reading!
Open Comment Form