With so many fun and exciting in-person and online services to offer you may be wondering what the perfect formula is to offer them all to your clients. So, we're here to help! We created several examples for both recurring and prepaid membership plans to give you an idea of the types of on-demand content combinations and packages you can offer your clients. From only on-demand access, limited on-demand and class access, or unlimited access, it's up to you to choose, and you can't go wrong, so let's get started.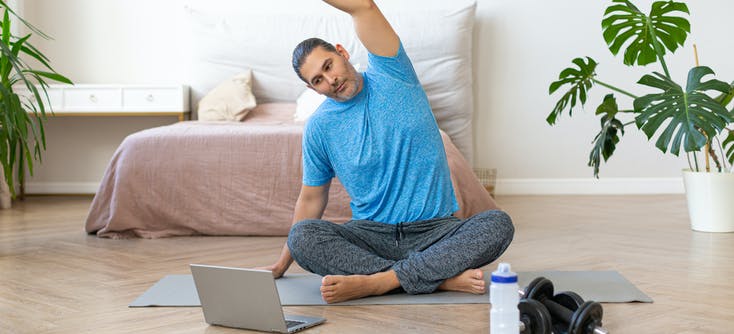 Recurring memberships
If you would like to include your on-demand access in a recurring membership you will first need to select that option from the membership settings in your dashboard.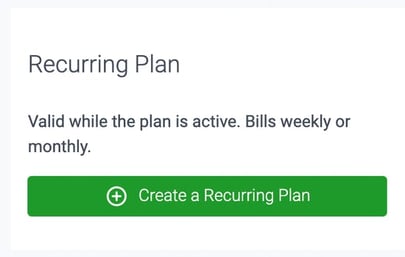 Example 1: On-demand only
If you would like to create a membership that only includes access to on-demand content you can definitely do so. Depending on whether you offer live classes in-person or online, it's normal that you may have clients currently or from the past who could not make your timetables work for their schedule. Now you can welcome them back those previous clients back and offer a solution to your clients who haven't been able to make it to class.
To set up a membership that only provides access to on-demand content and no classes you can select to create a recurring membership plan and instead of selecting the classes that you would like the membership to include, simply DO NOT select any. In the payment plan section, you will be able to decide how much you want to charge for your on-demand only plan.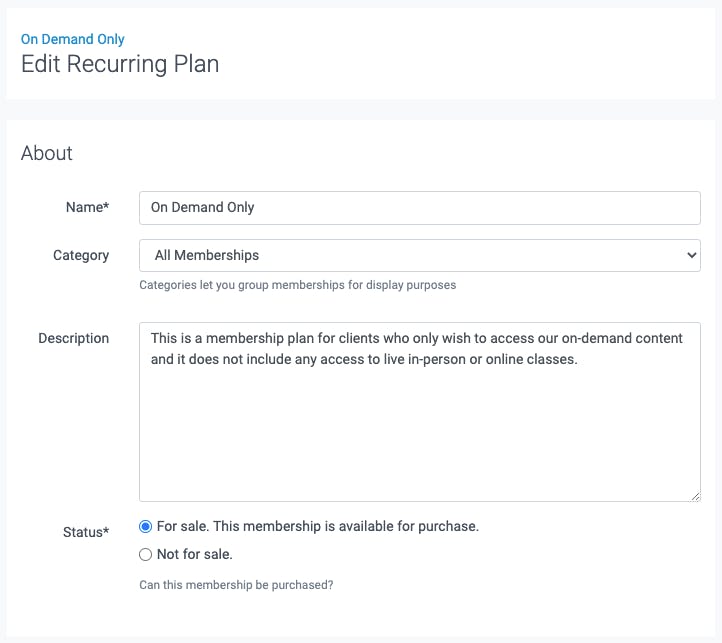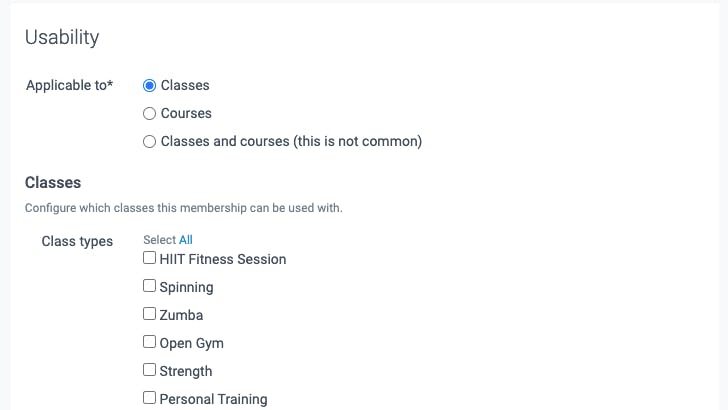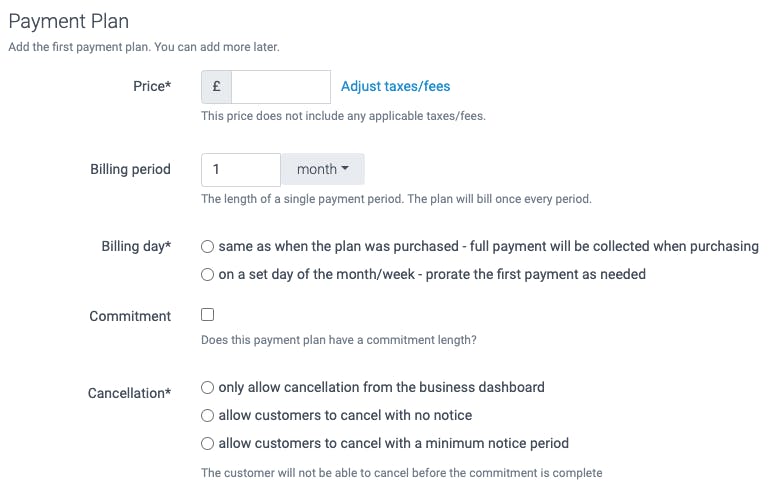 When you hit save, your membership plan will reflect that no classes are included in this plan, and you can access the On Demand feature right below to start configuring which On Demand collections this membership will include.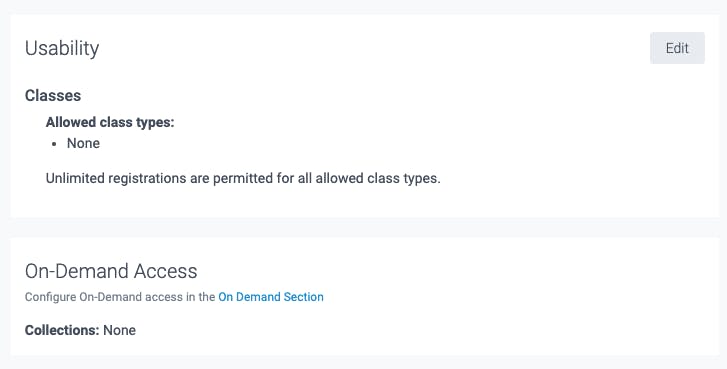 In the On Demand feature you can either add this membership to existing collections or choose to create an entirely new collection dedicated to this specific membership.

Once you create the collection you can begin adding content for your clients to view.
Example 2: On-demand + live classes
You also have the option to create a recurring membership that includes access to a certain type or class or number of classes as well as on-demand content. This will give your customers the opportunity to take advantage of your library and on-demand content as well as intend in-person or online classes in your timetable.
To create a mixed membership you can follow the same steps as above, but instead of selecting no classes, you can select the classes you want your membership to include. If that is all classes, but a restricted number you can select that within the usability settings within the plan. Just as you did before in the previous example, you will choose the price for this plan in the payment plan section.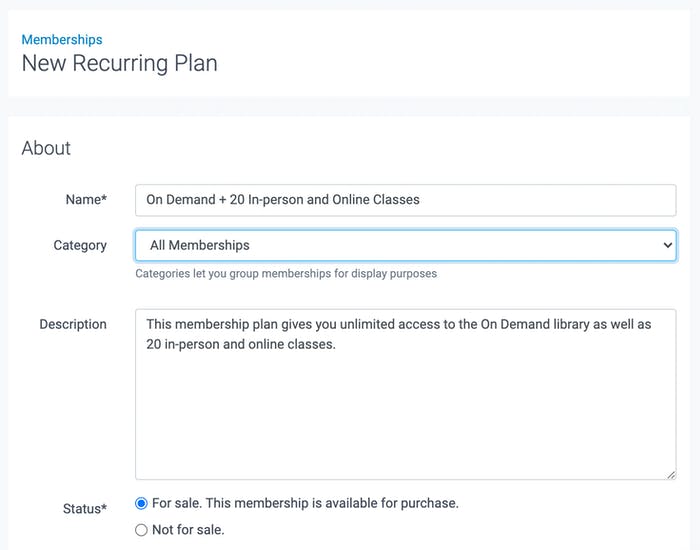 As this package only includes 20 classes total, you can select the frequency restriction to only allow your client to register for 20 classes within the month.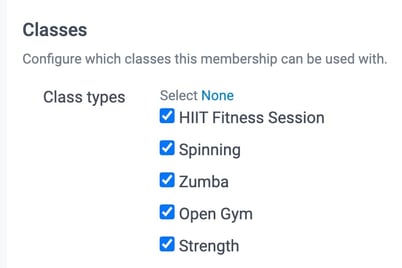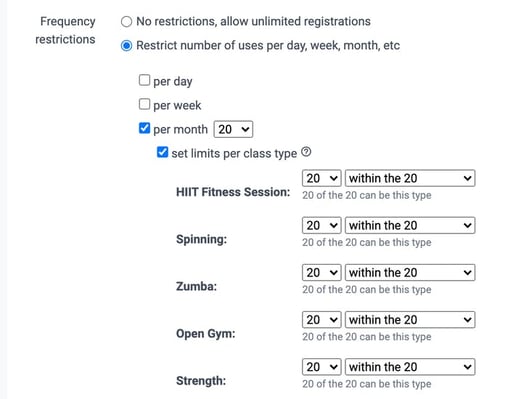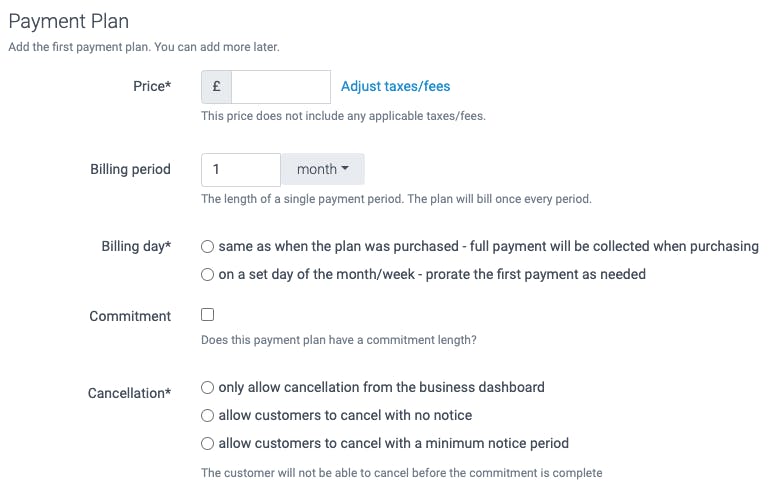 Once you have created the membership plan you can follow the On Demand collection set up steps above and start adding content to your library. You can even include the membership to collections that already include other only on-demand memberships.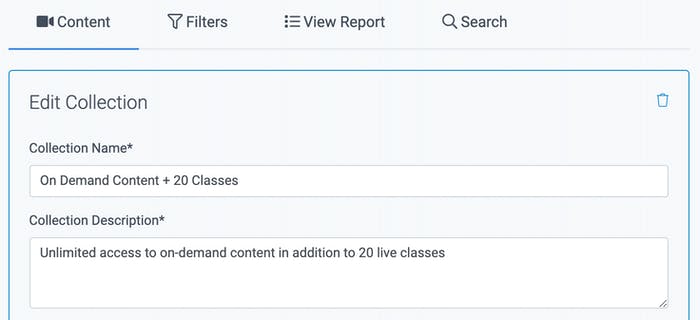 Example 3: Unlimited access to on-demand and classes
Last, but not least you can create the ultimate full access recurring membership plan and provide clients who purchase this membership with unlimited classes and access to your on-demand content. This is the perfect plan for your clients who want to take full advantage of all your services at all times and never worry about missing a class or video.
To create your unlimited access plan, you will follow the steps for creating a membership plan above, with the only difference being that you will not put a restriction on the number of classes included in the plan. And as you did before, you can add the price in the payment plan section for this plan.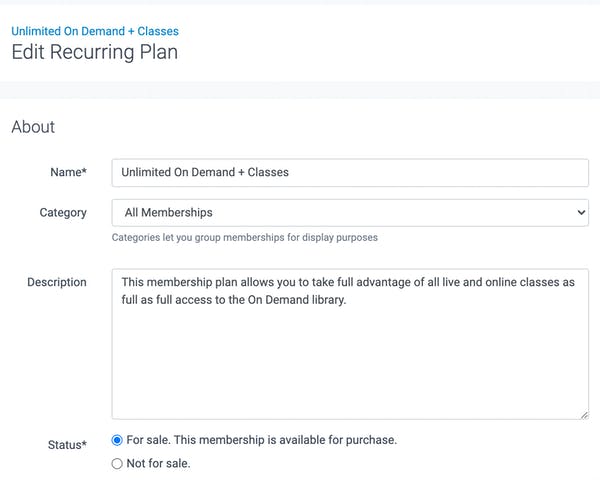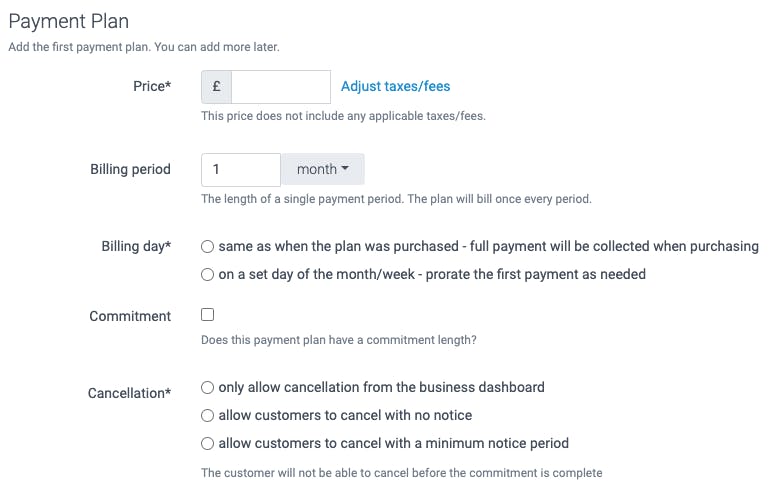 Once all your memberships are available for purchase you can begin letting your clients know that they can upgrade or purchase a new membership.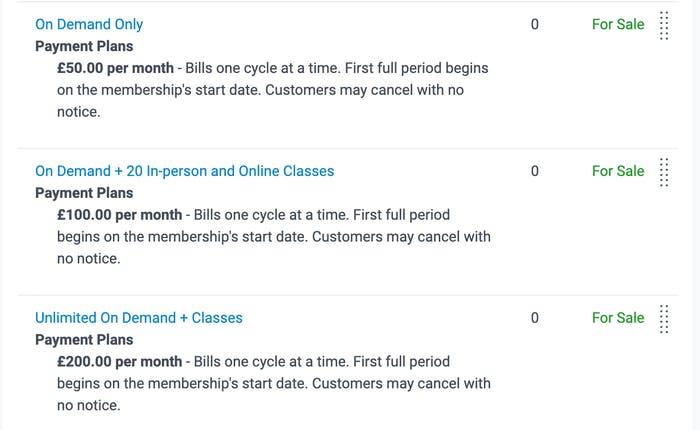 Prepaid plans
The second type of membership plan you can offer to your clients that can include access to your on-demand content is a prepaid plan. This type of membership is billed once and valid for a specific period of time that you can customise and set. Similar to the recurring membership plan options we laid out above, you can also customise your prepaid plans to include as much access as you'd like, however you cannot choose to include a certain number of classes with this plan. You can only provide unlimited access to classes and limited or unlimited on-demand access.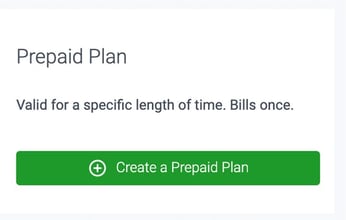 Example 4: On-demand only for select collections
This type of plan is perfect for customers who want to do a certain program for a specific length of time or want to explore your services before committing to a recurring membership plan. You can also use this type of plan to only offer access to specific on-demand collections, for example, yoga classes.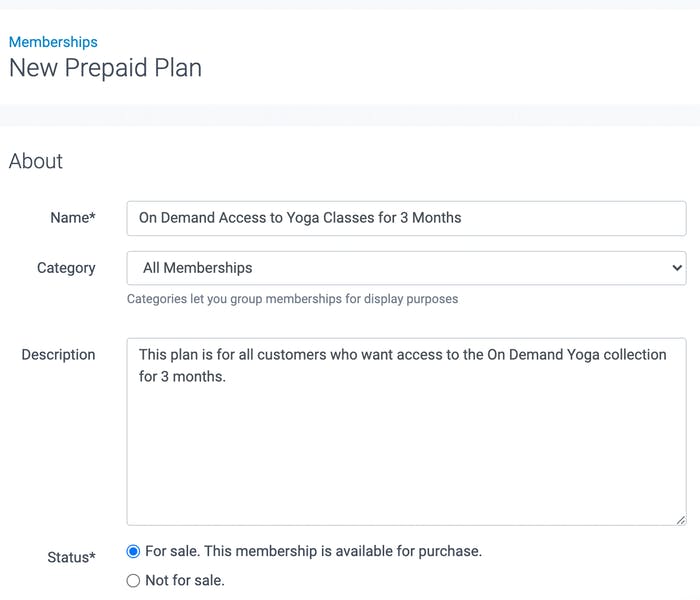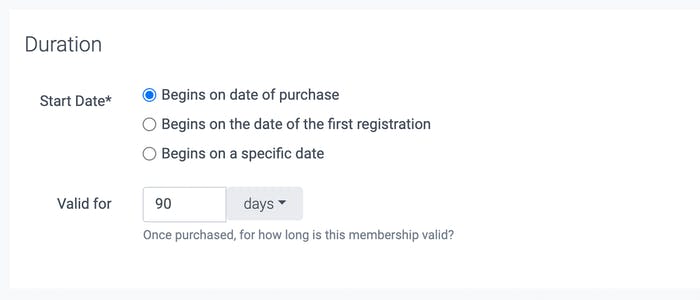 And just as you did with the recurring memberships you can access the On Demand feature right from the membership.

Once you select the feature you can add the membership to an existing collection or create a new collection.

You can repeat these steps to create as many recurring membership or prepaid plans as you'd like. It's up to you to decide what you'd like to offer your clients, and it doesn't hurt to ask them what they'd like to see.
To learn more about TeamUp's On Demand feature and the best formulas for creating the best on-demand package, check out our guide to creating on-demand memberships.
Open Comment Form