Our friends at Uplers.com have provided us with an in-depth guide as to how gyms and personal trainers can make the most of email marketing.
For today's generation, the basic necessities of life are no longer confined to the three elements of shelter, food, and clothing. Now, a fourth element has become an equally intrinsic part of their lives- fitness. Over the last few decades, a growing public awareness of fitness and wellness has resulted in people looking up to their exercise routines as not just a hobby but as an active daily pursuit. From eating smarter to sleeping better, people are doing anything and everything in their powers to maintain a healthy lifestyle, not to mention their willingness to spend a fortune on the fitness brand of their choice.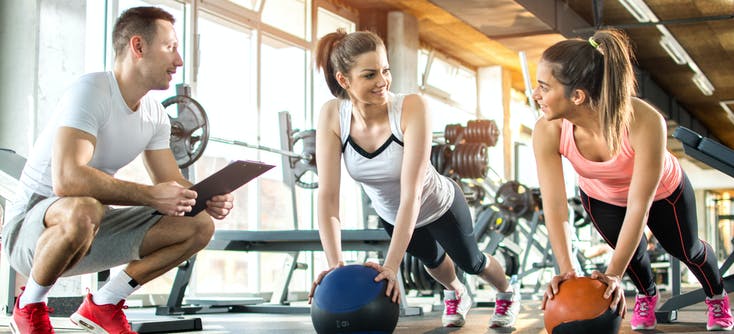 Given the public sentiment, it'd appear that gyms and personal trainers have their paychecks handed over to them without breaking a sweat. However, that is far from the truth. As fate would have it, the fitness industry is grossly oversaturated. So, if you want your brand or business to break into mainstream recognition, you have to think beyond ways of toning your customers' abs; you've got to focus on beefing up your digital presence as well. And your best bet at doing so is by having a solid email marketing strategy in place. Why? At present, email marketing has approximately 4.2 billion daily users. But, that's not all. The channel enjoys an astounding 4200% ROI too. This article discusses how gymnasiums and personal trainers can use email marketing to give a leg up to their visibility and branding. Read on to find out!
Understanding the basics
Other than promoting your programs and helping you rope in new customers, email marketing can empower you to establish yourself as a brand in your domain. But, to do that, you first need to understand what goes into crafting the perfect email marketing campaign. While there are several intricacies and nuances, broadly, the process is three-pronged in nature:
Building an email list
Sending different email campaigns
Brainstorming ways to boost the deployed email marketing strategy
Irrespective of whether you are a gymnasium or a personal trainer, your success as a brand eventually boils down to two things- your ability to acquire new clients and nurturing your existing ones. Devising an email marketing strategy by adopting the steps mentioned above will help you achieve just that. If you ever feel stuck, use free resources like StuDocu to freshen up on different marketing strategies, in order to improve your craft. It also helps when you use use email marketing software for small businesses (bonus if it's integrated with Zapier and TeamUp) to streamline distributing your content and newsletters.
Adding subscribers to your email list
There's no better way of building a close relationship with your customers (existing and prospective alike) than adding them to an email list and engaging them with personalized communication. This communication could be anything from monthly newsletters to transactional emails to customized re-engagement emails. Having said that, growing an email list is not a straightforward affair. It requires a systematic approach and warrants constant discipline, commitment, and perseverance from your end. Listed below are a few ways that you can adopt to build your email list.
Collect your customers' email addresses manually
This is perhaps the most convenient way for fitness trainers and gyms to grow their email lists. Whenever a new customer approaches you for a membership, make them fill out a form wherein they mention all their communication details, including their email ids. You can either have your front desk receptionist take care of this or install a mobile device such as a tablet for the job. Once you've collected the addresses, start engaging with them by sending health and diet tips, fitness challenges, motivational material, and other related content.
Include opt-in forms on your website
Adding opt-in forms to your website is an excellent way of converting website visitors into potential newsletter subscribers. To that extent, you can use a lead magnet such as a free one-week workout plan, complimentary nutrition, diet PDFs, or anything along those lines to incentivize visitors to sign up for your newsletter. Another creative way of collecting visitor details is by using pop-in forms.
Leverage your social media handles
If your fitness brand has a social media presence, you can leverage it to build your email list. How? Just create a landing page with an opt-in form. Then, you can update the link of the same either on your brand's Instagram bio and the about section of their other social media profiles. To call the viewer's attention to this, you can put up a dedicated post informing them about this link.
Use referral programs
Setting up a referral program can help you acquire more qualified prospects through your existing set of customers. Referral programs with rewards are known for incentivizing users to spread the word about the business with their friends and relatives. You can do the same for your gym or personal fitness brand as well. Announce a 20% off on a workout plan when an existing customer refers a friend. Or give them an overall rebate on their membership fee. The possibilities are endless.
Selecting the best email campaigns for your brand
Now that you know how to build an email list, the next logical step involves learning about creating campaigns that you can send to your recipients. There are different types of email campaigns that gyms and personal trainers can deliver to their customers. Let's take a look at some of the possibilities.
Welcome emails
Welcome emails are a vital part of every business's marketing armour, but they arguably carry the most gravity in the fitness industry. Why? Take a moment to think about the number of people who have discontinued their gym memberships around you. The answer spells itself out, doesn't it? An impactful and neatly crafted welcome email will help you tackle the buyer's remorse that is typically associated with this domain and curb the number of cancellations in this process.
Take a look at this example from Lululemon Athletica.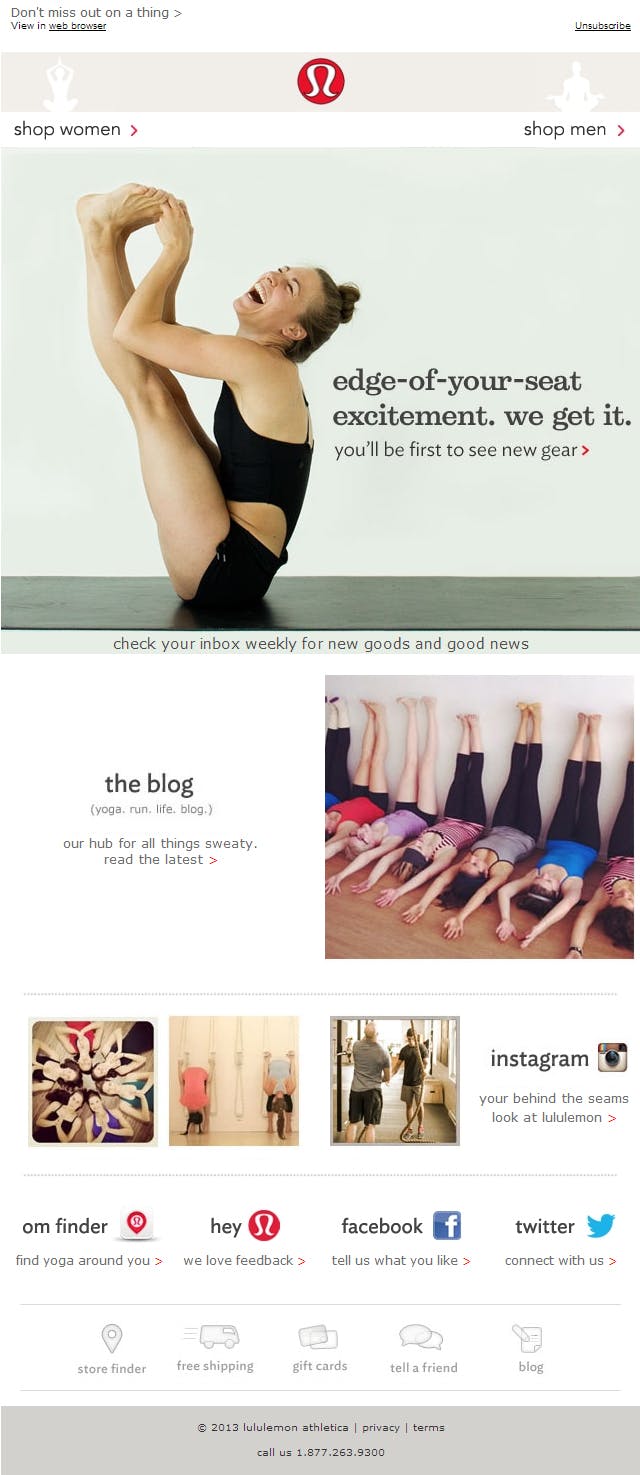 Educational emails
As discussed earlier, in order to grow your fitness brand, simply servicing your customers is not enough. You must establish yourself as a figure of authority or a subject matter expert too. And the best way of doing so is by sending frequent educational emails to your subscribers that talk about workout routines, diet plans, cool-down tips, and other similar topics. Besides educating your customers, these emails serve the critical purpose of reaffirming their faith in your brand.
Here's an example from Peloton to fill you with some inspiration.

Source: Really Good Emails
Topical emails
Modern-day customers no longer look up to their brands as mere commercial entities. Instead, they see them as sentient figures who should be acutely aware of their surroundings. They are expected to exercise their opinions on matters of public interest and participate in dialogues revolving around significant issues. Sending topical emails doesn't just exhibit your sensitivity as a brand but also goes a long way towards cementing the loyalty of your customers.
For instance, take a look at this email from AfterShokz.

Source: Really Good Emails
Promotional emails
Emails are a great channel for alerting your customers to new releases, upcoming events, special offers & discounts, and other similar information. If you want to break away from the usual monotony of promotional emails, you can include a feedback or customer review section in them to invite engagement from your subscribers.
Here are a few examples.

Source: Really Good Emails

Source: Really Good Emails
Special mention
The example I'm going to highlight here doesn't necessarily belong to any of the above-stated categories. Still, it'd be a crime not to bring it up nonetheless, especially when the discussion is around fitness brand email campaigns. This wonderful email from AfterShokz bears testimony to the fact that, sometimes, all it takes to capture the imagination of your audience is truly inventive and creative content. Take a look!

Improving your gym email marketing strategy
The only thing more important than planning your email marketing strategy is continuously thinking of improving it. Listed below are a few tips that you can adopt to ensure that your campaigns never lose their edge.
Subject your emails to A/B testing or split testing before sending them out. Besides letting you identify the high-performing facets of your email, testing also allows you to effectively address the shortcomings of the weaker components of your emails.
Establish email automation workflows for your brand. This will allow you to send emails corresponding to specific customer actions and activities, making them highly relevant to your customers.
Focus on personalization. Instead of sending generic fitness tips for all, take into account the individual fitness goals of your subscribers, and send out personalized workout or exercise routines accordingly.
Optimize your content for mobile. As the number of mobile users continues to mushroom with every passing day, it has become crucial for brands to optimize their campaigns for mobile to ensure greater reach and visibility.


Wrapping it up
Besides being a highly effective channel for marketing your services, emails are incredibly cost-effective as well. Putting the right amount of effort into curating your communication and charting your email campaigns will empower you to create a successful fitness brand and establish an extremely influential digital presence. As a gym or a personal trainer, that's the end goal, right?
Author Bio: Kevin George is Head of Marketing at Email Uplers, one of the fastest-growing custom email design and coding companies, and specializes in crafting professional email templates, PSD to HTML email conversion and free responsive HTML email templates in addition to providing email automation, campaign management, and data integration & migration services. He loves gadgets, bikes, jazz and eats and breathes email marketing. He enjoys sharing his insights and thoughts on email marketing best practices on his blog.
To find more guides on marketing your gym or personal training business check out our resources here:
Thanks for reading!
Open Comment Form