As a business owner, your number one relationship is with your customers. It's your job to communicate with them at every stage of your relationship. When something goes well, it's your opportunity to build your relationship further.
And who doesn't love to celebrate their wins, big or small? Everyone's fitness journey is different and comes with its own set of goals and accomplishments. You can celebrate these with your customers by setting up milestone emails.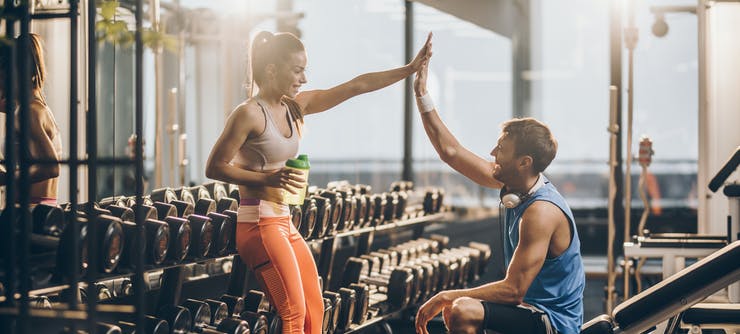 What are milestone emails?
Just like sending any other type of email (confirmation, waitlist, newsletter), you send a milestone email when your customer accomplishes one of their goals or anniversaries at your gym or studio.
Ben completed 10 classes.
Jenny just hit 6 months of membership.
Ted has been coming to class for 2 years.
When you send a milestone email, it's the celebratory tone and your enthusiasm that help your customer reaffirm why they made a commitment to your gym or studio in the first place. Celebrating your customers' wins with them will strengthen your relationship, bond, and their overall confidence in you as an instructor.
Why should I send them?
"If I celebrate my customers daily, what's so special about sending a milestone email?" Unlike your standard business communication to your customers, these emails play a more meaningful role in building your relationship.
This is your opportunity to
Build and gain trust
Get to know your customer
Celebrate their goals
Learn more about their fitness journey
Create a long-lasting relationship
Your milestone emails should be filled with words of encouragement, powerful messaging, and motivation. As well as a reminder of the accomplishments they have achieved.
"We are so proud of you Ben for completing your first 10 classes with us!"
"Jenny, you did it! 6 months on your fitness journey, you rock!"
"Congratulations Ted, we knew you could do it! We're so grateful you have come to class for 2 years."
It's also an opportunity for you to get some feedback from your customer and see how they feel about your classes. When you let them know about their anniversary or milestone, they can let you know what you did to help them on their fitness journey. Just like several of our customers' customers did, here.
"I owe Karen all that I am now from enjoying my shopping trips starting at 8 am in the morning to finally arriving home at midnight, wearing my 4-inch heels quite happily, driving anywhere and going everywhere, taking long walks and of course the confidence to do it all. I also think that taking the pilates sessions in the first place for such a long time has made a huge difference to my recoveries each time. There are so many more things I can say about my time with Karen and I am hoping Karen never gives up as I never want to give up."
Celebrate milestones even from home
As many studio and gym customers are still working out and taking classes from home, it's more important than ever to stay connected with them. If you see that one of your customers is slipping away or hasn't come to class in a while, send them a reminder that they are so close to hitting their milestone.
You can even incentivize your milestones by adding a prize or reward element.
Come to class 10 times, and your next one is free.
On your six month anniversary, get a complimentary drop-in so your best pal can celebrate with you.
Your one year anniversary comes with a big surprise...don't miss coming to class that day.
Just because they are working out from home, doesn't mean that that workout or that class does not count towards their goals. Remind them that every little bit counts and that you are going to help them get there.
Classes, achievements, and reminders, these are moments your customers won't forget, and thanks to your milestone emails, neither will you. So how do you incorporate milestone emails into your business flow with TeamUp?
How to make a milestone email in TeamUp
Designing a milestone email in TeamUp is similar to designing a confirmation email. If you are new to sending a milestone email, the best place to start is by defining the conditions of a milestone. Is it by the number of classes attended? Membership length? Or do you want to have multiple options? You can both customise and personalise your milestone settings and create templates to help you save time.
In your dashboard, you can see an overview of all your milestone emails. You can make the milestones related to a class type, venue, and audience.

You can select any combination of interval and some special conditions.
The first condition to define is whether you want to send the milestone email before or after class, what interval will they be sent.
A pre-class reminder: "In case you didn't know, today is your 10th class with us."
A post-class alert: "You just hit your 6-month mark. Thanks for trusting us with your fitness."
Once you decide, you can customise the time by hour or minutes.

Then select the class type(s) and venue(s) and the customer's status.

You can then choose milestone options (this is where things get really exciting). Based on the conditions you set, your milestone can be sent every time the conditions are met or when the conditions are met for a customer a certain number of times.
Say Ben planned to come to class for 6 months and ended up coming for 2 years. Those first few milestones are so special, especially because they helped you retain a customer. But you may not need to send one every 6 months if they continue at your gym or studio long-term. You can always adjust the time to send them depending on what your customers want to celebrate and when. It's up to you!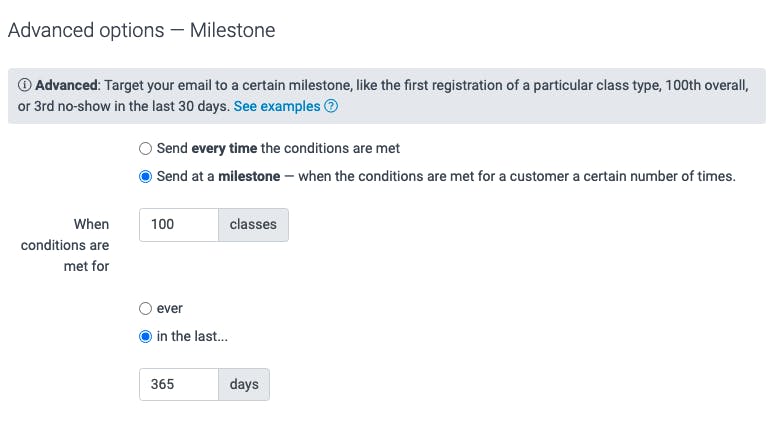 Once you have set your conditions, you are ready to make your milestone email. Proceed and make the email just like with confirmations, with your own celebratory or encouraging message.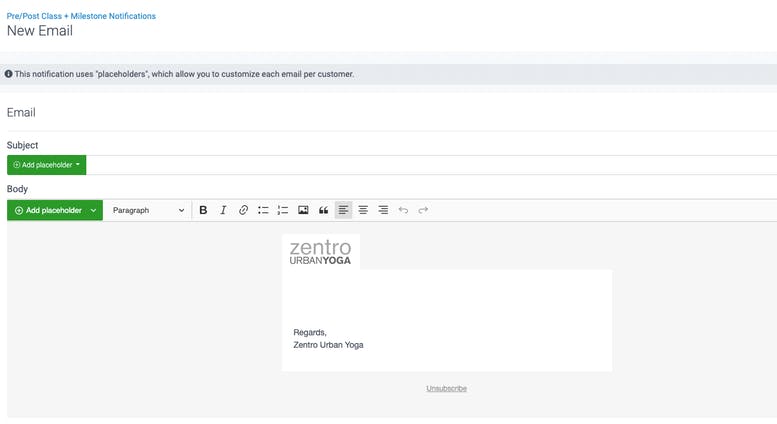 You can customise your message based on the type of milestone your customers are celebrating. Don't hesitate to let them know how proud you are of them or how grateful you are for them being such a loyal customer.

Once you have your template ready, you can create, and find it at the top of your class notifications. Your customers that meet the conditions you have sent will begin to receive the emails once they hit their milestone moment.
Encourage your customers
Encouraging your customers and celebrating their wins will go a long way in earning their trust and loyalty. Don't miss out on sharing the milestone events on their fitness journey. If you are looking for ideas on motivating your customers to come to class and hit those milestones, check out our tips, here.
Let us know what you do to celebrate milestones with your customers.
Open Comment Form