When getting started with a new software many gym and studio owners tend to stick to the basics, use the tools they're familiar with, and put off exploring what else their software is capable of. Whether that's because that's all they really need or they don't know what's available to them, there is so much more you can do with your system, especially when it comes to building an unbeatable customer experience.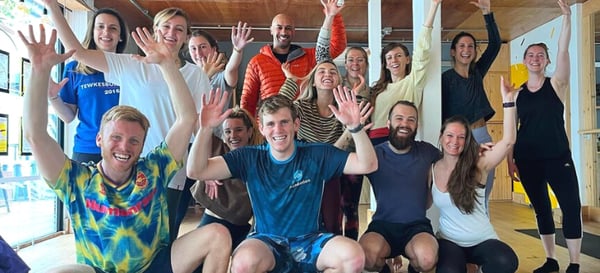 Making your customers know and feel that they are vital to your community is a huge driver of your business's success and longevity. In this article, you'll learn about five things your system can do to make your members feel valued and boost your retention. We'll show you where you can find these tools and how to use them to their full potential. Let's get started.
How to build an unbeatable customer experience
While giving customers a place to book your classes, pay online and manage their memberships are all important in ensuring they have a good customer experience and an easy booking experience, it's the value factor and how you make your customers feel that determines if they're just a passersby or a loyal lifer. Several ways to ensure they're the latter are by:
Celebrating customers when they hit milestones in your business

Rewarding members with incentives when they help you achieve your business goals

Keeping in touch with members outside of class

Sending reminders for classes and appointments, help them stay accountable

Rewarding members with the best attendance
And of course, building relationships that show customers you care.
To implement some of these customer experience strategies into your business, here's a quick run down on how to set them up in your TeamUp system.
Pre and post-class notifications
Help your customers remember their upcoming registrations by sending them a pre or post-class notification. A quick and helpful reminder that "you have class in 3 hours" or a "thanks for coming and don't forget about class next week, same time, same place" will help members ensure they don't forget to come, no-show and prevent last-minute cancellations.
Setting up pre and post-class notifications
While your members will always appreciate the nudge and the time you take to send them a reminder, you can't be tasked with sending an individual email or text to each member. In your TeamUp system, you can set up automated notifications to go out before or after a class. To do this you'll need to head to the notification settings and select the pre/post/milestone option.
Once there you can set the intervals and conditions for when a reminder should be sent and create your automated email.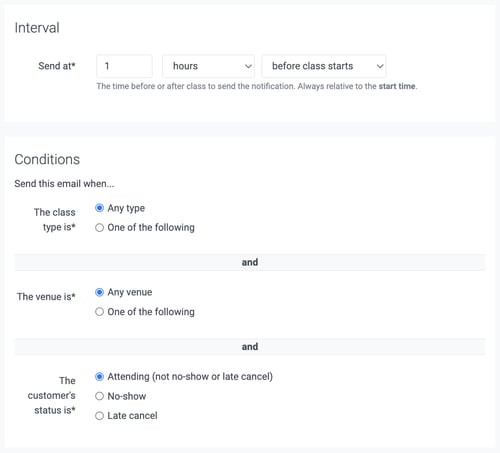 You can use placeholders to autofill your customer's name and the class name or date so that it adds that extra personalised touch to your customer experience model.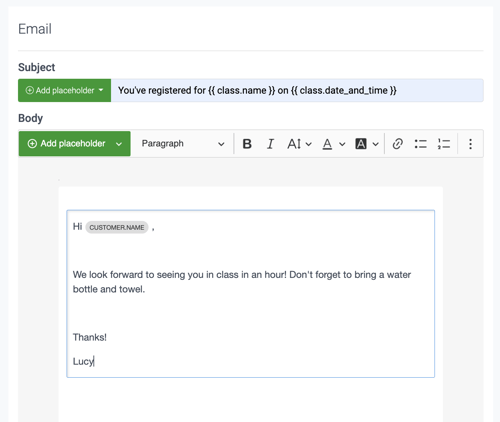 Milestone emails
There's nothing like the feeling of achieving your goals and being recognised for them is an added bonus. Whether a member signed up for your classes because they wanted to lose weight, or improve their health, or to build fitness into their daily routine sending them a milestone email to recognise the number of classes and their commitment to their goals is a great way to build retention and customer loyalty.
Setting up a milestone email
Milestone emails are a simple touch that makes a big impact. Your software keeps track of how many classes each member attends and how long they've had an active membership, so when the time comes your system will send it automatically.
You can build your milestone emails in the same form you use to build your pre and post class notifications. Simply select the intervals and conditions you'd like the milestone email to be sent and use your advanced settings to select when a milestone is achieved. You can then customise your email to celebrate their milestone and save it so that the next time a member hits that milestone they'll receive your congratulations!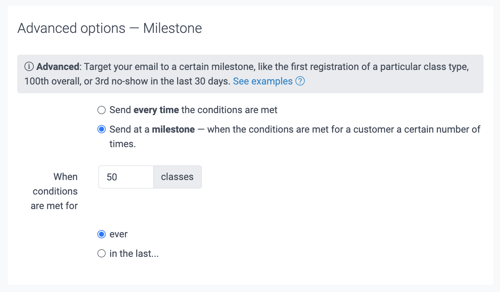 Customer referral program
No one is a better advocate for your business than your loyal members. Sure you can tell potential clients about the benefits they'll receive by signing up for your memberships, but when it comes down to it, your active members are the ones who can really say if you make good on the promise you're selling. Those are the people you want to take advantage of a customer referral program.
With the customer referral program built into your TeamUp system, you can sweeten the deal by rewarding your members for referring new customers and helping your business grow. You get something out of it, as does your member and even your new member if you choose to offer them a new member perk such as a free trial class or discount on a membership.
Setting up the customer referral program
If your members are loving what they're getting out of your facility, they'll want to bring their friends along. You can make it easy and desirable for them to do so by switching on your customer referral program. Here's how.
In your settings in your TeamUp system, you can open the "Customer Referral" section and enable your customer referral program. You can select what type of membership your new customer will get for example, one free class, and decide how much account credit you'd like to reward your member for referring a customer once their referral code is redeemed. It's that easy!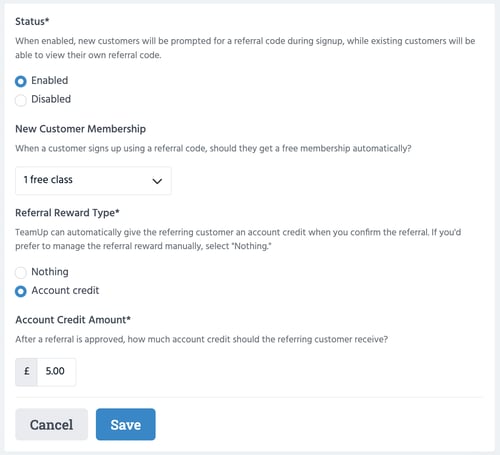 Members can find and share their referral code directly from their TeamUp member app or via their TeamUp customer account.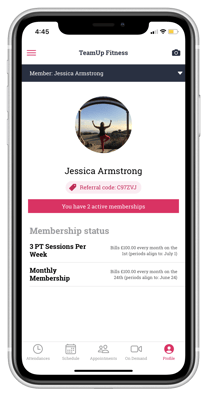 Marketing newsletters
Having little to no communication with your members outside of class time is one of the fastest ways for members to slip quietly away. Think of the phrase "out of sight out of mind" and how many members you could be missing out on because they forget you exist. A marketing newsletter is an easy fix.
Not only does sending out a regular newsletter to your members and past members keep you active in their minds (and inboxes) but it's also a great place to give members a shout out, recognise achievements made in your classes, share promotions your community will want to get in on and give your customers a place to engage with you in between their sessions.
Whether it's top of mind or not, they'll know to expect weekly news from you and that will help remind them about their sessions, about your business, and they'll appreciate the communication you've taken the time to send.
Setting up marketing newsletters
Similar to your milestone emails and notifications, sending marketing newsletters can be automated too. Using one of our integrated marketing platforms such as Mailchimp, Constant Contact, or Zapier to connect with another type of email marketing platform, you can automate when your newsletter will go out, who it will go to, and use templates so that when it comes time to send an email all you need to do is add the content you want to be included.
To get started building a newsletter you'll first need to enable one of the integrations mentioned above in your TeamUp integration settings. Doing this will allow your marketing platform to sync with your membership details so that your contacts will be automatically added and updated within your email platform.
Once you've gotten started with a platform, you can build your template, check over your email list and segment your lists if you want certain content to go to certain members, and schedule when you want your email to go out.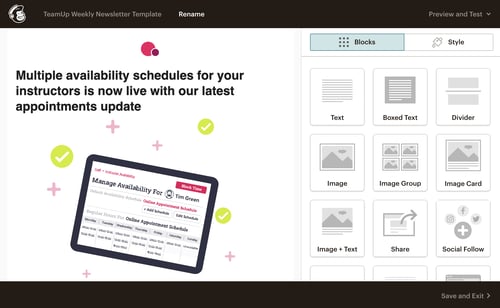 Depending on the platform you choose, you can even set up different newsletters and emails for the different stages of the customer journey.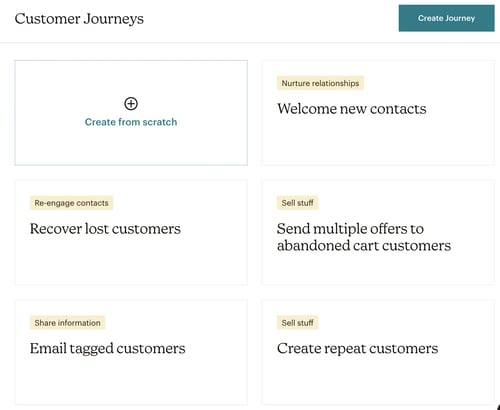 And in Zapier you can choose from pre-created Zaps to trigger specific events based on the actions taken by your members and their TeamUp accounts.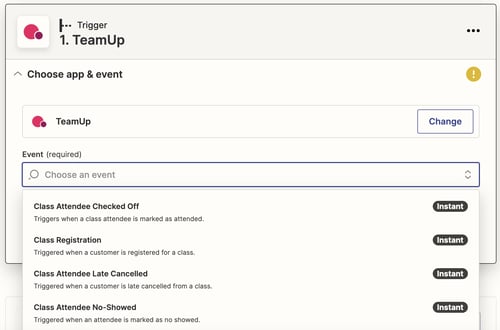 Customer leaderboard report
While your milestone trigger notifies your members when they have completed a number of classes or the length of their membership, you have the tools to keep an eye on their attendance at any time. Fun competition for your members, and a good indicator for you to monitor whose showing up more often than not, your customer leaderboard report tells you who's in the lead for attendances.
The customer leaderboard report is already built in your TeamUp reports and doesn't require any additional set-up on your end.
Using your customer leaderboard report
All you have to do is open your reports and select the "Customer Leaderboard" report and it will show you the customers with the highest attendance over any period of time you select and the total number of classes they have attended during that time.
You can use this information to make shout outs in class, mentions in your marketing, and even build campaigns such as "Best Attendance" of the month. This will motivate your members to keep coming and not skip out on their sessions and remind them you're paying attention to when they're coming.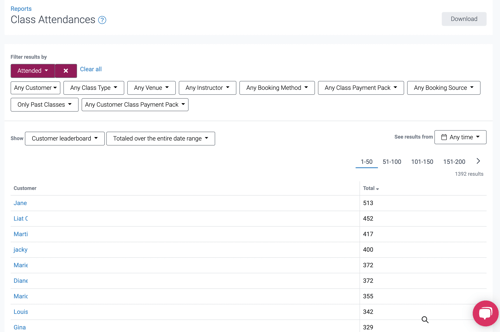 Additional customer experience resources
We hope this guide helps you perfect your customer experience and deliver your customers the very best you have to offer.
To find more resources on your building the best customer check out these guides:
Thanks for reading!
Open Comment Form