As a personal trainer, you need to be organized and efficient in order to run a successful business. The right software can help you manage your personal training clients and keep your business running smoothly. But with so many different personal training software options available, how do you choose the best one for your needs?
In this guide, we take an in-depth look at what to look for when you invest in personal training business software. We look at the key features you need, how to make sure you're getting a fair price, and how using software can also benefit your personal training clients.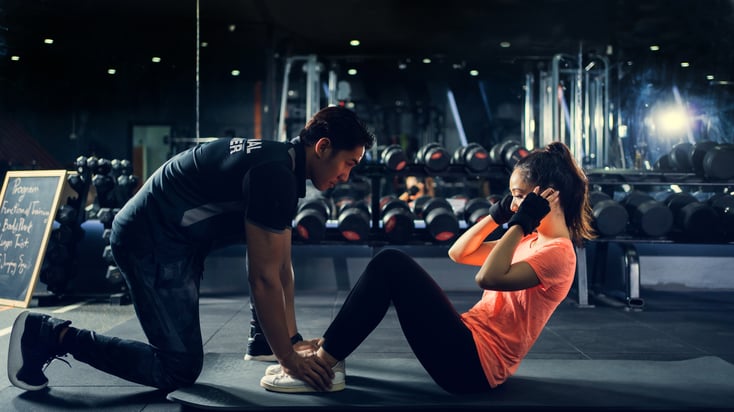 What to look for in personal training software
If you're in the business of personal training, you want to make sure you have the best software to help manage your clients and their progress. But what exactly should you look for when choosing personal training software? Here are a few key features to look out for:
Ease of use
You'll want to choose software that is easy to use and navigate. You want your system to work seamlessly, from creating schedules and class packs to sending out notifications. But don't forget, your choice of software provider is just as important to your clients and members as it is to you.
Consumers nowadays want their online purchases to be quick and easy to do, and that extends to booking classes and sessions with personal trainers. With a system such as TeamUp's personal training software, your clients will be able to easily book classes with you from their phones as well as their desktops.
It's important to remember that ease of use for your customers plays a big part in ensuring that you retain your personal training clients. By using the right personal training software, you'll have a system that doesn't just make your life easier, but it'll make it more appealing for your customers to get online and book their classes.
Client management
Look for software that lets you easily add, remove, and manage your personal training clients. While the ease of use should make it easy for individual clients to sign up and change their own details, every so often they may reach out to you for help if they have any difficulties.
This means that you want a simple way to log in to your personal training software account to see what your clients' statuses are. You should be able to see at a glance which memberships and class packs your clients have signed up for, and you should also have no problems making any necessary alterations to their information.
The client management features in your personal training software should also include client tracking. See who's attending which class, who's a new member, and keep tabs on individual clients if they're slipping away.
Scalable pricing
Be sure to compare the pricing of different software options before making your final decision. You'll want to make sure you're getting the best value for your money. There are a lot of personal training software providers that will attract potential customers with promises of robust features and all you could need from an online business management platform.
But the problems come when you really dig into what you get for the price you pay. If you select an option that makes you pay to access certain features, you may find yourself handing over a lot more money than you originally bargained for down the line.
When it comes to personal training software, you want to make sure you're choosing a solution that will grow with your business. As your business expands, you'll need access to more features and tools. This is where scalable pricing comes into play.
With scalable pricing, as with TeamUp's pricing, you'll only pay for the number of active members you have. You don't want to have to break the bank to gain access to all the best features your software has, especially when you're running a new fitness business. Instead, your price plan only increases once your business is at a level that can support it, and there are no hidden costs to use those all-important tools and features.
Reliable customer support
Finally, you'll want to make sure you're choosing personal training software that comes with reliable customer support. If you ever have any questions or run into any problems, you want to know that you can reach out to the personal training software provider and get help quickly.
Personal training software providers such as TeamUp offer their clients unlimited, free support. From the day you sign up for a free trial, you are guaranteed help to learn the system, and with a free demo included as part of our free trial, you can see first-hand if this personal training software is the right fit for your fitness business.
How personal training software can help you manage your business
Personal training software can be a valuable tool for managing your personal training business. With the right features, you can make sure your business runs smoothly, efficiently, and take your business to the next level.
Set up clear and easy-to-follow online scheduling
The first tool you want to have as a standard is built-in scheduling software that lets you easily organise your clients' sessions. This can save you and your clients a lot of time and hassle in the long run.
The best software for personal training business owners makes schedules clear for both the personal trainer and their clients to understand, navigate, and use. TeamUp's online personal training software is easy to set up for a personal trainer. You can easily create different sessions, class packs, and even appointment types for your clients.
Your schedule can then be easily accessed through the member app, and even embedded into your own website so you can maintain your branding and keep the unique style that reflects you and your fitness business.
Keep tabs on your personal training business with thorough reporting
When choosing personal training software, it's important to select one that offers robust reporting features. This will allow you to keep tabs on the progress of your business and track the success of your marketing efforts.
With accurate and up-to-date reports, you can fine-tune your business strategy as needed, making objective decisions based on data and facts. Robust reporting means having access to information that can help you decide what changes you may need to implement to your personal training services.
If there's a membership type or a class pack that isn't generating a lot of interest, you can make the decision to market it differently, or even cut it entirely. Having all the essential information about how your business is functioning all kept safely in one place can save you a lot of time and worry.
How personal training software can help you manage your finances
By using personal training software, you can keep track of your finances and see where your money is going. This is a valuable tool for any business owner, but it's especially important for personal trainers.
As a personal trainer, you need to be able to track your income and expenses so that you can make informed decisions about your business. With the right software, you can see exactly how much money you're making and where your expenses are going.
This information can be used to help you make decisions about pricing, marketing, and other aspects of your business. When you have a clear picture of your finances, you can make better decisions that will help your business grow.
Take control over payments
Online personal training software gives personal trainers the tools they need to easily track payments and also remove the risk of having clients with outstanding balances. Many new or small personal training business owners rely on clients paying on the day or keeping spreadsheets of who has paid and who is yet to pay.
The right personal trainer software takes away all of those stresses. Set up payments in your personal training software that guarantees you'll receive online payments and get paid on time, every time.
No more chasing up in-person clients or sending awkward emails to your online clients. Secure online payments through your software give you total control and ensure that the only clients that come to your classes and sessions are fully paid up clients.
Encourage your clients to use the member app
In order to make your personal training business more efficient, you should encourage your clients to use the member app. The member app can be used to book and cancel appointments, track payments, and see their progress.
The member app is a great way to keep your clients engaged and informed with automated notifications and reminders. By using the member app, your clients can easily book their next session with you, or purchase a class pack, without having to pick up the phone or search for your website.
Build the ultimate online training business with your personal training software
Since the pandemic, the whole world has embraced a more online way of working, and that includes the fitness industry. Even with gyms, studios, and in-person classes starting again, there are still plenty of reasons to keep offering online personal training.
Why you should keep offering online personal training
It's simple. Online personal training lets you increase the ways in which you can generate revenue for your business. The days of buying exercise videos are falling by the wayside and are instead being overtaken by a mix of online personal training, hybrid classes, and even creating your own custom videos to build an on-demand library.
The benefits of offering live online personal training classes
Taking your personal trainer business online gives you scope to really expand your business. It allows your clients to join your classes wherever they are in the world, so even if they're off on holiday or on a work trip, they can still keep their workouts going.
What this also means is that you can market yourself as a personal trainer way out of your local area. The rise in popularity of online personal training means you're no longer limited to just looking for new clientele in a small local radius. The world is your oyster!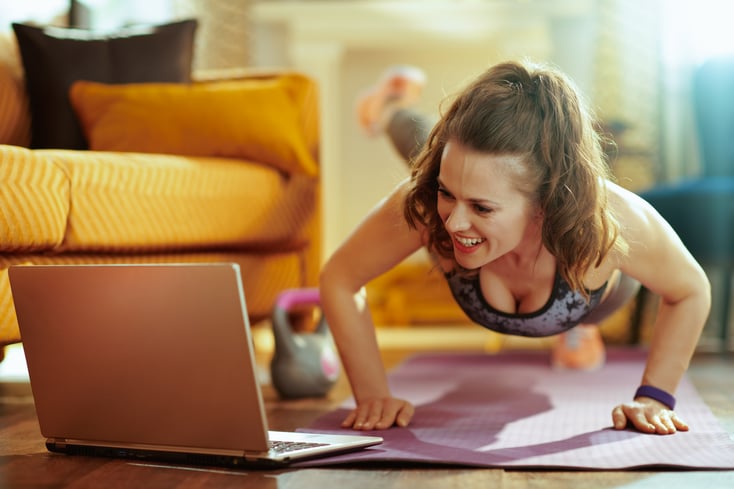 Making your own custom videos to build an on-demand library
Making your own custom videos is a great way to keep your clients engaged and motivated. Every now and again, your clients won't be able to make it to classes. But you don't want this to become a common occurrence or you'll see start to slip away.
Making sure they're aware that you have in fact uploaded on-demand exercise videos for them to follow means that they can take the class at a time that suits them and at their own pace. It also means that anyone who did attend the class can take it again if they particularly enjoyed it.
Creating your own custom videos doesn't have to be a daunting task. There are plenty of software options available that make it easy to create high-quality videos without any prior experience. Once you've created your first few videos, you'll be able to build up a library of content that your clients can access at any time from your personal trainer software system.
Make the most of marketing integrations in your personal training software
When you're running a personal trainer business, marketing should be at the forefront of your mind at all times. After all, if you're not marketing your business, how will new clients find out about you?
The best personal trainer software systems will have integrations with popular platforms such as Zapier. This means that you can easily create and send email campaigns, social media posts, and even SMS messages directly from your personal trainer software system.
By using the marketing integrations in your personal training software, you can save yourself a lot of time and effort when it comes to promoting your business. And by using the built-in tools, you can be sure that your marketing campaigns are aligned with your personal trainer brand.
Organise your memberships and class packs to help you create custom workout programs
Individual clients all have different goals and needs. One size doesn't fit all in personal training, but what you can do is create memberships and class packs that offer different workout schedules for clients with different abilities and goals.
For example, you could create a 4-week course that's designed for beginners who want to lose weight. This could be a mix of low-intensity cardio and strength training classes.
Or you could create a 6-week program for experienced gym-goers who are looking to build muscle. This could be a mix of high-intensity interval training (HIIT) classes and weightlifting sessions.
By offering different memberships and class packs, you can ensure that you're catering to the needs of all your clients, not just individual clients. And by using your personal trainer software to manage these memberships and class packs, you can easily keep track of who's signed up for what.
To sum up
If you're a personal trainer, the software you use can be the difference between success and failure. With so many options on the market, it can be hard to know which one is right for you.
First, think about what features you need. Do you need something that can track client progress? Do you need to be able to create custom workouts? Make a list of the must-have features for your business, and then look for software that includes them.
Next, consider ease of use. You don't want to spend hours trying to figure out how to use your software. Look for software that is intuitive and easy to use. Even if it has all the features you need, it won't do you any good if you can't figure out how to use it.
Finally, think about price and support. Personal training software can range in price and what you're charged for. Choose a price plan that fits your budget and offers the features you need as a part of it. Making sure you choose a software provider with reliable support will also give you peace of mind should you ever need help.
With these factors in mind, you should be able to find personal training software that's perfect for your business.
Find out more about how TeamUp's personal training software can help new and established personal training business owners, and see more benefits of an online personal training software here.
Thanks for reading!
Open Comment Form