Did you know over 300 million people in the world practice yoga? Many yogis date the practice of yoga back to the beginning of time, but it is unknown when it really began. What we do know is that it is one of the most popular types of fitness globally. In fact of those millions of people practising many yogis play the role of both student and teacher.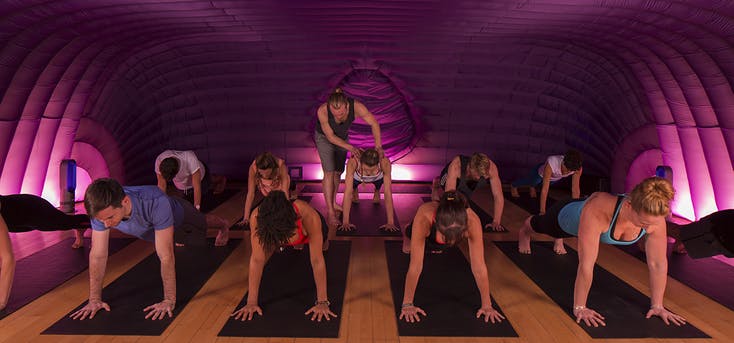 Photo Credit: Hotpod Yoga
There are dozens if not hundreds of benefits of practising yoga. While many new yogis start out to work on a way to improve their physical activity, the advantages extend well beyond the body. We asked our customers why they became yoga studio owners and what the benefits are for those who may just be getting started on exploring the wonderful world of yoga. Here are some of the most common benefits we heard.
To be more mindful and spiritual
Yoga has the power to tap into someone's soul and unlock mental capabilities that help them become more mindful and spiritual. Not only is this an effect that people feel, but it is also medically proven that people who practice yoga have healthier brain activity. Taking time out of your day to sit, relax, and concentrate on your personal wellness will make you more grounded and centred in your everyday life.
To join a community
Not only is the yoga community one of the largest in the world, but it is also the most welcoming. With thousands of studios and retreats offered around the world, joining the yoga community is welcoming, enriching, and nurturing. You would be hard-pressed to find a yogi who you did not form an instant bond with.
To improve flexibility and mobility
Yoga is an excellent way to improve flexibility and mobility. In fact, according to Yoga Bliss UK, this is the top reasons people start going to yoga classes. The postures and positions in yoga help increase the body's range of motion and movement, allowing you to efficiently, yet gently stretch. The slow pace also ensures that you do not injure yourself while trying new postures and positions. Although there are faster more intense forms of yoga, it's best for beginners to start off slow until they get the postures and flow right.
To build strength and joint health
Many of the postures and positions in yoga require students to hold themselves for short to long amounts of time. Yoga is one of the main workouts that help build strength by simply supporting your own weight. Your muscles and joints are stretched and worked out in a way that has a low-intensity impact while having a very positive impact on parts of your body like your core, back, and arms and legs.
To reduce stress
Although flexibility is often seen as the main benefit of yoga, in the beginning, a reduction in stress and anxiety goes to the top after practising more frequently. One of the fundamentals of yoga is focusing on centric breathing, which is one of the best ways to control your stress and calm your mind and body down. Focusing on being relaxed and present will help you feel more mentally healthy and energetic.
To make healthier life choices
Choosing yoga is a lifestyle. It's a commitment to focusing on a healthier happier you. Whether you are just starting out or have been doing yoga for years, the more you practise, the more you experience the benefits both as an instructor and a student.
Yoga FAQ's
If you are starting your own yoga studio or looking to grow your yoga business here are some helpful questions and answers you may be looking for:
How do I become a yoga instructor?
If you are interested in becoming a certified yoga instructor, start by taking courses in several different types of yoga to see which style you are best suited to teach. Once you have completed courses on your own, you will need to complete a certified teacher training course which includes coursework in instructional techniques, yoga philosophy, anatomy and physiology. You will also have to participate in a 200-hour teacher training program. (If you want more experience, and would like to work in certain schools or studios you may be required to finish a longer teacher training program over time).
Once you have finished the initial teacher training course and meet the guidelines set by the Yoga Alliance, you can apply for the Registered Yoga Teacher credential and start teaching your own classes.
To take your training to the next level, keep your yoga knowledge up to date by joining teacher communities, attending seminars, and continuing to complete the hour requirements in continued education set by the Yoga Alliance.
How do I open my own yoga studio?
Once you have your teacher certification and are officially a yoga instructor, opening your studio will be like opening any other type of business. You need to find the proper location and property, build your business plan, and determine your budget and income. Your next step is to let your friends and family know about your new studio and encourage them to sign up and refer to their communities.
If you already have a yoga studio and are looking to franchise, inquire with our team to learn how TeamUp can help you manage your multi-locations.
What are the best TeamUp tools to manage my yoga studio?
There are several tools in TeamUp's yoga studio software that will help you manage your yoga studio. Here are some of the top ones:
Membership packages: Not only can you offer your yoga customers membership packages, but you can also label and filter them by skill level. This will ensure that your customers book into the correct classes that are set specifically for certain skill sets and abilities. If one of your customers progresses quickly and wants to move up in level, you can adjust their package without requiring them to purchase a new one. You can also offer your customers a recurring membership or class pack containing a certain number of classes to be used within a given period of time.
Recurring reservations: Your customers will never have to worry about missing their favourite classes thanks to the recurring reservation tools. You can book your customers into specific classes in advance or give TeamUp permission to let your customers do this on their own. If they are unable to make one of your regularly scheduled classes, their spot will go to the first person on your waitlist.
The member app: Your customer's booking experience will be elevated thanks to the member app. Once a new customer signs up for your studio using TeamUp, they will be prompted to create a customer account and download the member app where they can make and amend all future bookings at your studio.
How do I grow my yoga business?
One of the best ways to grow your business is by creating a customer referral program. In your TeamUp dashboard, you can create your very own customer referral program that will allow your current customers to refer friends and family (and even strangers) to sign up for your classes using one of their unique customer codes. When a new customer signs up and comes to class, your current customer will receive a credit that can be applied to any future class or membership purchase.
You can also grow your business by promoting on social media and joining yoga networks and groups. Collaborating with your community will help get you in front of a new audience and attract potential new customers.
Do I have to plan my classes ahead?
While planning classes ahead of time can seem daunting, having a booking system in place that can help streamline your admin will give you more time to focus on what lessons you will be teaching in your classes. It will also allow you to prepare your customers ahead time and let them book into your classes in advance.
TeamUp has helped me to both control and grow my business immensely over the last 10 months. As a growing Yoga & Pilates studio I was starting to spend as much time doing admin (taking bookings, cancellations, payments, etc) as I was teaching classes, which didn't allow me time to invest in my growth plans. Overnight, TeamUp freed up hours for me, with its user-friendly system for bookings, customer records and financial recording.
Looking for more tips on running your yoga studio? Check out our full list of TeamUp tools perfect for managing your yoga business, here.
Tell us why you became a yoga instructor or studio owner by sending a message to stories@goteamup.com, and we would love to share your story.
Thanks for reading!
Open Comment Form