Yoga has a new rising star and it doesn't come in the form of a new trend, style or technique. As some yogis return to yoga studios and others remain at home, teachers are determined to find a balance between the two. That's where private yoga comes in.
Whether it's to practice outside of a group yoga class, to improve at their own pace, or to focus on a specific goal, yogis, both teacher and their students are finding great success in delivering a more personalised one-to-one yoga service. The ability to meet in person and online and offer a one-to-one experience has opened the door to business opportunities for yoga teachers, especially those who have already started introducing this private service into their offering.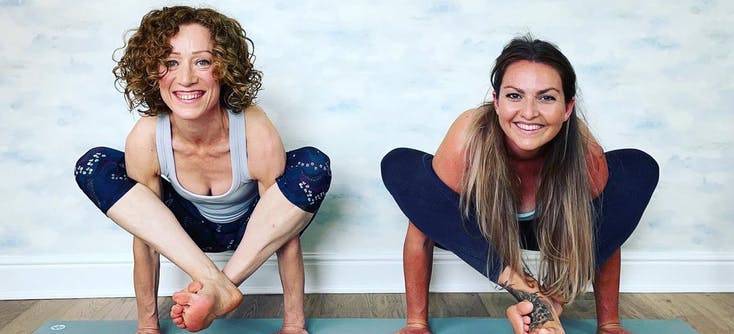 Photo Credit: Claire Dambawinna
Why private yoga?
While one-to-one yoga classes can be a bit of a challenge at first and require a certain extra level of vulnerability from both parties, there are numerous ways for both you and your student to benefit from this exclusive opportunity. Working with one client rather than several at the same time means you have the ability to give your client detailed instructions personal to them, make suggestions based on their needs, and fully pay attention to what they are doing during the private yoga session.
Offering private yoga classes is the perfect opportunity to build trust and a stronger relationship between you and your client and deliver a more tailored experience, as well as grow your business, explore new markets, and develop your skills as a teacher. Not to mention that private yoga lessons typically cost more than group classes and can help you earn more income for a more dedicated service.
In this guide, we will explore several of the main benefits of offering personalised yoga classes, where to find private clients, and how TeamUp's yoga software and Appointment booking feature can help you give private clients a quick and easy booking experience. From teaching yoga to beginners looking for extra instruction to offering advanced yogis the opportunity to work one on one with you, there are a number of reasons to start offering private lessons.
The benefits of yoga: offering private lessons
Yoga instructors start yoga teacher training and students begin their yoga journeys for a number of reasons, primarily to experience the many benefits of yoga and its practice. Those benefits include:
To improve their health
Manage stress and reduce anxiety
Become more flexible and fit
Learn about yoga culture and history
Heal from an injury
Have a more active lifestyle
Safer for some clients who need extra caution
A way for clients to practice who feel more comfortable outside of a group
and so on. Offering your clients private lessons gives you the unique opportunity to focus on your client's specific goals while helping them grow deeper in their practice with a more focused and personalised approach. But your student isn't the only one who benefits from private sessions with you. You yourself can experience a number of benefits by adding private yoga lessons to your services including:
Boosted customer retention through personalisation
Similar to that of personal training, when individualised attention on one student, you have the ability to tailor and design your classes and program to help them achieve the results they desire. Clients choose you because they believe you are the right person to help them accomplish their goals.
When a client sees that what you are doing is working and is leading them to success, they'll buy further into your business and become a loyal client. Retention of customer base also relies on your personal touch and experience can deliver to them an experience they know they won't be able to get anywhere else, and thus they will continue their practice with you.
Develop your own style and flow for your private yoga classes
Group classes tend to focus more on specific yoga styles or flows. Whether it's Hatha or vinyasa, certain styles aren't for everyone and yogis can feel discouraged when they can't find the right class or style for them. However, in private classes, you have an opportunity to blend multiple styles and a combination of exercises while incorporating different flows and aspects of yoga your client enjoys into your classes.
You can take all the best pieces of yoga and create your own design that will help your client achieve their goals. They'll love the uniqueness that you offer and definitely won't be able to find your spin on yoga in another class or with another teacher.
Growth in niche markets
Offering private lessons also has the added benefit of being able to grow in niche markets. By adopting your own styles and flows you can tailor your classes to specific client preferences. This will allow you to brand yourself as a tailored service rather than a specific type of yoga business.
While you want to avoid branding yourself as a one business fits all yoga, offering different styles or blended styles can help you show new clients how you can incorporate the parts of yoga they enjoy into your classes for them. You can still focus on targeting ideal clients with the help of your personal approach allowing you to cast a wider net out to other markets that are looking for what you offer.
Ability to teach clients online
One of the biggest benefits of offering private yoga classes is the ability to teach your clients online. Online yoga classes have become increasingly popular over the last couple of years and clients are finding that they are able to enjoy the same yoga experience from the comfort of their home as they are in yoga studios.
Being able to offer this online service can save you time, help you save money on renting or purchasing a studio, as well as help you reach and attract clients who are not located near you. Whether you offer a mix of in-person and online lessons, online private lessons are an effective way of growing your business without requiring you to go from door to door to meet and teach private clients. Not to mention, the flexibility is a huge benefit to your clients as well whose time is also now saved.
A better service comes with a higher cost
Personalisation and a more centrally focused service allow you to charge more for private sessions than for group classes. With the ability to offer individual advice, instruction, and give your clients the privacy they prefer, delivering your services one on one has a higher value, thus you can charge a higher price. According to Do You Yoga, private yoga teachers should charge no less than $60 per session, however, it ultimately depends on you and your business and what your financial situation is.
The higher cost of private lessons also typically translates that the clients taking advantage of this service will be more committed to getting the most value out of their lessons. They are paying for a more expensive service, thus want to ensure they are earning a return on their investment.
Improvement in teaching skills
Private lessons can also help you as a teacher improve your teaching skills. Learning how to give better instruction, more direct cues, and proper adjustments are all skills you can then take with you to other classes both private and group.
Encouraging clients to be more vulnerable with you in class or to try new things can help you better identify ways to instruct and perform the actual yoga. Your clients will love experimenting and the freshness of class while you can also benefit from seeing what works well with certain students and what works well with others.
Knowing and understanding your own value as a yoga instructor
If you do not have your own business or studio, it can become very tiresome bouncing around from studio to studio teaching random clients with no dedication or customer loyalty to you. One of the biggest benefits to having your own yoga business is having clients who come to your classes specifically for you and what you offer them.
Teaching private yoga lessons can help you better understand your own value and what you are able to provide your clients with that no one else can. Knowing why your clients choose you can help you grow and learn as a business owner and enhance the value you share back with your clients.
Privacy for clients who prefer solo settings
Progress takes time and sometimes clients are more comfortable in a one-on-one setting where they won't be distracted by other peoples' progress. Offering clients the privacy of a solo lesson can be empowering for clients who prefer a more intimate setting where they can be vulnerable with you without being criticised or judged.
They have an opportunity to build their confidence and you have an opportunity to provide them with a very comfortable and secure environment where they can learn and grow at their own pace.
Where to find private yoga clients
There are a number of places where you can market your private yoga lessons and find ideal clients. Some of these include:
Public yoga classes
Many yoga teachers who offer private lessons also recommend teaching public group classes as well. This can help you identify students who want extra attention or a more personalised yoga experience. You can share with these students that you also offer private lessons and give them an opportunity to see if that works better for their practice. If you routinely teach public group classes you will also most likely have students who come to that class for you and will want to take advantage of the opportunity to work with you one on one.
Corporate and private events
Offering your services to corporations and businesses in your local area can also help you find private clients. By providing businesses with free classes or a package deal that includes a certain number of sessions for employees of that business, you can get in front of a new audience and use that time to attract new clients.
If the service you are providing them is only for a certain period of time, you can encourage their retention by offering a discounted price for the next period of time or an additional free class if they sign up for a membership or class pack with you.
You can also offer your services to parties and events such as birthday parties and bachelor or bachelorette parties. While the event itself is not a one-on-one setting, the one-off class gives you the opportunity to charge a higher fee for the private group experience and encourage attendees to sign up for your classes or private lessons after the event.
Word of mouth and client referrals
Use your excellent ability to retain clients to your advantage. If you already have several clients taking advantage of your private lessons, ask them to share with their family, friends and co-workers.
One of their peers might be looking for exactly what you offer and that referral by someone they trust will encourage them to give you a try. Building a customer referral program where you can incentivise clients to refer their peers will encourage your current clients to help you grow your yoga business.
Online forums and communities
Oftentimes yoga students will share on yoga forums or on social media communities what they are looking for and inquire if any other members of that community know where they can look. Search engines and the internet are flooded with options and it can be hard to determine using that tool alone how to find a teacher or business that is right for them.
Engaging in these communities, offering your services, and sharing what you can do for these clients will help them discover and investigate you with a level of appreciation for your interest in meeting their needs.
Your website and social media channels
Building and growing your social media channels and creating a strong website can help new clients searching for the services you offer to find you. By focusing on an SEO approach for your website using keywords and messaging that clients search the web for can help you outrank competitors and win over the new business while curating content and making an attractive social media profile using highly searched and relevant hashtags and boosted posts can help you get your posts in front of audiences made of your ideal clients. Providing your contact details or a link to your booking page right from your website and social media can make it easy for clients to investigate your services and book on the spot once they determine your business is right for them.
TeamUp's scheduling software for private yoga classes
TeamUp's newest appointments tool makes it easy for you to deliver one on one yoga classes. You can set and manage your schedule and clients can view your availability from your customer site and book at a time that works best for you both. Here's how clients can book your private yoga classes.
Clients can find and select the appointment type they'd like to book in your appointments section of your customer site.

They can check your availability and select a time you have available.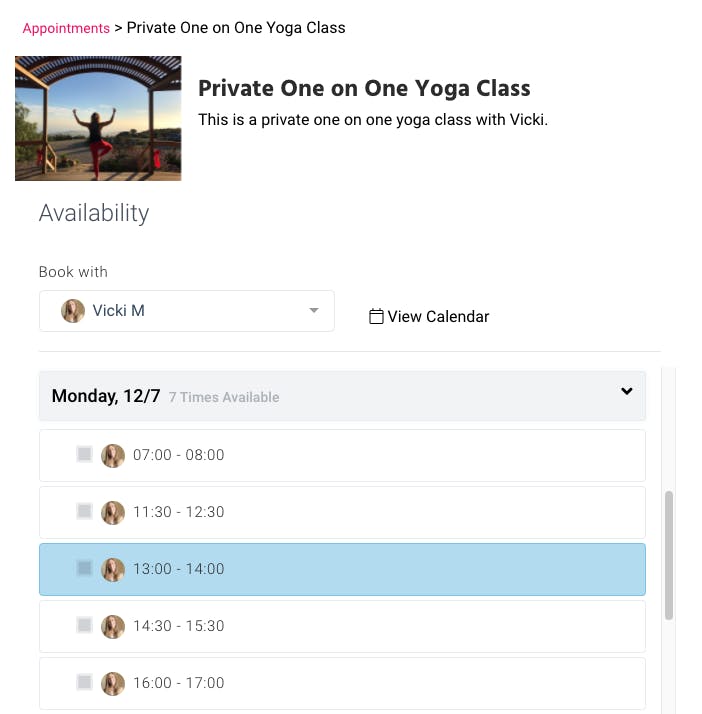 They can choose which membership they would like to use to book.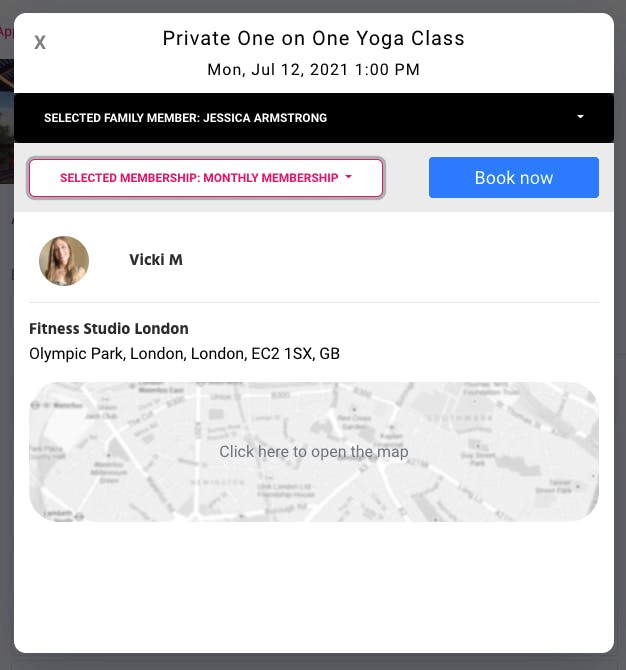 Once the booking is complete they'll receive an instant confirmation and an email confirmation with all the details to their email.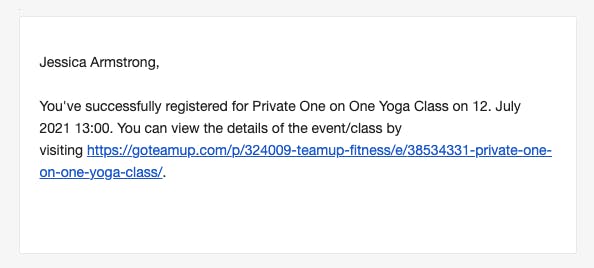 Using TeamUp's appointments tool you can
Offer one on one classes, consultations, check-ins, whatever appointment type you would like to create
Update your schedule to reflect your real-time availability. The regular and override schedules allow you to make temporary or long-term schedules that your clients can easily follow
Use the same booking software for both your group classes and your private classes without confusing the two services
Run private yoga classes online using the Zoom integration.
Assign private classes to a specific room in a studio so that classes never conflict
Let your clients view your availability or share bookable links with them privately
Set notifications for confirmations and pre-class reminders
Require clients to sign any essential forms and waivers online before registering for a private class
Include appointments and private classes in your membership plans
And so much more.
Don't wait any longer to start delivering this unbeatable and personalised one on one yoga service to your clients, now using a tool that can make the experience even easier and more enjoyable for you both.
To learn more about offering one on one private yoga classes with TeamUp's studio management software, sign up for a free trial.
Open Comment Form