Can you believe the holidays are just around the corner? We can't either!
December can be a challenging month for the fitness industry. Schedules need to be adjusted to accommodate time off, and business owners are busy coming up with holiday promotions and crunching numbers if they plan to change their prices and offerings in January. All of this while trying to beat the holiday workout slump and boost attendance.
It can feel overwhelming!
If you're feeling the pressure, we've got you covered. We're here to help you navigate the holiday season with tips and tools that will help you reduce admin and minimize stress.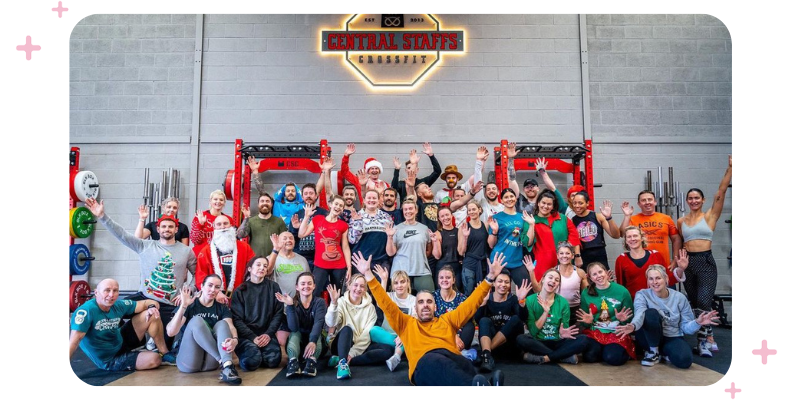 Photo Credit: Central Staffs CrossFit
Give the gift of fitness with vouchers
Gift vouchers are a fantastic way to boost revenue during the holidays and acquire new customers. Here are a few ideas on how to use vouchers:
Create vouchers for your memberships, events, products, or services
Offer special deals for new customers (ideal for happy customers who want to invite their friends and family to try your facility!)
Let customers create their own gifts by allowing them to spend their credit on whatever product or service they prefer.
Another great thing about gift vouchers? If customers don't redeem their gifts, you still get paid, so it's a win-win.
Did you know that TeamUp allows you to sell gift vouchers via your Store? For more information, see our tutorial on how to sell gift vouchers through TeamUp.
Create seasonal membership offers
You can run all kinds of promotions during the holidays to engage existing members and attract new customers.
Here are a few ideas:
Buy now, pay later. For example, if you're planning on launching new recurring memberships in the new year, you could offer a buy now and don't pay until January deal.
💡 If you'd like to start pre-selling your memberships, reach out to our friendly support team, and they'll schedule the dates for you.
New customer deals. Offer new customers a special discount, such as a discounted or free month on recurring memberships (you can do this by using

discount codes

) or a reduced-price

taster pack for new members

.
Create a discount on add-ons. If you offer add-on memberships or additional services at your gym or studio, you can run a limited-time promotion with

discount codes

to get your existing members to try them out.
Reduced price upgrades. Incentivize your existing members to upgrade to a more expensive membership by offering a special deal, such as a lifetime discount or a discounted rate on their first few payments. You can set up this type of promotion with discount codes, or by

upgrading customers' memberships manually and adjusting their price ad-hoc

.
Reward your customers for promoting your business
As the year comes to a close, people begin looking for new fitness routines to start in January, so they're likely to turn to friends and family first for advice.
Having a referral program in place can be an effective way to capitalize on this opportunity. Or, if you're already running a referral program, you can incentivize your customers further by increasing their rewards for a limited time in December.
Setting up your referral program in TeamUp is quick and easy! Learn more here.
Schedule your price increases
If you're planning on raising your prices in the new year, check out TeamUp's bulk editing tool for memberships. This feature allows you to edit the prices on your memberships for future purchases, existing customers, or both.
Need help? Make sure to check out our tutorials on bulk editing membership pricing for new members and existing members.
Leverage the power of discount codes!
Thinking of creating a seasonal discount for your members or running a promotion on social media to attract new customers? Discount codes are a great way to do this.
TeamUp's simple yet powerful discount code feature allows you to create different types of codes for your memberships, classes, appointments, courses, and store items.
For a step-by-step guide on how to set up codes, see 'How to set up a discount code'.
Need to create a batch of codes instead? You can do this in one click by using the bulk code tool. Check out our tutorial on how to create discount codes in bulk.
Cancel classes in bulk
If your gym or studio is closing for the holidays or running an entirely different schedule, you may need to cancel quite a few classes. Our handy bulk cancel tool allows you to do just that!
For help with cancelling classes in bulk, see our help center guide.
Membership holds
Another helpful tool to keep in mind when planning for the holidays is the membership hold feature. TeamUp allows you to freeze your customers' memberships — while the hold lasts, billing will be paused, and customers won't be able to book any sessions.
When the hold ends, customers' membership usage and payments are adjusted to reflect the hold automatically, so you don't have to spend time figuring out how much each customer needs to pay.
Holds are a quick and hassle-free way to manage customer absences and temporary closures at your gym or studio. Find out how to use this feature for individual customers or in bulk.
Keep your members motivated during the holidays!
If you're noticing attendance dropping at your gym or studio, check out our article on how to keep your members motivated during the holidays.
It's packed with fun ideas to help your members stay motivated and on track — from on-demand and online content for members traveling during the holidays to challenges, creative activities, and events.
Happy Holidays!
Open Comment Form