You've heard the fitness industry is going to struggle in 2021. With questions ranging from "Will things go back to normal this year?" to "Are in-person classes dead?" it's easy to see why that may be a common thought. However, we're here to tell you that is in fact not the case. People are desperate to get back to gyms, re-discover camaraderie, and hop back on their fitness journey. In fact, according to a study done by UK Active, 84% of the people that participated in the survey are ready to get back into the gym and studio full-time. The Morning Consult ran a similar survey for 530 Americans in May, with over 70% reporting they miss going to the gym. However, that does not mean that some of the new trends we have seen develop during COVID-19 are not here to stay. Rather we are entering a new chapter where in-person and online classes can peacefully co-exist.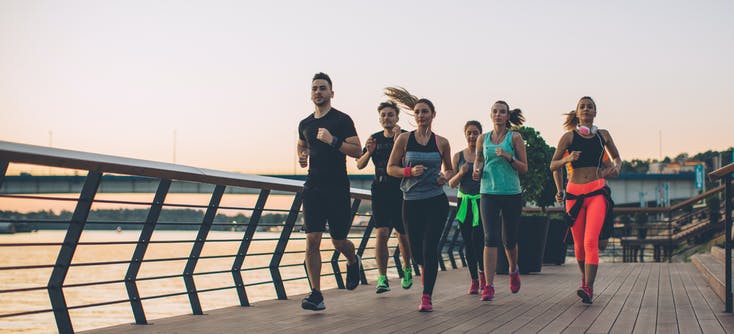 The evolution of yearly fitness trends
As a leader in the industry and a resource for our many customers and their communities, we were determined to gather the most accurate predictions for 2021's most popular fitness trends. We reviewed last year's trends, the popularity and current necessity of online classes, celebrity influence, and of course figures and numbers.
In previous years, the announcement of new fitness trends was always tied to which type of fitness was going to be most popular or which fitness fad was the one to join. But with the impact of pandemic re-shaping the fitness industry, it's now all about the delivery of that type of fitness. How to get clients and fitness customers to get their class content no matter whether they are in the studio, at home, or on the go. With a huge shift from in-person to online and guided workouts through Zoom and social media, fitness owners and professionals are taking their innovative skills up a notch to both stay relevant and in-demand with their loyal customers.
On top of the delivery, and innovation by fitness owners, with access to both new customers and new trainers online everyone from celebrities to independent instructors to working parents want a piece of the pie. And they now see that they can. As we quickly approach 2021, here are TeamUp's top predictions for this year's leading fitness trends.
Live-streaming online classes + on-demand content
If you had a hunch that online classes and on-demand content were here to stay, your guess was right. Not only have leading gyms, studios and personal trainers found online classes to be a productive medium to connect with their clients from a distance, but many are now engraining online classes into their normal business repertoire. In fact, since March 2020, TeamUp has delivered over 1 million hours of online classes and counting. With the ability to teach live classes while incorporating live streaming for those who can't make it in person, many of these businesses now have larger classes and more customers than ever. Many fitness professionals are even able to take their businesses on the road thanks to on-demand content which also has expanded the opportunity to teach retreats and masterclasses from anywhere.
As more and more gyms and studios decide to keep online classes in their schedules and offerings, it will be very exciting to watch and see how these businesses work together to collaborate and share the customer wealth on a larger global scale. Regardless of whether or not customers can make it to class in person, having the ability to jump online, book, and attend from home with others that are in the studio will give people back that sense of camaraderie no matter where they are. And that is something fitness professionals can use to their advantage.
Boutique and independent gyms and studios
One of the top players in the industry to take the biggest hit during COVID-19 were large-scale gym franchises. Large gyms with a traditional model lost many customers due to reliance on their inactive members, overcrowding and reduced capacity during peak hours, and a general fear of coming in contact with someone with the virus. That's where small and independent studios have come out on top. Tyler, the PT Pioneer, says the fitness industry has shown a growth rate at about 1% per year, which means that there is a projected 10% in growth over the next 10 years. He suggests personal trainers should be looking at boutique gyms and studios that specialise in offering intimate tailored experiences, as well as upmarket gyms that are modelled similarly to that of a franchise but offer the boutique experience at a premium level.
With smaller spaces and loyal clients, these independent gyms were able to not only quickly connect with their clients as lockdown was sprung on, but they made a solid effort to enhance their customer experience both online and when their customers returned to in-person classes.
Outdoor fitness
If there is one thing 2020 taught us, is how much we take the great outdoors for granted. Between Europe's and America's staggering lockdowns, these two regions, in particular, saw more outdoor activity across several industries more than ever before. As gyms and studios react to the increase in demand for outdoor activity, many businesses are now working hard to add more outdoor areas and spaces to their facilities, whether that be in the form of running clubs, outdoor classes in the park, equipment outdoors, and more. This will be difficult for city businesses to adapt, and give a leg up to those in more suburban and rural areas. According to CNBC, during the period of March to April 2020, the e-commerce purchase of gym and exercise equipment and sport and outdoor items saw growth of over 131% compared to that same period of time the previous year. It's important to note that this growth does not include Amazon orders.
Not to mention that other industries, especially the hospitality industry are working to get on board by offering more fitness-related outdoor experiences to their amenities to make staying at their properties more attractive. It will be interesting to see how re-opening travel will factor in people's decisions on how far they travel for retreats. But after staying so close to home for the past year come springtime, they will travel and explore again.
Equipment-less workouts
Outdoor fitness also gives workouts without equipment a whole new meaning. Gym-goers are going to be bombarded with new ideas on how to use your own body mass to work out or new types of cardio activity whether that be in the gym, at home, or outdoors in order to reduce the risk of sharing equipment with other members. Outdoor activity will make this easier to manage. Not only will this save gyms and studios major costs on maintaining their equipment, but it will also help redistribute their funds to marketing efforts in an attempt to gain new customers and members.
According to Sage.com, gym equipment can cost business owners anywhere from "$10,000 for a personal studio to $50,000 for a fully equipped commercial gym". Comparecamp.com says, "In contrast, the average cost of setting up a home gym is $1,330, or around $11.08/month for 10 years (excluding depreciation costs)."
Celebrities investing in fitness companies
Here's looking at you Chris Hemsworth, Beyonce, and Steph Curry. With online capabilities soaring, celebrities and professional athletes are now jumping at the opportunity to not only put their names on fitness brands but invest and personally contribute to the overall company. From Beyonce's exclusive partnership with Peloton to Chris Hemsworth's launch of his own personal training app, fitness customers are going to have brand new ways to access the celebrities they love while getting in a workout, too.
This doesn't mean that if you do not have a celebrity endorsing your business, that you'll fall off the face of the planet. What it means is that now celebrities will have an impact on opening new audiences and be able to encourage more people to exercise that may not have otherwise.
But in the end, the celebrities aren't going to be there for fitness customers the same way independent coaches and trainers can. Accountability and motivation to continue their fitness journey beyond a class or two are key to seeing results and that's what you can help them do.
Trainers at large gyms and studios going out on their own
Another unlucky casualty in the wake of COVID-19 were gym coaches and staff. With owners forced to cut costs, unfortunately, that meant heavily reducing staff and many of the trainers that customers came to classes for. However, does that mean that their career in fitness is over? In 2021 we will see an influx in the number of gym coaches and trainers going out on their own and starting their own training businesses.
Already having the certifications to teach, loyal customers and clients, and easy-to-use gym management software will help them build their businesses quickly and organise their admin. Starting your own fitness business has become easier than ever. However, if fear of competition is something you are worried about, leave it at the door.
Global fitness trainer, Sarah Maxwell, is here to remind you that there is enough room for everyone. "Trainers should be more focused on a brand new opportunity to work together rather than compete." Just as there are more trainers to access online, there are more clients. A key to finding your ideal clients and working with other trainers to grow your brand is through collaboration and innovating marketing. According to Statista, there are over 60,000 gyms and health clubs in Europe, but only 50% of Europeans hold memberships, meaning there is a lot of room to grow and customers to go around. Online networking and more and more trainers willing to share their advice and their secret sauce will create positive change and encouragement across both new and veteran trainers.
Upwards and onwards
In conclusion, while the fitness industry was hit hard this year if there is anything we have learnt it's that we're stronger together. With much more room to grow, new clients to acquire, and new formats and mediums to explore, 2020 may have thrown a curveball, but 2021 is already proving to turn things around for the better of the whole industry.
Say goodbye to 2021 by signing up for a free trial or referring a neighbouring gym or studio to TeamUp, and find out what fitness trends to expect in 2022 here.
Thanks for reading!
Open Comment Form