Now that the summer is well and truly over, fitness businesses have seen many members return from vacations and time off and head back to class. It's now important to make sure you keep them coming and renewing their memberships.
This autumn the majority of us have been hit by the rise in the cost of living which has seen many weigh up necessities and perceived disposable luxuries. Your job now is to reassure your members that their memberships are indeed a necessity and that they will be losing out if they cancel them.
In this guide, we're going to share ten simple yet effective ideas to help with member retention during this season, and some possible solutions to help out those members who need to balance the books at the moment.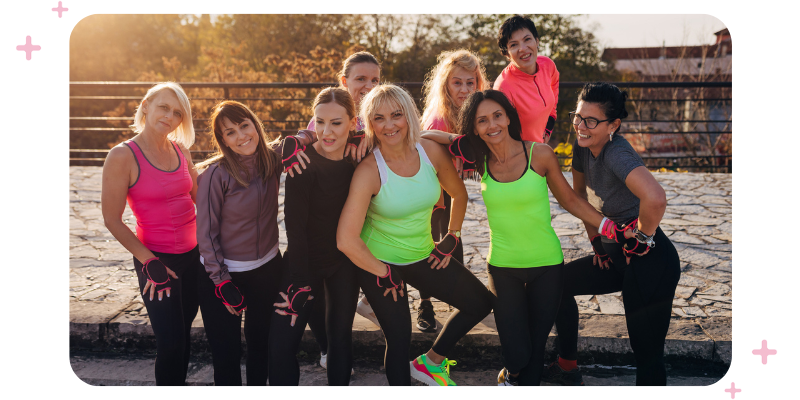 1. Offer flexible payment plans
Flexible payment plans make it easier for people to afford your services, even if they're on a tight budget. Consider allowing instalment payments during the autumn to help customers who may be thinking of cancelling their memberships due to necessary cutbacks. Or try reducing rates for people who pay upfront for a longer period of time.
In TeamUp, you can customise memberships to create virtually any kind of payment plan you might need. Giving members a discount can be easily done straight from each customer's membership. For example, for any member who needs assistance or more time to pay for their membership, you can edit their payment plan in minutes.
If you need help getting memberships altered, TeamUp's customer support is always happy to help you. Simply schedule a call or send an email to get the help you need.
2. Strengthen your community
Fitness businesses have an important role to play as hubs for community among their members. By creating a sense of community, you're demonstrating to your members that coming to classes is a necessity, not a disposable luxury.
Along with flexible memberships and payment plans to help those feeling the pinch, a sense of community helps to encourage members to keep coming back. There are many ways to create togetherness in your gym, and it starts with creating a welcoming environment.
However, it's important to remember that building a strong community can only work if members still feel their individual goals are met. Fostering team spirit is great for your business, but if paying customers feel they aren't getting anything from their sessions other than a bit of social time, they won't be able to justify the membership fees.
In this video, Chris Burgess from Lift The Bar (LTB) explains the importance of finding the balance between helping with individual needs and developing a community within a fitness business:
3. Offer seasonal class packs and flexible memberships
By the time autumn really kicks into gear, the school year is in full swing. This is a great opportunity to get members who are stay-at-home parents out and about while the kids are busy studying.
Create a membership or class pack aimed exclusively at those individuals who now have their evenings filled with school runs, supervising homework, and getting the kids fed and to bed. The mid-morning to the early-afternoon time slot you could offer them is the perfect chance to give those members an affordable option that they won't be able to turn down.
Highlight the fact that this is a specific membership for parents to get in some exercise and an opportunity for some socialising a couple of times a week, and keep those members signing up throughout the school semester.
4. Keep things fresh
Before summer your members are getting themselves ready for their beach holidays. Now that autumn's here, encourage them back with a wide variety of challenges and workouts. Think about a "Fitness over fall" challenge or "Athletic autumn" workouts.
It's important to mix things up on a regular basis to keep members engaged. This could involve changing up the order of exercises, adding new challenges, or varying the intensity of the workouts.
Keep your class schedule and routine fresh, so that members are always looking forward to coming to your fitness business. If members feel as if they're stuck in a rut, they may become less motivated and eventually stop coming to sessions.
By keeping things fresh, you can help ensure that your members stay engaged and are excited about attending the next class or session.
5. Hold seasonal events and competitions
Events and competitions are a great way to foster a sense of community. Hosting masterclasses with guest instructors or encouraging members to take part in a charity event are good examples of this, but make the most of seasonal holidays too.
Halloween is coming up, so why not have some fun with it? Add catchy subject lines and a few well-placed puns in your communications instead of generic automated emails for clients that are slipping away. Draw them back in with some themed workout challenges such as a "trick or treat" workout competition where people have to complete a certain number of reps to get a prize.
Thanksgiving is also just around the corner and presents another great opportunity to show your appreciation for your members by giving out some themed treats as a reward for coming to class and completing your fitness challenges.
It doesn't matter how old your members are, if you introduce some fun competitions and challenges to your schedule, you're bound to get everyone joining in and trying to win just for the bragging rights. Although the addition of prizes is never a bad idea.
6. Use your software to get to know your members better
The more unique and personalised service you can offer, the better the customer experience. This involves getting to know your members well, along with understanding their goals so you can adapt your services to their needs.
Using TeamUp you can get to know your members better and personalise your regular communications adding your unique touch. For example, send out regular newsletters about upcoming workout challenges or tips and ideas for staying healthy with some nutritious autumnal recipes.
With TeamUp's integrations, you can also have all your communication automated and set up to go out at the right times. Targeted newsletters, milestone notifications for achieving fitness goals, birthday emails, and themed communications to wish them happy holidays, all can be automated with TeamUp. Even something as simple as adding a personalised message for the pre and post-class notifications will add an extra touch to your customer experience.
Connecting TeamUp with Zapier, alongside the automations already available through the fitness management software, will give you all the tools you need to improve your customer engagement. And if you wish, you can take it to another level. Send free vouchers for reaching a certain milestone or even send birthday gifts to selected customers.
7. Refresh your online classes and on-demand content
Autumn brings the inevitable cooler weather. People are going to start getting those wintery colds or have to stay home to look after the kids when they're not feeling great. Or some people will have lapses of motivation to leave the house when it's unpleasant outside.
None of this means you have to lose out though. Offer memberships that include online classes and on-demand content so that your members can keep joining classes or catch up on a missed class in their own time.
Highlight your online offerings in your marketing emails and on social media so that your members are aware of them. Post links to your on-demand content with a catchy tagline to get members clicking the link and staying engaged and on track with their fitness goals.
8. Think outside the box
Whatever you do, make sure your marketing activities are geared towards retention. It's easier to retain a current member than it is to find a new one. Focus on keeping your existing members happy, and keep track of members who have missed classes or not renewed their memberships recently. With a little creativity, you can come up with some great marketing ideas that will help you retain your members.
One way to keep your members coming back is by offering something unique that they wouldn't be able to find anywhere else. This could be a special class, exclusive access to some high-end equipment, or anything else that will give your business the edge.
For any promotions such as these, make the most of your email marketing and target those members that are slipping away. Create visually exciting, personalised e-invites to send out for one-off, special classes. Give them unique membership cards to present before being able to use certain equipment. Make them feel as though they are truly valued members of your community and indulge them with a taste of VIP treatment.
Approach other businesses in the health and fitness sector, such as physios, health food shops, and sporting goods stores, and suggest a mutual partnership. Come up with some collaborative ideas for new clients who've been referred from a business you have a mutual arrangement with, and vice versa, so both see regular customers coming back or visiting your businesses for the first time.
9. Get social media involved
Creating engaging social media posts is a great way to keep in touch with your members and keep them updated on what's going on at your facility. You could run competitions, post recipes or just share motivational quotes.
Share photos of your happy members taking part in one of your seasonal challenges, during classes or after a class to illustrate the camaraderie you've built between your members.
Encourage your customers to share photos of workouts or events they take part in outside of class time on your Facebook page. It gives you and your other members a chance to congratulate them and it'll encourage others to take part too.
Remember to use a mix of content, and make sure you're regularly monitoring your posts so you can reply to comments and questions. If you have the budget, you could also look at boosting your posts to reach a wider audience or running social media ads.
10. Focus on the positives
In any situation, it's important to focus on the positives. This is especially true during tough times. Instead of dwelling on the negative, try to find ways to accentuate the positive and really show your members what makes your fitness business great.
Think about what sets you apart from the competition and use that to your advantage. Maybe you have longer class times, more personalised attention, or a wider variety of classes than other places. Whatever it is, make sure your members know about it and understand why it's beneficial for them.
To sum up
The key to retaining members during a tough financial time is to focus on the positives that set you apart, be flexible, and get creative. Implementing these ideas will help you come out of this crisis on top with your members standing tall by your side. Keep customer engagement up with your members to show them the value of retaining their memberships so that you can continue to help them work towards their fitness goals.
Get more ideas about keeping your members engaged with these 10 ideas to help boost your customer experience, and make sure your fitness business is ready for autumn with our essential September checklist.
Thanks for reading!
Open Comment Form